Arcadia cruise diary: September 2007
Et in Arcadia Ego
Tuesday 4 September 2007
We're a few days into our cruise on P&O Arcadia so far (writing this in our cabin on Tuesday afternoon, 4 Sept). Food excellent, with an acceptable and varied wine list; a particularly good self-service restaurant as optional alternative to the normal waiter-service dining-room; comfortable and fairly spacious cabin with big picture window and balcony, bath as well as shower, TV, coffee-and-tea-maker, and just enough space on the desk for the laptop, plug-in key-board, mouse, and iPod speakers for decent music; some quite enjoyable lectures on various topics, including the usual illustrated lectures on each port to be visited, delivered live but all filmed and available later on the television sets in the cabin. We have been doing a daily one-mile brisk walk, three laps of the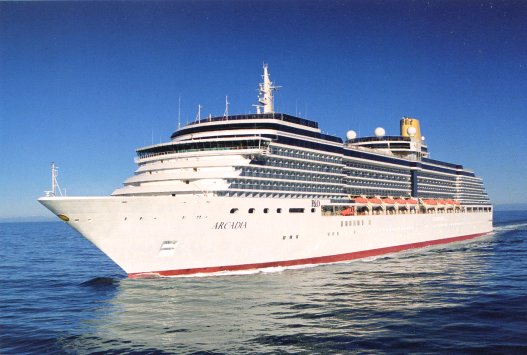 promenade deck, before lunch (she's a big ship). The first 'formal' evening last night produced the usual crop of audacious floor-length glittery ball-gowns revealing more than you might think desirable of wearers of a certain age, and a substantial minority of dinner-jackets and bow ties in every colour except black over dress shirts and wing collars in every colour except white, although we didn't spot any bow ties that either lit up or revolved; and only one swinging kilt brushing bony elderly knees. I captured the only Scotch from a tray of red and white plonks at the Commodore's welcome pre-dinner cocktail party (we are greatly privileged to have a Commodore in lieu of a Captain, a very bluff and jokey character, P&O's most senior Master, although we have no evidence either way of his navigational, managerial or other skills – yet).
Embarkation was a doddle, the easiest and quickest that we have experienced. Arriving in Southampton soon after noon, we joined the short queue of cars waiting to unload passengers and luggage, reached the parking bays after a few minutes, handed over the keys to the car parking company's uniformed young woman and opened the boot for the porters to remove our numerous absurdly heavy cases and bags, saw them whisked away on a trolley for delivery to our cabin, and joined a longer snaking queue for check-in and security. Ten minutes later, having completed those formalities, we expected to be sent through to the cavernous waiting-room in the P&O Mayflower cruise terminal with a couple of hours to wait with the Sunday newspapers before it would be time to embark. Instead, for the first time in our experience, we went straight from security to the escalators and immediately boarded Arcadia where we were directed to a restaurant on the Lido deck for (another) lunch. Half an hour later a Tannoy announcement declared that the cabins were ready. Down on D Deck two of our suitcases were already waiting in the corridor outside our cabin, with the rest arriving before we had unpacked the first. Considering that another big P&O cruise liner, our old host Aurora, was also sailing from Southampton on the same day and at the same time, this was all a real triumph of organisation. Britain's airports could learn a few lessons by visiting Southampton on a cruise departure day. Two hours on the road from home to the terminal, embarkation and lunch aboard within less than an hour, time for unpacking and a tea of too many tasty little sandwiches, and we were ready for sailaway on the dot of 5pm. As we moved slowly down the Solent, there was a text message on the mobile from son Owen, wishing us bon voyage, sent from a Train de Grande Vitesse taking him from Perpignan to Lille: he and Grethe had just passed Paris as we were passing the Isle of Wight. Isn't technology wonderful?
I have signed up for the ship's internet connection system and the satellite signal, although sluggish by broadband standards, hasn't so far been intolerably slow. But it's tiresome being back to the bad old days of knowing that you're paying by the minute, as if on dial-up, not on a fixed charge for unlimited access like broadband. However, for signing up on the first day, soon after we had sailed, I was awarded an additional 20 free minutes. They'll soon be gobbled up.
Weather was cool and windy yesterday, warm and sunny today. As usual, there's so little ship motion that it's difficult to remember that you're at sea, even when there are substantial waves and gusty winds. Malaga from first thing tomorrow until late afternoon, then two more days at sea (bliss) before Dubrovnik on Saturday.

Thursday 6 September 2007:  Malaga
A moderately interesting and very warm day in Malaga yesterday – shopping for Scotch and small bottles of mineral water in the morning, mainly at the Malaga branch of the splendid department store El Corte Inglés (which my Barcelona friend Peter tells me means The English Cut – it started out as a tailor's shop), whose Granada branch, not far away, we had enjoyed a couple of Christmases ago; in the afternoon, an organised excursion to some of the city's sights: the Alcazar, a semi-ruined downmarket version of the Alhambra, a splendid view of the city from half-way up a minor mountain, hairpin bends dizzyingly negotiated by our long air-conditioned coach, and an extended visit to the bullring, sword-and-capemanship demonstrated (sans bull) by two teenaged toyboys in the obligatory tight trousers, a detailed account of bullfight theology from our enthusiastic guide and the predictable questions from a fellow-passenger in tank-top and denim shorts about whether despatching the bulls at a licensed abattoir wouldn't be less cruel. (Again according to Peter, the bullring is a licensed abattoir. So that's all right.) We saw and heard more of Malaga than would have been the case if we had taken a freelance taxi tour, but there was a good deal too much standing around for comfort, sometimes in the very hot sun, while the group slowly assembled to be semi-inaudibly lectured at in broken English by the enthusiastic guide. But admittedly his English was 100 per cent better than our non-existent Spanish.
An ex-banker, prematurely retired and creditably armed with a distance learning post-banking degree in international relations, is lecturing on board Arcadia on at-sea days (abbreviated by cruise cognoscenti to 'sea-days') on broadly political subjects: the pros and cons of a referendum on the EU constitutional treaty and of UK membership of the Euro, with a wealth of European facts, figures and dates; then on Blair's relationships with Clinton and G W Bush, from Kosovo through to Iraq and Afghanistan, covering an ambitious quantity of ground in each 60-minute lecture, all his headings and sub-headings projected on a screen by PowerPoint. He tries nobly, mostly also successfully, to avoid taking sides or implying a political agenda but crams too much into his talks to avoid superficiality. After the Blair-Clinton-Bush lecture I go up to him and try to put him right about Kosovo (illegal NATO attack on Serbia, fraudulently justified, unsuccessful in reaching proclaimed objectives, made a bad situation worse not better, underlying problems exacerbated and still unresolved – cf. Iraq, passim). He listens politely and thanks me with a pitying smile, implying: "There's always at least one like him on each cruise". Game, set and match to the ex-banker. But it makes me feel obscurely better.
Today the television news channels (Sky, BBC World, CNN) report the death of Pavarotti. Sad! They don't sing like that any more.
Today and tomorrow are sea-days, to be savoured. Saturday we're doing both a morning and an afternoon excursion in Dubrovnik, where freak rain-storms are currently reported. As parts of both tours take place on what seems a small motor-boat, they could add up to a pretty miserable experience. We'll see. Meanwhile, here in the Mediterranean sailing eastwards along the coast of north Africa it's a pleasant 22 degrees and sunny.
Saturday 8 September 2007:  Dubrovnik, Croatia
There are six huge cruise ships in port, including the QE2, locally rumoured to be immobilised by engine trouble. So thousands of people thronged the small, delightful Old Town, enclosed in enormous fortified walls. When time came to leave this enclosed thronged space through a narrow arched gateway, the crowds trying to push their way in were pressing against the crowds trying to push their way out and another crowd was trying to cut across to climb up to the city walls. We were caught in this melee for 15 minutes in the broiling sun, not moving, just increasingly crushed. As the heaving mass of increasingly frantic bodies surged towards the stone walls, carrying us helplessly with it, we had visions of broken ribs, compressed lungs, internal injuries: it was amazing that, so far as we could tell, there were no casualties. The Italians, mostly brawny voluble youths, were behaving particularly badly, trying to force their way through, but really there was nobody to blame except the Dubrovnik authorities who shouldn't have allowed so many groups to congregate. in such a confined space with no police presence to ensure orderly behaviour; nor should they have allowed so many big cruise ships into the port on the same day when they were manifestly unable to cope with them.
There have been torrential rain and icy temperatures in Dubrovnik for the preceding few days but the clouds have cleared as we approach, the sun comes out and it ends up hot, ma non troppo. As a result of the Old Town squash incident, we are half an hour late getting back (in a vertiginous cliff-top ride in a speeding coach) to the jetty from which the Arcadia lifeboats were ferrying passengers to and from the ship, and the local-style Croatian boat on which we had been booked for an afternoon cruise along the coast has already left. So we go back to Arcadia and have a pleasant afternoon, B swimming in the open-air pool and lying in the sun with a book, J doing the washing at the D Deck launderette — except that its washing machines have been disabled while we are in port for environmental reasons. Actually we had been regretting our booking of the afternoon cruise (we had seen some of the coastline from the same boat on our way to the Old Town in the morning) so we are more than happy to have missed the boat (literally), and as it was through no fault of ours, the cost of that excursion ('not inconsiderable', as J Major would have said) has been refunded to us. Very satisfactory.
Sunday 9 September: Venice
By 7.15 am we are up on deck to watch Arcadia's arrival in Venice early on a perfect late summer morning, the sun bathing the whole scene in a magical golden light like a magnificent stage set lit by a genius. The big liner moves slowly into the Lagoon from the south-east, passing the Arsenale on the starboard bow, following the curve of the Canale di San Marco's south bank until we are directly opposite the Doges' Palace and the Piazza San Marco with its famous tower, swinging round to port past the entrance to the Grand Canal, the Salute on our right, and into the Canale della Guidecca, still moving west and north, Arcadia's enormous superstructure towering over the multi-pastel-washed buildings along the waterfront, pretty as a Canaletto painting, on past the Banchina di San Basil into the Canale di Fusina, then swinging round to starboard and into our berth in the huge new harbour, just west of the Piazzale Roma at the head of the Grand Canal. The approach to Venice by sea is an unforgettable experience, comparable only with the approach to Manhattan by sea, past the Statue of Liberty and Ellis Island, the clustered skyscrapers slowly taking shape as you get closer to them, experience still remembered with pleasure and awe from our first of many arrivals in New York, that first and best approach aboard the old Queen Elizabeth in June 1964.
Our organised Venice tour doesn't start until after lunch, so after breakfast we go ashore independently, taking the P&O shuttle bus to Piazzale Roma and then walking through the streets and alleys to the Rialto bridge over the Grand Canal. Memories of our week in Venice eight or nine years ago come flooding back – almost literally, for on that occasion large parts of the city were flooded to thigh level, including the main Piazza San Marco and the alley leading to our hotel. It was an eventful but not uniformly pleasurable week, raining incessantly, San Marco taken over for our last day by armed Northern Italian Confederation secessionists in a home-made tank, Jane robbed of her waist-bag containing our vaporetto tickets, our lira and her credit card at the entrance to the Peggy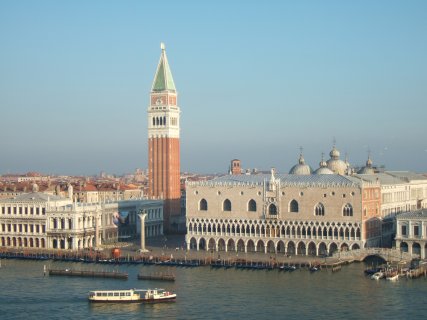 Guggenheim Museum. Now, nearly a decade later, the sun shines brightly on a golden, glittering city, unrecognisable from the grey cold wet place from which on that earlier visit we had been relieved to escape to Florence. We walk entranced a little way along both banks of the Grand Canal above and below the Rialto, surprised by how much of it all we remember, before getting a vaporetto back up the Canal to Piazzale Roma and the shuttle bus back to the ship.
The highlight of the afternoon excursion is a leisurely gondola ride, shared with two other couples, along a stretch of the Grand Canal past the Peggy Guggenheim (recognised with a shudder) and then turning into a maze of minor canals, expertly steered by our gondolier past moored motor-launches and under dozens of low, pretty bridges. Back on our excursion boat we are mysteriously disembarked on the tiny Isola di San Giorgio Maggiore, just past the Salute at the end of the Grand Canal, and lectured for twenty minutes as we stand in a group outside the church of San Giorgio in the broiling sun by a severe bespectacled young female Italian guide. She grinds on remorselessly. Eventually, as her narrative reaches the fourteenth century, I slink away to sit on a nearby low wall in the only available patch of shade, loyally followed by J and, soon, by two or three other slightly shame-faced couples. Eventually we are admitted to the church, which seems to us unremarkable, even for its two slightly dim Tintorettos, barely visible in the gloomy light on each side of the altar. It's a relief to be allowed back on our boat for a leisurely sail round the Lagoon past the Lido to the island of Murano and a visit to one of the famous Murano glass works where a young man in khaki Cargo shorts and trainers deftly demonstrates the creation of a handsome and shapely vase from a molten blob on the end of a long hollow pole, through which he occasionally and satisfyingly blows. As an encore he makes a pretty glass sea-horse in exactly two minutes flat. We troop into the huge sales room and admire innumerable and fantastically varied glass products at imaginative prices, but do not buy. (There is almost no resemblance to the dramatic Murano glass furnaces in the opening sequences of Losey's great film of Don Giovanni, shot in and around Venice.) We board our excursion boat once more for the 40-minute journey back to Arcadia at the opposite corner of the Lagoon, stagger up Arcadia's gangplank and through security into the air-conditioned haven of the big ship and flop down gratefully on the bed in our cabin, exhausted. Apart from San Giorgio, a glorious and memorable day.
Monday 10 September: Split, Croatia
I last visited Split (without J) in 1978 in the company of a few dozen Canadian brigadiers and colonels, and assorted Canadian civilians ranging from a Newfoundland nun to an Inuit chief, as part of the programme of educational visits around the world by Course XXXIX of the (now defunct) Canadian National Defence College. I remember very little of this earlier visit except for the mighty walls of Diocletian's palace and the impression that the name of the town might plausibly derive from the exceptionally tight trousers worn by the memorably shapely young ladies of this historic Croatian coastal town. As regards both these impressions I find to my relief that in 2007 nothing much has changed.
We're booked on an excursion billed as involving 90 minutes' walking and climbing steps at Roman ruins a few miles outside Split followed by a conducted lecture-tour of Old Split. Legs aching from Venice and with memories of San Giorgio still fresh, we decide to skive off from the tour after the Arcadia tender deposits us on the quayside, and spend an enjoyable morning exploring at our own pace Diocletian's palace and the surrounding markets and streets, all an agreeable and unique blend of ancient and modern, bars and restaurants and smart clothes shops mingling with remnants of Roman pillars and a spectacular clock tower. Purists disapprove of this desecration of a miraculously well preserved bit of classical antiquity by such brazen modernities, but we like it. We wander round the enormous food and clothing market outside the palace walls, have a coffee in a quaint alley-way bar, and as we are looking round the colourful fish market on our way back to the Riva (the broad palm-fringed sea-front promenade) we observe a grey-faced but still breathing elderly woman being slid on a stretcher out of an ambulance and into a big anonymous grey stone building, an odd reversal of what one might expect, like a film being run backwards. But it turns out that the building is some kind of clinic so it makes sense after all.
We like Split and feel surprisingly sympathetic when a waitress in another restaurant where we first went for a coffee tells us with obviously genuine indignation that no, she won't take Euros, only local Kuna, because we – J and myself, she seems to mean – won't let Croatia join the EU. In spite of nearly being crushed to death in Dubrovnik and vaguely remembering the Croats' shady role in the second world war, we also recall that Tito was a Croat, and we have found such few Croatians as we have encountered here and in Dubrovnik attractive, friendly, well groomed and apparently prosperous, so there seems no obvious reason to keep them out of our privileged Union, unless admitting the Croats would mean also having to hand over the keys to the Serbs, the Montenegrins, the Bosnian Serbs and the Bosnian Muslims and the Kosovo Albanians and no doubt several others deemed by one side or the other in Europe to be either disagreeable and disreputable or else potentially valuable partners. Funny about the Balkans, really.
Tuesday 11 September 2007:  Corfu< A general disappointment, Corfu. Our excursion coach took us across the island from Corfu town through pretty nondescript (and I don't mean pretty, nondescript) countryside, eventually climbing and descending vertiginous hillside hairpin bends (one requiring a three-stage see-saw manoeuvre by our long vehicle to get round) for glimpses of pretty little coves with shingle or sandy beaches, crowded with holidaymakers in all shapes and ages, lined with stalls selling identical tourist tat. Access to and from all these small resorts is principally by small local boat unless a hire car and the dodgy roads are preferred. Choices of places to eat and drink, or indeed to do anything else except sit on the beach, would be limited. We visited the old monastery at Paleokastritsa (sounds like an ancient Greek emasculation ritual or a medical condition resulting from it) with agreeable views over the rocky cliffs and the sea and a small church packed with candles and unremarkable icons. Emerging from long queues for the monastic loos, we couldn't find our tour group anywhere, hurried down the steep hill to where the coaches were parked, and found the group sitting in the coach waiting for us with sharply varying degrees of good humour.
The coach returned us to Corfu town and through heavy traffic and crowded streets to the Old Town where we were deposited for an hour of 'free time' to explore. More tourist shops, narrow alleys, decaying buildings and dense crowds of tourists. Bought some olives and found a place for a cold drink, just in time to get back to the coach for our return to the ship. Not impressed.
Wednesday 12 September 2007:  Malta
Malta rather exceeded our admittedly modest expectations. The word 'fortress' might have been invented for this much attacked and much (successfully) defended island[1]. The Grand Harbour, justly so named, isn't the only heavily fortified area of its Mediterranean coastline: huge walls of squared-off boulders, cream-coloured in some lights, honey in low sunlight, guard every possible landing-place, rising in tiers up the steep hills behind, with stunning views from the very top. Our Maltese friend C. had suggested that we go to the Upper Barracca Gardens, once the private gardens of the Knights of St John, for the views out over the Grand Harbour and beyond: brilliant recommendation, and we spent a pleasant 40 minutes or so with soft drinks (for J) and excellent local lagers (B) in a shady corner of the Gardens after photographing what we could of the views, including a distant shot of Arcadia, our cruise ship, far below. Seeing all these fortifications from above, we readily understood the (previously incomprehensible) failure of the Germans and Italians to take this strategically useful naval base, so far out in the Mediterranean that it lies much further south than the coasts of Morocco and Tunisian, climate correspondingly hot.
If 'fortress' defines the island itself, 'encrusted' is the only word for the interior of the (Roman Catholic) Cathedral, every surface covered in paintings, statuettes, bas-relief, mosaics, frescoes, gilt of every kind. But the unmissable crown jewels of the Cathedral are two fantastic Caravaggios, tucked away in the Oratory room of the museum but beautifully hung and lit, one ('The Beheading of St John the Baptist') the artist's largest surviving canvas, luminously clear and brutally detailed. Well worth the trudge down the hill to the church and the climb back up again afterwards in the hot sun.
The Castille Hotel next to the Upper Barracca Gardens looks very flavoury and probably comfortable but the menus displayed outside were uninviting and indeed our otherwise admiring guide-book admitted that Malta is not the first choice of the gastronomic enthusiast for a holiday. And the heat of July and August must be pretty forbidding. But there are said to be pleasant beaches and resorts on the north side of the island and one day in Valletta would probably be enough for a one- or two-week holiday elsewhere in Malta. Things, including public transport, seemed cheap, the people friendly and helpful, the British historical influences strong and ubiquitous but with a pungent Mediterranean additive to spice them up, the whole place welcoming and attractive. Let it not be forgotten that after Napoleon's rule over Malta was involuntarily terminated, the islanders resisted the proposal to return them to the Knights of St John and opted instead for British rule, not incidentally an unprecedented or unrepeated event in British colonial history.
Friday 14 September:  Palma, Mallorca
For our third cruise visit to Palma and the final port of the current cruise we again opted to forgo an organised excursion and had a relaxed stroll round the old town in our own time, stopping to buy a copy of that day's Guardian, and ending with a leisurely lunch at a shady café table at the corner of the Placa de Santa Eulalia, with a bottle of extremely drinkable local white to wash down a couple of excellent sea-food paellas while we watched the attractive youthful world go by. (Peter, I agree, Spanish Mediterranean culture has a lot to recommend it.) Back to the sea-front opposite the huge imposing cathedral to catch the shuttle bus back to the ship in time for a swim in the Neptune Pool and a late siesta in our cool, air-conditioned cabin.
Later, as Arcadia prepared to leave Palma harbour for Southampton in four days' time, the Cruise Director (the ship's officer in charge of entertainments) came on the ship's loudspeaker system to remark on the presence alongside Arcadia of two German Aida Line cruise ships, urging us all to give "our Teutonic cousins" a rousing sailaway by waving small personal Union Jacks (issued free to passengers), and by singing 'Land of Hope and Glory' lustily as we sailed past. There were several ill-considered and sarcastic references to relations with the Germans a few decades ago, and the thrust of the address was reinforced, as we cast off and began to move away from the quay, by the loud playing over the Arcadia Tannoys of the Dam Busters March, which must have been clearly audible aboard the two Aidas. Their passengers lined the rails and gave us a friendly wave as we moved past. On the balconies adjoining ours, groups of passengers holding beer glasses waved their Union Jacks derisively at the German ships and bawled their own version of the Elgar. The Last Night of the Proms has a great deal to answer for. It's not just English football fans, apparently. But several of the fellow-passengers with whom we shared a table at subsequent meals expressed their disgust and embarrassment.  An irony in all this is that Aida cruise lines are part of the P&O and Carnival family.
This is the last of our electronic postcards from aboard Arcadia. We'll be disembarking at Southampton on Tuesday morning. The Sky News weather forecasts suggest that by then autumn will have arrived and taken charge. Time meanwhile for another swim on the Lido deck pool – but only after we have done justice to the special sea-food buffet lunch in the Meridien Restaurant.
Postscript from dry land
Here are some of our pictures taken during the cruise:
http://picasaweb.google.com/brianbarder/ArcadiaSeptember2007
http://picasaweb.google.com/brianbarder/MalagaAndSicily
http://picasaweb.google.com/brianbarder/DubrovnikVenice
http://picasaweb.google.com/brianbarder/Split
http://picasaweb.google.com/brianbarder/Malta12Sept07
http://picasaweb.google.com/brianbarder/CorfuAndPalma
Apart from the loutish behaviour towards the Germans during sailaway from Palma, the alarming crush in Dubrovnik, some fairly dire evening 'entertainment', and the hellishly uncomfortable, uncushioned loungers around the Neptune pool, this was another extremely enjoyable cruise. Our dinner-table companions, two couples, were exceptionally good company. The weather was uncommonly kind to us throughout. The day in Venice alone made everything else worth-while. We'll doubtless be doing it again soon, perhaps next time skipping the dancing girls and the cringe-making singers in the late-night extravaganzas (or perhaps not when the time comes), and forgoing most of the organised excursions during port visits, especially in places that we've visited before, by now a considerable number. Repeated guided tours of archaeological museums and historical-cultural-nationalistic lectures in broken English heard standing in very hot sunshine can be too much of a good thing. But fastidious friends who dismiss cruising (the maritime kind, anyway) as nothing better than Butlins-on-the-water are missing one of the real pleasures of life. Pick a child-free ship, and give it a go!
[1] "Malta, this much attacked and much [successfully] defended island":  Tim Weakley has commented:
You remarked that the Italians and Germans failed to capture Malta.  This is because they tried and failed to neutralize the island by bombing.  The Luftwaffe general Kesselring had an airborne army at his disposal which he wanted to use against Malta early in '42, correctly opining that only the capture of Malta would eliminate it as a submarine base.  Kesselring was a good enough strategist to realise that Rommel could not be assured of success in Africa as long as an uncaptured Malta kept him continually short of supplies. Hitler, however, shied off (uncharacteristically) from the cost of the projected operation in lives, being uncomfortably aware of the German losses in Crete in '41 (an operation which was a demmed close-run thing), and backed instead Rommel's operations in Cyrenaica.
London, 23 September 2007