Indeterminate sentences: the double scandal
The Court of Appeal has ruled that it's unlawful for someone given an "indeterminate sentence for public protection" (IPP) to be kept in prison beyond his 'tariff' (the period set by the sentencing judge as the minimum required for punishment, release thereafter being permitted on condition that the offender satisfies the parole board that he won't reoffend) if he hasn't been able to take one of the prison courses whose completion is a condition of release.  It seems that a thousand or more prisoners serving IPPs are in this Kafkaesque, nightmare logical trap.  In the words of Juliet Lyon, director of the Prison reform Trust, –
the High Court has rightly held that it is illegal to detain people until they can prove that they are safe but yet deny them the means to do so. The only wonder is that it took a court judgment to demonstrate to ministers the fault in their Alice in Wonderland logic. It is a life sentence in all but name. The only real difference is that it can be given for far less serious offences. The Prison Reform Trust has come across people given tariffs for their sentence of just 18 weeks. The tariff, as in the life sentence, is the minimum time that must be served. It represents the retribution or punishment for the offence. But even after the tariff, the person remains in prison until they have done the courses necessary to demonstrate they are ready for release.
But because of grotesque prison over-crowding and the low priority given to 'education' (including the courses required to qualify for release from an IPP) by the prison authorities, it is often simply impossible for an IPP prisoner to undergo the course required.  Unless he has done the course, the parole board won't consider him for release, even though he has served his tariff.  So he has undergone the punishment imposed by the judge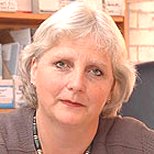 , but can't be released because he can't do the course that alone will satisfy the parole board that he is unlikely to commit a further offence.  The result, as Juliet Lyon [left] points out, is that a person whose offence was so trivial that his tariff was set by the judge at a mere 18 weeks finds himself in effect serving a life sentence, the mandatory sentence for murder.
This trap — tariff served, no course available, no release possible, indefinite incarceration even though offence committed may have been minor — has rightly been denounced by all the prison reform bodies as well as by the Appeal Court;  there are useful detailed analyses and briefs here (PDF) and here.   But what these show is that the failure to make available the necessary courses for prisoners who have served their tariffs is only one part of the scandal.  Indeterminate sentences are themselves a scandalous abuse of the system:  ministers should never have introduced them and parliament should never have approved them, regardless of the availability or otherwise of the courses demanded by parole boards as a condition of release.
The whole concept of an indeterminate sentence which takes no account of the gravity or triviality of the specific offence for which it's imposed is fatally flawed.  Once the tariff set by the judge has been served, the offender has "paid his debt to society", suffered his prescribed punishment, and ought to be entitled to be released.  Continued imprisonment after the expiry of his tariff is no longer 'punishment', nor society's retribution:  it is indefinite preventive detention, based entirely on the farcical notion that some group of 'experts' can predict the future by making a judgement about the future behaviour of a person who may have committed a single offence in the past — and has been punished for it.   The fact that the experts have apparently convinced themselves that they can't make such a judgement unless the prisoner has done a course in prison, and that once he has done the course, they can, merely adds another dimension of fantasy to the whole crazy system.
This is yet another example of the government's compulsive itch to lock up — necessarily indefinitely — people who have committed no prosecutable offence (or who have completed their punishment for an offence committed) but who anonymous officials or the police or security services believe may commit an offence in the future.  Control orders are a particularly vicious example of this proclivity;  prolonged detention without either conviction or even charge pending police investigations is another (and one which the new government actually seeks to make even worse); yet another is the government's prolonged attempt to take powers in a new Mental Health Act to detain indefinitely persons suffering from an indefinable and untreatable mental disorder; and there's more than a trace of it in the ASBO system, which imposes on young people whose offences have been inherently trivial conditions which are often so arduous that sooner or later the young offender is more than likely to breach them, and will then be sent to prison for the breach, even though the original offence was not by any stretch of the imagination one for which imprisonment was an available or appropriate penalty.
The urge to lock up people for offences they have not yet committed is a symptom of the disease of politicians who are irrationally risk-averse.  There's no possible logic in it.  They could lock up half the population as being likely to commit an offence sooner or later, and still a proportion of the other half would continue to steal, murder, shop-lift, exceed the speed limit and plot violent terrorist acts.  The justification advanced for this folly and injustice is that pre-emptive imprisonment is necessary for the protection of the public, which is the first duty of government: salus populi suprema lex.   But the real motive is much less high-minded.  Ministers responsible for this kind of gross abuse are principally concerned to mind their own backs.  They are terrified of laying themselves open to the accusation by the Tories or the Daily Mail, or both, of being "soft on crime" or "soft on terrorism". They seek to protect themselves against the charge, when crime figures soar (which they haven't done for years) or terrorist atrocities are committed (which sooner or later they will be), that they had done nothing to prevent them, or hadn't done enough.  So they create a record of supposedly protective legislation to which they can point as evidence that they have not been 'complacent' (the gravest of political sins) or inactive in the face of danger — any danger.  In trying to protect themselves in this way, on the pretence of protecting us, they have been steadily eroding our most basic human right, the right not to be imprisoned except after conviction and sentencing by a properly established court for an offence defined by law.   Indeterminate sentences, with the surreal apparatus attached to them for permitting eventual release, are yet another example of rotten legislation, conceived by a panicky and unprincipled government and passed into law by a supine and negligent parliament.
If Gordon Brown really wants to make a radical change in the way the justice system has been perverted under Tony Blair, the early abolition of indeterminate sentences would make a welcome start.  Don't, however, hold your breath.
PS:  According to the Prison Reform Trust, more than 3,000 indeterminate sentences have been passed over the past two years and that figure is expected to increase to more than 12,000 by 2012.  The Trust points out that  indeterminate sentences are in effect life jail terms that can be imposed for a list of 150 different offences. The sentences are being used for "relatively minor" offences rather than the hardened repeat offenders for whom they were designed.   This is not a small-scale problem.   We should be up in arms about it.
Brian