The BBC, Michael Grade and the licence fee
Media people are always wildly excited by media events, most of which tend to leave the rest of us relatively calm. One such event is the departure of Michael Grade from the top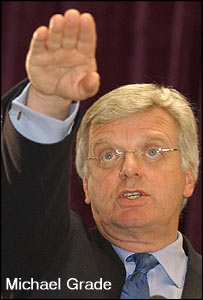 of the BBC Governors' (soon to be Trustees') tree to the top of the much shorter and humbler ITV tree where, however, he will have much greater scope for transforming his organization's flagging fortunes, and earn vastly more money. Media insiders have focused on the unhappy timing of the Grade defection, shortly before the government decides whether to approve a substantial increase in the BBC licence fee (the poll tax we all pay to keep Auntie in the style of life to which she is accustomed), for which Grade has led the argument: or whether it will limit increases in the licence fee to a little below the rate of inflation, entailing a small annual cut in real terms, as reportedly proposed by the Chancellor of the Exchequer, Gordon Brown; or whether there will be a compromise — a permitted annual increase corresponding to the inflation rate, as allegedly favoured by the Culture Secretary, Tessa Jowell. Now Grade isn't there any more to keep the pressure on right up to the moment of decision. But in an emotional farewell e-mail to all BBC staff to explain and defend his departure ("Being the chairman of the BBC was the most unexpected job I have ever had. The welcome you gave me on my arrival is embedded deep within my emotional DNA"), he assured his former colleagues that they would survive without him:
Look after Auntie, I am sure you won't need me again. And thank you for having me.
The BBC's proliferating blogs are predictably preoccupied with these momentous issues, to the point where I yielded to the temptation to contribute to one of them a very slightly tongue-in-cheek attempt to put matters into perspective. This particular blog belongs to Newsnight's Business Correspondent, and it's called 'Talk About Newsnight: Paul Mason's Idle Scrawl', the relevant post being 'Grade – big socks to fill…', a reference to the great man's predilection for wearing red socks. As my humble comment is already buried under the dead weight of countless further comments in innumerable similar blogs, I'll try to rescue it for both posterity and what it's worth by reproducing it here:
"It's natural that BBC and other television people should be agog over Michael Grade's move, but to most of the rest of us it's really a bit of a yawn, these elderly gentlemen making grandiose statements to bunches of microphones and then shuffling around the chess board in different permutations: only the names remain the same. None of it seems especially relevant to those of us who get more entertainment (not in the form of television programmes, though) from our computers than from those weary old programmes on the box, mostly as unchanging in their tired formats over the years as the channel bosses or the New York Times. Coronation Street! Panorama! Does anyone really watch them still? OK, we all listen to the Today Programme and the World at One and PM, and watch Channel 4 News and Newsnight, with snatches of Sky News in between, but that's because we're hooked on politics and news, not on BBC Radio or television any more.
"Of course we cherish the dear old BBC (it's a National Institution, right?) — and we get really annoyed when the government tries to mess it about: long live Andrew Gilligan and Greg Dyke! But we also think it's recklessly extravagant — why do all the big name presenters have to troop out to the US every time there's an election there? how many resident correspondents does the BBC keep in the US at any one time and why can't they be left to cover events Stateside without an army of household names rushing out to steal their thunder every third week? how many technicians and general hangers-on are really needed to make a run-of-the-mill programme? ever watch those credits rolling on for twenty minutes at the end of each pot-boiler?
"So it won't break our hearts if the licence fee is kept to just under the rate of inflation, and if that prevents the BBC from going ahead with its barmy plan for moving to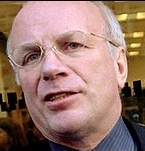 Manchester, tant mieux. Oh, and does anyone seriously think that Greg Dyke (right) is going to be the government's choice for the new Top Trustee of the BBC after the things he has said about Blair and co. when he was given the old heave-ho last time? If he does get it, it will be the ultimate proof that Blair's authority really has drained away out of the lame duck and that Gordon's already driving the plane, if you'll pardon the mixed metaphors. Come to think of it, appointing Greg would be a sweet revenge. So maybe it's not so far-fetched after all. (Excuse me yawning like this: it must be bed-time, and I doubt if I'll stay awake through Newsnight tonight any more than I have done for weeks….)
"Sail on, O BBC, our mate: sail on, broadcaster strong and great: but don't imagine that humanity with all its fears, with all the hopes of future years, is hanging breathless on thy fate, because it ain't."
Brian