Action on a continuing scandal: thousands still *indefinitely* imprisoned "for public protection"
In 2012, nearly two years ago, parliament passed legislation abolishing the infamous system of Indeterminate Sentences for Public Protection (IPPs), introduced in 2005 by a Labour home secretary, David Blunkett, an indefensible move but obstinately defended by ministers for the rest of the life of the Blair and Brown governments.  It fell to a small-l liberal Tory Justice secretary, Kenneth Clarke, to declare the system iniquitous and unjust, and to introduce the legislation that abolished it.  Stubborn and illiberal to the end, the Labour opposition complained that abolition posed a threat to public security.  So much for traditional Labour principles.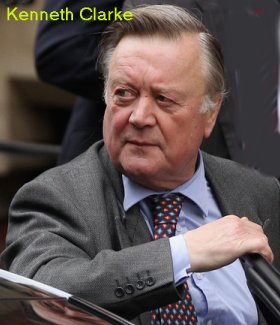 Alas!  Abolition has not turned out to be the end of this shabby story.  As Justice Secretary Clarke had recognised that the criteria for deciding whether IPP prisoners should  be released after serving their 'tariffs' (the punishment element of their IPP sentences) were grossly tilted against the prisoners – and against basic principles of justice – by effectively requiring IPPs to prove to the parole board that if released they would not re-offend:  an inherently impossible requirement.  As a result, barely 4 to 5 percent of IPPs have been released under these Kafkaesque criteria.  Clarke indicated publicly that he aimed to use the powers granted to him under the abolition law to change the release criteria so that an IPP prisoner should be released on completion of his tariff unless the parole board could show that there were specified grounds for believing that his release would pose a serious risk to public safety – thus reversing the onus of proof to where it belonged.
But before Clarke could follow through on IPP abolition by making this long overdue reform of the release criteria for IPPs still in prison, Clarke was sacked from his position at the Ministry of Justice and replaced by another Tory, this time a hard-line right-winger, Chris Grayling. Grayling, to his shame, has so far shown no interest in exercising his powers under the Act to reform, or even to improve, the release criteria.  As a result thousands of IPPs languish in prison to this day,  with very little hope of release in the foreseeable future, nearly two years after the present coalition government abolished IPPs.
All this has passed with little or no public concern or debate, until now.    Next Tuesday, 4 March 2014, there is to be a public panel discussion, with very distinguished participants, on the subject "The Prisoners Left Behind: Imprisonment for Public Protection After Its Abolition".  The event is open to all and attendance is free.  It is organised by the Bingham Centre for the Rule of Law together with Lord Lloyd of Berwick, the former Appeal Court judge, who is to be one of the panel members.  The other speakers will be:
Lord Faulks QC, Minister of State, Ministry of Justice
Sir David Calvert-Smith, Chairman of the Parole Board
Juliet Lyon, Director of the Prison Reform Trust
Pete Weatherby QC, barrister, Garden Court North Chambers
The Chair will be
(You can Google  all these for their backgrounds and qualifications.)
Details of the time and venue of this important and encouraging event can be found at
http://www.biicl.org/events/view/-/id/816/
and
http://www.biicl.org/files/6824_the_prisoners_left_behind__-_flyer,_4_mar_2014.pdf  (PDF).
The flier for the meeting provides the following damning facts:
• More than 5,000 prisoners remain in indefinite detention under sentences  of imprisonment imposed for  public protection (IPP) between 2005 and 2012.  More than half have exceeded their tariff and are waiting to come before the Parole Board.

• In the case of 773 prisoners the tariff was two years or less.  But IPP was imposed because until 2008 the sentence was mandatory.  350 of these  prisoners have exceeded their tariff by four years or more.

• Parliament abolished the IPP sentence in 2012. Ken Clarke, the Minister who introduced this amendment, said  that IPPs were 'unclear, inconsistent and have been used far more than was ever intended…  That is unjust to the people in question and completely inconsistent with the policy of  punishment, reform and  rehabilitation'.

• In 2012 Parliament made specific provision for handling the backlog.  The Justice Secretary [Chris Grayling] was given power to vary the release test.  But he has so far declined to exercise that power, even though at the current rate of release it will be nine years before the backlog is cleared.

• In several cases the  ECtHR [European Court of Human Rights] has found that the continued  detention of IPP prisoners was arbitrary and in breach  of their  Convention rights .  There are  more [ECtHR] cases in the pipeline.   [My emphasis – BLB]
It will be interesting to see whether, and if so how, the Justice Ministry participant in the discussion, Lord Faulks, contrives to defend and justify this scandalous and shameful state of affairs.
Important footnote
Thursday 13 March is to be a Day of Action against the continued detention of the thousands of IPPs still behind bars. That evening the BBC 2 television programme Newsnight  is scheduling a segment on this issue. This should be well worth watching.  I'm told that there are also plans for a public meeting of protest on Thursday 13 March about the continued imprisonment of IPPs, to hand in a letter to No. 10 Downing Street and then to move to the Houses of Parliament for meetings with Ministers, peers and MPs.  Details of timing, etc., can be seen by Facebook members (and possibly others) at https://www.facebook.com/events/258296224335919/?ref_dashboard_filter=upcoming.  The organisers are very welcome to supply details in comments at the end of this post of how to take part in these events: where and when to go and what to do beforehand in preparation.  [Later: there are now several 'comments' on this post, below, with information and a warning about this 'Day of Action' on IPPs:  please read them before you decide whether to turn up for any particular event.]
*   *   *   *   *
So at last enlightened opinion is beginning to wake up to what is going on, and to the evident failure of the Justice Secretary to do anything about it, even though the power to resolve the problem has been given to him by an Act of Parliament passed under the government of which he is a member.  It's surely time that Mr Chris Grayling is called to account for a failure which continues to bring such (mostly quite undeserved and wholly unnecessary) misery and fear to so many thousands of people.  Keeping thousands of citizens in prison not as punishment for what they have done but out of fear of what they might conceivably do in the future is the mark of a barbarous society which has lost its moral bearings and forgotten the most elementary principles of justice.  Enough!
Brian