Alastair Campbell at the Chilcot Iraq Inquiry: the gaping hole
It's disappointing that the Chilcot Inquiry didn't focus relentlessly on the gaping hole in Alastair Campbell's defence of his and Blair's record in Iraq, summed up here:
"When it came to it, when the diplomatic process clearly was not going to resolve the issue, post [UN Security Council resolution] 1441 and when the French pulled the plug, then military action became the only means of response." [Transcript, Campbell evidence to Chilcot, p.41, lines 17-20]
This grossly misrepresents what happened.  The diplomatic process (i.e. the UN weapons inspection backed up by UN threats of force if Iraq failed to cooperate with it) could still have "resolved the issue" if the premature and illegal US-UK attack on Iraq hadn't pre-empted it.  A sizeable majority of the Security Council wanted to give the inspectors more time, for which the inspectors themselves had asked. The transcript of President Chirac's famous TV interview shows that France never "pulled the plug" (i.e. never said "never") as UK ministers have subsequently repeatedly claimed – a deeply misleading excuse that Alastair Campbell has now repeated. Blair would have been fully justified in disengaging from the US military action, even at the last moment, on the grounds that diplomacy and the UN weapons inspectors still had a chance of resolving the issue without blood needing to be spilled.  The indictment against Blair (and his cabinet colleagues) is that the war was not the last resort.  Campbell, in his evidence, wrongly and repeatedly said in effect that it was.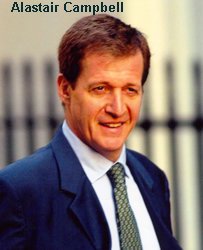 It's interesting that Alastair Campbell (for whom in many ways I have a lot of respect, perhaps perversely) carefully avoided basing his allegations about the French position on the famous TV interview given by President Chirac on 10 March 2003, a few days before the US, UK and a few others abandoned the diplomatic effort and went to war:  an interview that has constantly been misquoted and misinterpreted ever since, as the transcript shows.  Instead, Campbell referred to secret Anglo-French talks which he had attended at the time.  Without being able to see the record of these talks, and being unable to know even who took part in them, none of us is in a position to question Campbell's assertion that in the talks the French defined their position in a way that made it fruitless either to give the inspectors more time to complete their work or to hope that if the inspection definitively failed, the Security Council would be prepared to authorise military action against Iraq in order to compel compliance with the Council's own mandatory resolutions, without a French veto or No vote.  All we can say is that as late as 10 March, the French President set out his government's position in the famous television interview at considerable length, in exhaustive and subtle detail:  and nothing that he said indicated a determination to 'veto', or even to vote against as part of a Security Council majority (which would not constitute a veto) any resolution to authorise force against Iraq at any time in the future in any circumstances.  On the contrary:  Chirac several times pointedly reminded the interviewer that France was by no means a pacifist country.  It's also worth reminding ourselves that everything said by Chirac in the interview precisely corresponded with the views of a solid majority of Security Council member governments at the time.
Of course it's possible that in Mr Campbell's secret talks the French took an irrevocably negative position, totally different from that defined by their President publicly on 10 March, indeed so negative as to justify Washington and London in embarking on a ferocious military attack on and invasion of Iraq without a vestige of authority from the Security Council as required under international law.  But that seems, on the face of it, rather unlikely.  And if the position of France was that defined in the Chirac television interview, Mr Campbell really ought to stop using France as an excuse for an action that was unwarranted, illegal, in breach of our Charter obligations, unnecessary, premature, opposed by much of the world including some of our closest allies and partners — and without question not the last resort.
Update (21 January 2010):  Professor Geoffrey Warner, in a comment on this blog post (below), has questioned my interpretation of the Chirac interview, quoting a passage from the transcript in support of his (and Alastair Campbell's and Jack Straw's and Tony Blair's) opposite interpretation.  In a long response I have quoted back several other extracts from the Chirac interview which in my continuing view support my (and many others') interpretation, namely that Chirac never said Never, only Not Now. My exchange with Professor Warner is at
https://barder.com/2300#comment-91331.
Brian (back from Ethiopia)