Allow to die, or kill?
Another dispute between parents who wish their child's medical treatment, however hopeless, to continue, and the hospital doctors, who judge that treatment is burdensome and pointless and should be terminated, has just been decided by the court in favour of the doctors. Treatment was "withdrawn" and the baby ("Baby OT") died next day. In his column in today's (23 March) Guardian, Marcel Berlins debates the appropriateness or otherwise of such painful cases being decided by the courts and concludes, a little reluctantly, that they probably should, until someone devises a better arrangement.
I'm a little surprised that Mr Berlins didn't also discuss what is unarguably a much more offensive feature of these decisions.  When the courts agree to the withdrawal of treatment, in cases where the treatment is the only thing that's keeping the patient alive, terminating the treatment, e.g. by turning off the ventilator, is all that the law permits.  The doctors may not administer a lethal injection or a lethal dose of some oral drug to hasten death and minimise suffering.  In some cases the patient may linger on for days, eventually dying of thirst and starvation rather than of the condition which is incapable of cure and which will eventually anyway cause death.  There's even a lively debate over whether artificial feeding by tube constitutes 'treatment' which in some cases may legitimately be 'withdrawn', obviously and inevitably resulting in the patient's death.  Defenders of this grisly paradox argue that withdrawing treatment is morally acceptable even when everyone concerned knows that it will result in death, provided that the treatment is not stopped with the intention of causing death.  Those of us who were denied the benefits of education by the Jesuits may be forgiven for gagging on that.
In an interview yesterday on the BBC radio Today programme, the Most Reverend Peter Smith, Roman Catholic Archbishop of Cardiff, talked about his church's position on cases of this kind.  The interview is no longer available on the BBC website, but here are my notes on what he said, made while listening to him:
Must not kill an innocent person under any circumstances — there's no moral justification for that. But when it comes to the end of life, we wouldn't take a vitalist [?] view that somebody must be kept alive by the most extraordinary means. The Church's view, the moral view [sic] is that if the treatment needed to keep the person alive is burdensome or futile, we wouldn't take the view that you must always continue it to keep the person alive because it's absolutely pointless.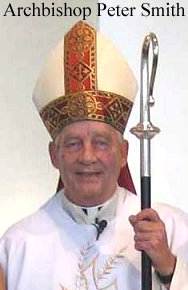 So you may do something to a patient which you know will result in his death, but you may not actually take any direct action to hasten death.  The point of withdrawing treatment is so as not to subject the patient to treatment that may cause suffering and loss of dignity, but you may not then administer a drug that will have exactly the same effect: sparing the patient unnecessary suffering and loss of dignity after the withdrawal of treatment by hastening his inevitable end.
But, the Archbishop might say, to administer a lethal injection would constitute euthanasia; and anyway "there's no justification for killing an innocent person in any circumstances".  But to stop feeding a helpless patient is to kill him just as surely as giving him a lethal injection:  it just takes longer and is likely to cause more suffering.  It's still by any rational definition euthanasia.  How starving a man to death can be morally and theologically acceptable, when a quick and painless injection that achieves the same result but spares the patient days in agony is deemed to be ethically wrong, is quite beyond me.  It surely puts sophistry and unfeeling ideological doctrine before common humanity, and as such is morally repulsive.  It's an irony that the Most Revd. Peter Smith — formerly, by the way, the hot tip to succeed Cardinal Cormac Murphy-O'Connor as Roman Catholic Archbishop of Westminster, but now regarded as perhaps too 'liberal' for the job — should provide such a public example of doctrinaire heartlessness in the same week as the Pope's comparable pronouncement condemning the distribution of condoms, from large to small condoms in the campaign against HIV/AIDS and STD symptoms in men: pimple on penis, etc, almost certainly causing uncounted additional deaths and unmeasurable avoidable suffering just by what he said.
It's only fair to say, though, that it's not only Roman Catholics who are unfazed by the idea of withdrawing a patient's treatment in the knowledge that death will result, but can't quite bring themselves to accept a quicker, more merciful but more activist way of achieving the same result.  Many members of the medical profession and some lawyers seek to protect their delicate consciences by drawing the same bogus and hypocritical distinction.  Arthur Hugh Clough (1819-1861) no doubt thought he was being wittily satirical when he wrote, in The Latest Decalogue:
Thou shalt not kill; but needst not strive
Officiously to keep alive.
It would be nice to believe that Clough would have been distressed to think that all these years later his Latest Commandment was being taken literally. (The rest of his Latest Decalogue is equally pointed and worth reading, although less well known.)
Brian