Concerned about IPPs still in indefinite preventive detention? Watch Newsnight on 13 March
Last month I wrote yet again about the national scandal of Indeterminate Sentences "for Public Protection", or IPPs. Long after IPPs have been abolished and can no longer be imposed, literally thousands of people who were given IPP sentences before abolition are still in what amounts to preventive detention in the harshly punitive conditions of our prisons. The majority of them have completed the punishment part of their sentences and are now warehoused behind bars because men (and women) in suits are frightened that if released they might re-offend.  The criteria for agreeing to release them are so Kafkaesque, so heavily weighted against even the most innocuous IPP prisoner, that those still incarcerated and their families begin to fear that they will never be released.  Parliament has given the Justice Secretary (the government minister responsible) powers to reform the criteria for releasing IPPs unless they clearly pose a serious threat to public safety, but the Justice Secretary refuses to exercise them.
Those concerned about this monstrous situation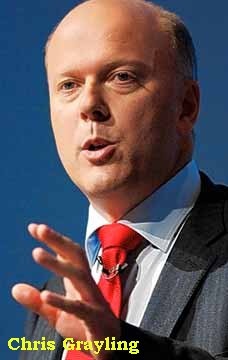 should watch the BBC2 television programme Newsnight tomorrow, starting at 10:30pm on Thursday, 13 March.  Watch it live on television or on your PC or laptop, live or later. Please record it if you can and ask your friends round to watch it later.  Then persuade them to write furiously angry letters to their MPs — again — demanding long overdue action to remedy this grotesque injustice by the man now responsible for it: Mr Chris Grayling, the Tory Secretary of State for Justice.  Justice!
Brian