Diplomacy: the national interest or the ethical dimension?
In an article in The Hague Journal of Diplomacy I discuss the two traditional rival views of the function and purposes of diplomacy:  the (often competitive) pursuit of the national interest, versus the (mainly collaborative) pursuit of the greatest good for the greatest number — what the late Robin Cook, in a much misquoted phrase, called the 'ethical dimension' of foreign policy.  Our new prime minister, Mr Cameron, has added a third candidate for the purpose of diplomacy:  namely, promoting the country's trade and investment with the outside world.   Unfortunately this (hardly novel) idea was unveiled too late to be dismissed as risibly old hat in my Hague Journal article.
The Journal's title does not refer, even obliquely, to Britain's present Foreign & Commonwealth Secretary.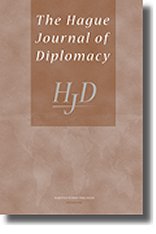 The Hague Journal of Diplomacy owns the copyright to this article, but I am permitted, exceptionally, to publish it on this website.  You can read it (either as a web page or as a PDF reproducing the printed pages) at —
https://barder.com/diplomacy-ethics-and-the-national-interest
Comments on the article, critical or approving, analytical or anecdotal or both, are, as always, welcome;  factual corrections even more so.  Please append any such comments to this blog post, not to the article itself.
Brian