Don't knock Match Point
Woody Allen's new film, Match Point, uncharacteristically shot and made in London, England, has for the most part been rapturously received at Cannes and in the United States — spoken of as a potential Oscar-winner as Best Film, even — but given a distinctly cool reception in some quarters in the UK. Peter Bradshaw and, more surprisingly, Maureen Lipman in the Guardian complained that the upper-class English dialogue didn't ring true, reflecting an American director's tin ear for English English idiom. The usually reliable Ms Lipman even complained that the film took place in a swinging London that hadn't existed for decades. Both criticisms seem to me unfounded. Perhaps Mr Bradshaw and Ms Lipman (whom we once met on a cruise and who was delightful — friendly, unpompous and without side) don't move in these rich-tycoon, landed gentry circles, any more than I do, but the script and dialogue sounded perfectly authentic to my equally English ear, and I saw nothing anachronistic about the London lovingly portrayed. Both Bradshaw and Lipman complained also that the use of such backgrounds as Tate Modern and the Thames Embankment were too touristy, but they were wholly appropriate in their contexts and it's good to see London affectionately and admiringly photographed by a master film-maker whose love of Manhattan he has celebrated in the past so productively and cinematically.
The film is a departure from Allen's more usual oeuvre, not only with its UK location but also in being neither comedy nor Bergmanesque family psychological drama. This is a Hitchcockian thriller which beautifully builds up suspense and finally resolves it with a breath-taking and cunningly prepared Hitchcockian McGuffin worthy of the Master. There are other cinematic echoes and references, notably (unless I was imagining it) to Antonioni's splendid Blowup — Match Point has a tennis ball crossing and re-crossing the net without sound or tennis-players; Blowup has a group of mimes playing tennis without a ball, also of course soundlessly. (Later there's a sequence in reverse: we see a deserted tennis court but hear the sound of an invisible tennis ball being hit to and fro by invisible racquets wielded by invisible players.) Woody Allen has yet another variation on this nice theme.
There are fleeting guest appearances by familiar faces (Margaret Tyzack, John Fortune) although I didn't spot a Hitchcockian 3-second flash of Woody Allen. Contrary to the Guardian's nit-pickers, I thought all the principal and supporting performances first-rate, sometimes sounding partly improvised, always expert and professional in the English actors' tradition (much praised by Allen in recent interviews). Jonathan Rhys-Meyers, Emily Mortimer (who had the unnerving experience at one time in real life of discovering the existence of an older brother, Ross Bentley, as a result of a past
relationship between the actress Wendy Craig and her father, the playwright Sir John
Mortimer), the admirable Matthew Goode, and of course the glorious Scarlett Johansson [1], all turn in Oscarish performances of genuine star quality.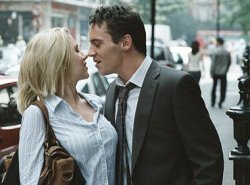 Despite its ingenious title (that McGuffin again), this isn't a film about tennis or tennis players, except tangentially; any resemblance to the wholly dire film Wimbledon (see my blog post about that turkey) is purely coincidental. The use of opera arias, sung by Caruso and others, as background music and echoing one of the movie's themes, reminiscent of the best of Morse, is enormously effective and makes you wonder why more classy movies don't make use of classical music to add to their impact. (Of course there was always Mozart to decorate Bo Widerberg's Elvira Madigan.) However, I will grant the Guardian's snipers one damaging point: British lovers of genuine opera aren't likely also to be enthusiasts for attending a musical of Mr Andrew Lloyd Webber. That does jar.
There's a perceptive and balanced article about Match Point in the New York Magazine of 26 December 05 (I read it only after writing the above comments). For some reason it prompted the question in my mind whether the evident reluctance on the part of some Brits, and perhaps especially some women to a more marked degree than men, to give Match Point and Woody Allen the credit due to an outstanding film might have something to do with a gut dislike of its director because of his unattractively messy private life, anyway at a certain stage of it. The fact that Scarlett Johansson is one of the film's major assets (as Woody Allen himself acknowledges) might also have something to do with it. I saw the movie with my wife and another couple. Perhaps it was pure coincidence that the two women didn't think much of it, while the two men thought it magnificent? Not a statistically significant sample, obviously, but perhaps of some anecdotal value; suggestive, anyway. And it can't be pure chance that the film already has four nominations for Golden Globes. (It was not entered for the competition at Cannes.) [n.b.: Comments accusing me of sexism, misogyny, etc. will be deleted.]
In spite of everything, go to Match Point. It's a splendid movie and great entertainment. Welcome back, Woody.
[1] Sometimes wrongly spelled Johanssen.
Brian