Ephems on the death of Lady Thatcher
This blog is on extended holiday while its owner is writing a book (of which more some time later).  But it's impossible to let Margaret Thatcher's death pass without adding a few drops to the torrent of comment that has predictably inundated the country's media, including a river of crocodile tears from a number of the prominent Tories who brutally deposed her when she was no longer electorally useful to them.  It's crude and unseemly to celebrate anyone's death, but there's an obligation on any self-respecting commentator, even a humble blogger, to try to tell the truth about the dead as well as the living.  'Nil nisi bonum' is an irresponsible motto when it comes to judging public figures and their records.
For an assessment of her overwhelmingly negative legacy, it would be hard to improve on today's Guardian editorial, here.  It's required reading: respectful, judicious and balanced.
However, it's perhaps worth adding one point that's easily overlooked, perhaps because it's contentious.  Mrs Thatcher's ferocious assault on the power of organised labour, welcomed by many as a corrective to the excessive power of the unions but carried to unforgivable extremes of destructiveness, made a major contribution to the rapidly widening gap between the richest and the merely average earners in society.  It was the theft of an indefensible share of the nation's income by the top earners and owners of obscene amounts of wealth which steadily ate into the earnings of ordinary people and the below-average poor, forcing them to shoulder a growing burden of private debt if they were to maintain their standard of living, let alone to improve it year by year.  The avaricious banks and other financial institutions were happy to go on lending even to the most obviously impecunious borrowers, and it was this (not just in Britain) more than anything else that eventually led to the banking collapse which in turn caused the steep recession that is with us still, six years later, now aggravated by the perverse and economically ignorant policies of Messrs Cameron and Osborne.  But the origins go back to Margaret Thatcher and her deliberate destruction of the capacity of organised labour to defend its legitimate interests.  It's as if she consciously set out to demonstrate the kernel of truth in Marx's perception of capitalism as containing the seeds of its own destruction.
The lady's other attacks on many of the features of post-war Britain that had helped to bind us together in some degree of solidarity, rather than dividing us into selfish and greedy individualism, are well described in the Guardian editorial.  It's enough here to confirm that almost everything that Margaret Thatcher stood for, this writer finds abhorrent.
It's only fair to add that on the two occasions when I came face to face with Margaret Thatcher as prime minister during my time in the diplomatic service, once when she came to Lagos for discussions with the Nigerian government, and once in London when I accompanied the then Polish foreign minister on an official visit, she could not have been more charming and friendly.  During one-to-one meetings with her, she would ask me for my opinion on some current issue, and — in striking contrast to most other politicians great and small — she then listened carefully and without interrupting to what I had to say.  I have it on unimpeachable authority, too, that in her relations with her own staff at No. 10 Downing Street, and again in contrast with some of her predecessors and successors, she was invariably kind, thoughtful, and solicitous of their and their families' welfare.
Perhaps the main lesson to be learned from this extraordinary woman's extraordinary career in public office is that we should beware of "conviction politicians", so unshakably convinced of the rightness of their beliefs that they are impervious to rational advice to consider the possibility that they might be wrong.  Some bloodshed and much human misery might have been avoided if it had not been for the blind obedience to their convictions of Margaret Thatcher — and of her later successor in No. 10 who in too many ways adopted her as his role model, Tony Blair.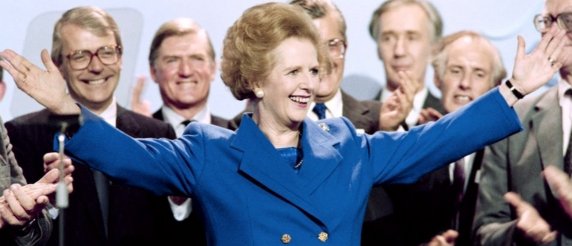 Brian