The Quartly Engravers
Eliza Annie Quartly, a great-grandmother of Brian Barder, was born in St Pancras around 1861.  Her parents, Cecilia Ryan and William Benjamin Quartly, had married at St Pancras Church in 1859.  On his marriage certificate, William Benjamin, aged nineteen, was described as an engraver on wood. This remained his occupation on successive censuses and on his children's birth and marriage certificates right up to the 1901 census.  Rodney K Engen, searching directories, biographies and memoirs for his essential source-work Dictionary of Victorian Wood Engravers, published 1985 by Chadwyk-Healey, collected nearly 2,000 names country-wide. There was huge variation in the fame and fortune of different wood engravers and inevitable fluctuations in the prosperity of the craft.  Men such as William Morris, Sir Luke Fildes, and Edward Gordon Craig and women such as Gwendolen Raverat and the Misses Byfield acquired reputations beyond the fraternity of artists and engravers.  William Benjamin Quartly did not become famous and he never even reached the stage of listing himself among the many engravers in the annual London Post Office Directories.  He was presumably one of the journeymen engravers employed by the large studios of wood engraving businesses which flourished, especially in the middle years of the century, and he always seems to have had work.  The use of photo-engraving techniques which began in  the 1880s brought financial ruin to many of these wood-engraving firms, but a new generation of wood-engravers continued to practise their skills as individuals, establishing their own artistic reputations. Two of William Benjamin's sons, Alfred and Harry, appear in the directories from about 1890 onwards, operating independently, and they are also listed in Engen's Dictionary of wood engravers.  Perhaps by 1901 they were able to employ their father.
In the introduction to his Dictionary and in its potted biographies Rodney K Engen describes two schools of wood engraving which developed in the early 1800s, reviving a craft which had been largely superseded by metal engraving.  The publication in 1797 of The History of British Birds, Land Birds with wood engravings by Bewick has been said to signal the revival of the art of wood engraving in Britain.  While Bewick is regarded as the Father of the British School of wood engraving, he had a younger rival, Robert Branston, regarded as the Father of the London School. Both men started their careers as engravers on metal.  Branston was apprenticed to his father, a copperplate engraver and heraldic painter, in Norfolk, while Bewick, the son of a Northumberland farmer, was apprenticed in 1767 to Ralph Beilby, a Newcastle metal engraver.  Despite this common background they developed different methods of wood engraving.  Both men passed on their skills to numerous apprentices and despite the differences between the British and London Schools and the conscious rivalry between Bewick and Branston, by the 1830s British wood engravers were much in demand in France, Belgium, Germany, Sweden and the USA, both as teachers and practitioners.
At the same time there was huge demand for wood engravers in mid-nineteenth-century Britain. All of us know the engravings which illustrate the great Victorian novels, and which reproduced popular Victorian art for a growing middle-class.  But perhaps the most voracious users of the wood engravers' skills were the illustrated magazines, pioneered by the Illustrated London News which appeared for the first time on 14 May 1842, with 16 pages and 32 woodcuts, including pictures of the war in Afghanistan and a fancy dress ball in Buckingham Palace.  It was founded by Herbert Ingram, a Nottingham publisher whose family seems to have owned Parr's Life Pills, an aggressively advertised patent medicine.  Henry Vizetelly, a prominent early contributor to the ILN and the founder in 1855 of a rival publication, had previously engraved advertisements for Parr's Pills. The first issue of the Illustrated London News sold 26,000 copies: by the 1860s its circulation had reached between 250,000 and 300,000. This was a publication with a news agenda.  Artists, usually with a wood engraving background, were sent to theatres of war.  Henry Vizetelly's younger brother, Frank, was a war correspondent for the paper; he covered Garibaldi's campaigns in Sicily and Italy and the American Civil War; the paper had four war artists in the Crimean war.  Sales increased for  such events as the1851 Great Exhibition and the death of the Prince Consort.  Descriptions of the ILN offices as publication deadlines approached speak of them being crowded with artists and engravers, often working sixteen or even thirty-six hours on the trot, snatching an odd hour for sleep or food. A lot of the work was contracted out, sometimes to individual engravers of note, but more often to studios where a prominent craftsman employed a staff of apprentices and experienced men whose work was never credited: possibly men such as William Benjamin Quartly.
As well as Alfred and Harry Quartley (spelt thus),  Rodney Engen also lists Frederick William Quartley, John Quartley and John Arthur Quartley in his Dictionary. The chances are that individuals bearing the same unusual name, even with a spelling variation, and practising the same highly specialised craft, were related.  Until the building of the railways set the population on the move early in the nineteenth century, the name Quartley or Quartly seems to have been largely confined to Somerset and Devon.  Even within the small villages where the name prevailed, there was no consistency in the parish records about its spelling.  In the early 1800s London parish records and trade directories began to record the activities of three Quartley families. Two of these London families produced wood engravers and were almost certainly related.  Evidence suggests that Frederick William Quartley and John Arthur Quartley, listed by Engen, although ten years apart in age, were brothers, both sons of William James Quartley, a printer who married in Bath in 1807 but was resident in London from at least 1824 until his death in 1848.  In addition, it is possible that Engen's John Quartley was both a cousin of those brothers  and Wm. Benjamin's uncle.  Engen's career summary shows that at one point in John Quartley's career he was in an engraving  partnership with Matthew Urlwin Sears. This suggests that he was probably the son of a John Quartly who first appeared in London records when he married Mary Ann Sears at St Matthews, Bethnal Green, in 1809.  Matthew Urlwin Sears, the engraver, also patronised St Matthews Bethnal Green for christenings and weddings: John and Mary Ann Quartly named a son born in 1817 John Sears Quartly.  It is tempting to guess that Matthew and Mary Ann Sears were perhaps siblings and that the partnership between Matthew Sears and John Quartly was a family as well as a business relationship.  John and Mary Ann Quartly had named their first child, born in 1811, William James and it seems at least possible that he was named after his uncle, William James the printer. William Benjamin, our jobbing engraver, was the son of the younger William James. John Quartly the elder, who was described as a jeweller in parish records of his children's births, presumably came to London in the early 1800s from somewhere in the West Country or even, perhaps, from Bath.
It was in Bath, in 1807 at the Abbey Church, that the older William James Quartley married Jane Green and that their son, Frederick William Quartley, was born, in 1808.  By 1824, however, William James Quartley was a London resident.  On 5 August 1824, William James Quartley, printer, apprenticed his sixteen-year-old son, Frederick William Quartley, to the father of London wood engraving, Robert Branston, of Beaufort Buildings. The Quartleys' address in 1824 was Edmond Place, Aldergate Street, and they were still there for the 1841 census, somewhat unusually for those times and suggesting a certain amount of business stability. There were two children, John, an engraver, and Eliza: both were said to be 20 years old, but the 1841 census does not give exact ages.  In 1844 Eliza married Thomas Payne, also a  printer, and William James died in 1848.  Sadly he did not survive until the 1851 census which would have asked his place of birth.  The 1841 census merely shows that William and his family had all been born out of London.
Frederick's fortunate link to the influential Robert Branston, his Master for the next seven years,   might have been established in Bath. The young Robert, having completed his apprenticeship in Norfolk, appears in Bath around 1798 working as a painter engraver.  Although he was established in London by 1803 when his son Robert Edward was baptised at St-Martin-in-the Field, it is possible that, as an engraver, he had met William Quartley, the printer, during those few years in Bath.  Once in London, Robert worked as an engraver of music scores while teaching himself wood engraving.  His self-tutelage resulted as early as 1804 in illustrations for Wallis and Scholey's History of England. Another son, Frederick William Branston, was born in 1804 and baptised at St Luke's Old Street in 1805.  Both sons, Robert Edward and Frederick William, became prominent and well-regarded wood engravers in their turn.  During the 1830s, Frederick William Branston was doing a great deal of work for French publications.
Frederick William Quartly, Branston's apprentice, also acquired French experience.  Having married Mary Ann Folkard at St Pancras Church in 1834, and baptised a son, Frederick James, at St Olave's, City of London, in 1835, he moved to Paris.  A second son, Arthur Quartly, was born in Paris in May 1839.  French-born Arthur Quartley, in middle age, became renowned as an American marine-painter, an associate of the American National Academy in 1879, and an academician in 1886.  The Appletons Encyclopedia biography of Arthur relates that at the age of two he was taken back to London from Paris and that he studied art in Westminster from 1848-1850, before his father took him to New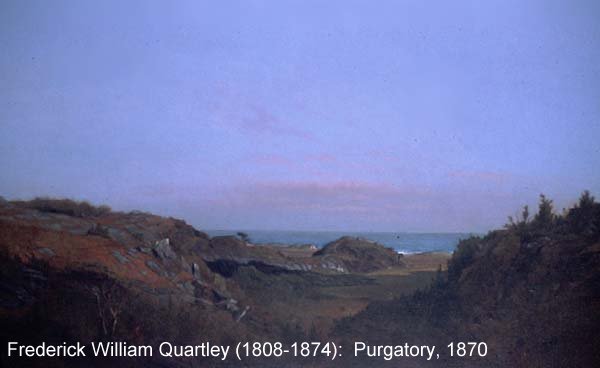 Frederick William Quartley (1808-1874), Purgatory, 1870, Colored wood engraving on paper, 9 1/2 x 6 3/4 inches, Collection of the Redwood Library and Athenaeum (RLC.PAP.MISC.223). First published in Appleton's Journal, vol. 3, no. 43, January 22, 1870, page 101; subsequently used in 1872 in the serial Picturesque America, part 16, page 371. Born in Bath, England, Quartley took up wood engraving at age sixteen and studied in Wales and Paris. He emigrated to America in 1851 after the death of his wife, and settled in Peekskill, New York. He provided illustrations for a number of publishers, including Appleton & Company, publishers of Appleton's Monthly and Picturesque America (1872).
Newport Art Museum, R.I. — http://www.tfaoi.com/newsm1/n1m672.htm
York in 1852.  The move to New York followed a series of family deaths in their Southwark home.  Mary Ann and a baby, also Mary Ann, both died in 1851 and Frederick James died aged sixteen, in March 1852.  Frederick William had some success in New York as a landscape painter and as an engraver. In 1853 he married a second wife, Anastasia Maher, at All Saints Church, New York City, but this marriage seems to have been childless.  Frederick died in New York City in April 1874.  According to the Appleton biography, his son, Arthur, was initially apprenticed to a sign-painter in New York and worked as such until 1862. He then spent about 10 years working in business in Baltimore before returning to New York, devoting himself to painting and opening a studio in 1875.  He spent  the year of 1885 in Europe and died soon after his return to the States.
John Quartly, possibly the John Sears Quartly, was one of the many English engravers in Engen's Dictionary who made their living in France.  Engen records that he directed the presses of the publishing house of Mame in Tours and that he had a distinguished and prolific career as a wood engraver from about 1835.  He is apparently 'best known for his later work after Dor; notably Dor's illustrations to Dante's Inferno, 1861 which Quartly engraved with Linton, Pisan, Pannemaker and Best-Hotelin': a telling indication of the numbers of craftsmen employed on one enterprise. In addition to his French career and his collaboration with many French artists and craftsmen, John Quartly also had a partnership, as mentioned, with Matthew Sears.  Sears, born in the City of London around 1800, was older than John Quartly, and was working in London in the 1820s.  The British Museum owns three of his earliest published works, engravings for Northcote's Fables, 1828. He moved to Paris around 1835 and established a reputation as one of the most influential English wood engravers. Laurent's Histoire de l'Empereur Napoleon, 1839 is just one of many publications on which both Sears and John Quartly worked, as well as numerous other engravers.  Perhaps John Quartly followed Matthew Sears to France: their work for English publications such as the Penny Magazine was in the early 1840s. Rodney Engen records that the Bodleian Library, Oxford, owns Quartley's engravings for the Penny Magazine. Matthew Sears seems to have returned to live in London around 1854 when he is once again listed in the London Directories until 1859 but John Quartly apparently remained in France where he was active until about 1867.
John Arthur Quartley is noted by Engen as a London wood engraver, active from 1876 to 1888, listed in the London Directory at 13 Bouverie Street from 1876 to 1880 and at 8 Eton Grove, Blackheath, in 1880.  In fact he was probably the twenty-year-old engraver living with William James, his father, at Edmond Place, Aldergate Street  in the 1841 census and the brother of Frederick William Quartley, Branston's apprentice.  Perhaps he followed his brother to Paris because in 1845 he was in Paris when he married Elizabeth Etherington in the House of His Excellency the British Ambassador at the Court of France.  John Arthur gave his English residence as the Parish of St Botolph in the County of Gloucester.  However the local studies librarian in the County of Gloucester can find no record of a Parish of St Botolph in the county: where there is such a parish is in Aldergate, London.  In the 1881 British census John Arthur Quartley gave his place of birth as Shepton Mallett which seems nearer the mark for one whose family certainly spent some time in Bath.  If he was confused about English parishes so too was his bride.  She declared herself as of the parish of Islington. However, two Etherington boys, Alfred and Henry, sons of Charles and Jane Etherington, were christened in the Embassy Chapel in 1825 and in 1826.  In the 1881 British census Elizabeth Quartley declared her place of birth as France, about 1823, and her nationality as a British subject.  She was presumably the sister of Alfred and Henry Etherington.  The Embassy chaplain described Charles Etherington's status at the time of his children's baptism, as domestic: perhaps he was a member of the ambassador's household.  Unfortunately the 1845 marriage certificate provides no details about John Quartley's occupation.   Rodney Engen's Dictionary, however, lists Alfred  Etherington and Edward Etherington, either an alternative name for Henry Etherington or perhaps another brother, as engraving for architectural magazines in Paris between 1849 and 1875.  We have to assume that John Arthur Quartley, an engraver in the 1841 London census and then again in the 1881 London census, must have been working as an engraver with his brothers-in- law in Paris.
In the mid-1870s, for some reason both John Arthur Quartley and Alfred Etherington returned to London.  The Paris of the Franco-Prussian War, the Commune, and the instabilities of the early years of the Fourth Republic might have made London seem a more attractive work environment.  John Arthur worked at 13 Bouverie Street between 1876 and 1880 and then from his Blackheath home, 8 Eton Grove, his address for the 1881 census.  According to Engen he specialised in landscape engravings and seems to have had some success.  His engravings appeared in the English Ilustrated Magazine between 1883 and 1888 and the British Museum owns a number of his works.  There is no trace of him after 1888: born around 1818, the likeliest explanation is his death.  If he and Elizabeth had children they must have remained in France because there is no sign of them in English records.  Nor is there any record of John's having made a will, which suggests that even as a prolific wood engraver he had not made very much money.  It was by no means only rich folk who made wills in the nineteenth century: many quite modest Quartley wills are listed, but none of them were made by the wood engraving Quartleys.
Whether or not Alfred Etherington made a will, by the time of the 1901 census when he was 78 years old he was an inmate in the Edmonton Workhouse.  His place of birth is given as Paris, his nationality as British subject and his occupation as engraver on wood. He had been listed as an engraver on wood in the 1880 London Post Office Directory, working at 3 Bouverie Street, and in the 1881 census he appeared with his family, a French wife, Angeline, and four children at 38 Tilson road, Tottenham. The 1901 census, while showing Alfred in the workhouse, also shows Angeline, a daughter, a granddaughter, and one of the three sons, George, living at 44 Victoria Crescent, Tottenham.   Angeline, now aged 58, was working as a dressmaker and 23-year-old George was a printer compositor: another son, Alfred, was working as a printer compositor in Biggleswade.  There is no sign of the oldest son, Hart.  Presumably the combined family incomes were not adequate to support the elderly, perhaps infirm, Alfred Etherington, engraver on wood. Neither Henry nor Edward Etherington figures in the 1881 or the 1901 British census index.  Engen describes Edward as a friend and collaborator of Gustave Dor who moved regularly between France and England before he died in 1883.  It seems likely that Edward was dead before the 1901 census.  A widowed Eugenie Mary  Etherington, 58 years old, born in France, a French subject, was listed in 1901, living in Newington.  The chances are that she was Edward's widow and that they had moved to England after the 1881 census had been taken.
If, as seems likely although not definitely proven, these Quartley and Etherington engravers were cousins, uncles, and in-laws of William Benjamin, then his sons would have known  that a wood engraver, even if successful, respected by his peers and collaborating with well-known artists, did not necessarily earn a good living.  Arthur Quartley in the USA was the only one who seemed to have prospered and he was an artist rather than a wood engraver.  Nevertheless the oldest two of William Benjamin's four sons, Alfred and Harry, did become engravers on wood.  Their example was not followed by their younger brothers, William and Charles who followed instead the trade of their grandfather, William James, and became travelling drapers, a somewhat puzzling occupation.  In the 1901 census the two travelling drapers, their wives and a total of five little Quartly children were all living together in 72 St Ann's Road, Tottenham.  By the following year they had separate entries in the London Directory: Charles had moved to Effingham Road, Hornsey.  A sad footnote to this story is revealed in the wills index which records the death in action of Charles Edmund Quartly in August 1916.  Only 20 years old, he was presumably one of the hundreds of thousands killed in the Battle of the Somme in order to advance about 10 kms.  His estate, worth seventy two pounds and ten shillings, passed to his father, Charles Edward, no longer a travelling draper but now a debt collector.
Alfred and Harry, the older sons, did not go to the lengths of sharing a house but they married sisters, Rose and Edith Parkinson, daughters of a carpenter who had migrated from Hull to Tottenham in the 1870s, and they worked together for some time.  In 1891, when Alfred was 25 and Harry 24, the brothers were listed in the London Directory at 3 Bouverie Street.  It is probably no more than coincidence that Arthur Etherington had worked at that address when he came to London, and that John Arthur Quartley worked at 13 Bouverie Street.  Bouverie Street, also famous as the home of Punch, the now defunct English humorous magazine, was as much a home to engravers as Fleet Street was to newspapers but at least the two young Quartly men were working among the true professionals of their craft.  Indeed they shared premises with engravers who remained in the directories for a respectable number of years.  For example, Andrew Coats and Ernest Dalton with whom they shared 3 Bouverie Street are both listed in the 1901 census as artists and engravers and they have a number of works in public collections.  Although both Alfred and Harry give their occupation as wood engravers working on their own account in the 1901 census, it was in fact only Harry, the younger of the two, who continued to maintain a business listing in the London Directory after 1893 when the brothers left  Bouverie Street.  From 1893 until 1896 he shared premises at 84 Fleet Street with Edward Humphries, a Scot who had started his career as a glass letter maker, and from 1899 until at least 1916 Harry is listed independently at 28 Clerkenwell Road.  Thereafter both he and Alfred disappear from London and London suburban directories: it is always possible that their wives took them back to Yorkshire.  However, in 1901, Harry and his family were still living in the vicinity of St Ann's Road in Tottenham where the Quartly clan had lived since the mid-1880s while Alfred and his family had moved out to East Ham.  In fact in East Ham, Alfred was living near to his sister, Eliza Annie, who had been deserted by her husband Frederick Triebner and was bringing up three daughters, including Brian Barder's grandmother, as a single mother.
Eliza and her sister Cecilia, the oldest of William Benjamin's children, formed another twosome in the family.  Rather strangely neither of these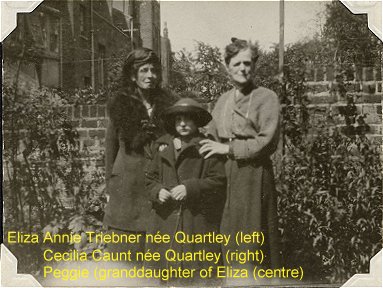 two girls, then aged 21 and 20, were listed in the 1881 census, either at home with their parents or anywhere in the national index.  The rest of the family in 1881 was living at The Cottage, Upper Park Street, Hampstead, a turning off Haverstock Hill.  It sounds a rather arty address now but was probably less desirable at that time. There were four families listed at the (apparently inappropriately named) Cottage.  Family heads were a carpenter, a bricklayer, a zinc worker and William Benjamin Quartly, engraver on wood, artist. Elsewhere in Upper Park Street there was an animal bus donkey master, a lamplighter, and boot and shoe-makers. Within a few years the Quartlys and the Gaunts had joined the thousands of Londoners who made Tottenham with its long streets of terraced houses one of the fastest growing towns in England in the last quarter of the nineteenth century.  However, it was at the Cottage that fifteen year-old Alfred was listed for the first time as artist's engraver apprentice and that Cecilia met her husband. The Cottage zinc worker, Edwin Gaunt (sometimes indexed as Caunt), had four sons.  In 1881 one, Edward, was a picture dealer, works of art, and another, Percival, was an artist's student. The other two boys became plumbers and were so listed in the 1901 census.  In 1901 Edward Caunt was stock-keeper of an art gallery. Percival was listed as a wood engraver at 24 Bouverie Street in 1893, as a wood engraver (sculp) in Hornsey for the 1901 census and in Ilford in the 1902 Directory.  His last sighting in the records is in 1913 when he signed the register as a witness at the wedding of Eliza's oldest daughter, Violet.
Cecilia married Percival in Tottenham in April 1885: he gave his occupation as draughtsman.  Just a few weeks later Eliza married Frederick Charles Triebner, another Tottenham neighbour. The Triebner family story is dense and complicated but they had not produced any artists or engravers.  However, Frederick's mother, born Fanny Russell in Bath, had three brothers who classed themselves as heraldic artists and draughtsmen or stationers on various marriage or birth certificates. None of them seems to have had great success in any of their activities, but perhaps they had come across the Quartlys in their work.  Eliza and Frederick were together in Tottenham for the 1891 census but by 1893 Frederick had left Eliza and their three daughters. She and the three girls appear in the 1901 census living close to Alfred in East Ham.  Violet, aged 14, was already at work as apprentice book binder vellum sewer, an occupation allied to the printing and engraving activities of the Quartly family.  When Agatha, the youngest daughter, married in 1908, her address was given as Brick Street, Mayfair, even though Eliza, her mother, was listed in the Ramsgate Post office directory for that year: in addition, one of Agatha's marriage witnesses was a young woman named Ellen Cornish.  It so happens that 3135 Brick Street was the headquarters of the Women's Printing Society, founded over the strenuous objections of printing unions to provide women with employment and enjoying considerable  success.  Its secretary, Margaret Weede,  was one of three printer compositor daughters of John Weede, a printer.  Ellen Cornish, Agatha's friend, was listed in the 1901 census as a book folder binder. It is surely not too fanciful to suggest that Agatha and Ellen were fellow workers at the Women's Printing Society.  Unfortunately it was rare for brides to state an occupation on their marriage certificates, perhaps because it was considered unladylike to work,  so there can be no confirmation that Violet, Agatha and, perhaps, Brian Barder's grandmother, Vivienne, worked in the print until they married, but it is at least a possibility.
Apparently, today, there is some suggestion that the contribution of the engravers was at least as important as the inspiration of the artist in many of the works we associate with the Victorian period.  Census entries and the terms many engravers used when giving their occupation for civil records show that many of them did regard themselves as artists. The story of our Quartlys shows that they were not greatly rewarded in financial or status terms, although an equation with plumbers and printers perhaps reflects a greater respect for those crafts than we accord them now.  However, we can look at every anonymous engraving with new interest and wonder whether it was the work of a Quartly, even of the unrecorded William Benjamin.