The Triebners of Germany, Georgia and England
________
The Triebners
Brian Barder's maternal grandmother was born Vivienne Triebner. He had never heard of her, or of her maiden name, until his wife, the present writer, began to research the family. Perhaps this was partly because the unfortunate Vivienne, in what now seems to have been yet another Triebner drama, committed suicide, and the inquest reports have mysteriously disappeared: her young grandchild was spared all knowledge of this tragedy.  But perhaps the ramifications of the Triebner saga had already been forgotten anyway. There was no ancestral home or even neighbourhood roots to bolster family relationships and memories. The English Triebners all made their own lives wherever they found opportunities, and they criss-crossed the country to do so. Their founding father, the Reverend Christopher Frederick, would probably have appreciated this. A German Lutheran, he migrated to the British colony of Georgia in the Americas and took an active part in opposing American independence before taking refuge in England. The often dramatic ups and downs of his English descendants straddled all classes of society and wealth in Victorian Britain.
Timothy Frederick, the first English-born Triebner: 18071875
Timothy Frederick Triebner, a commission agent, died in Bristol in May 1875 at the age of 68. Rosa Flower Russell, his much younger wife, had died the previous year. Timothy's 16-year-old son, Arthur, was with him as he died. So too was Gertrude Rhodes, Timothy's middle-aged spinster niece, who had come to Bristol from Rock Ferry in Cheshire. During a final illness described with unusual detail on the death certificate as twenty one days of intestinal obstruction followed by three days of exhaustion, Timothy dictated a will, witnessed by Gertrude Rhodes and a solicitor. The language of the will is that of a rich man who left his business to his youngest son, Arthur, and income from sale of real estate and other personal effects to be placed in trust for the maintenance and education of his youngest daughter, Enid Theresa. Arthur Triebner and William Meeker, Gentleman of the City of Bristol, were appointed as trustees of Enid's interests. But the estate was valued at less than six hundred pounds: Arthur and 15-year-old Enid would have to find their own fortunes. It is a conventionally sad little story: an elderly man whose commercial endeavours had not equalled his ambitions, worrying as he died about the future of his motherless daughter left to the care of her young brother. He must have hoped that the gentlemanly William Meeker would help the orphans to cope and that the presence of Gertrude Rhodes signified family support. The bare facts of Timothy Triebner's last days and his last concerns give no hint of the changing scenes and fortunes of his own life; nor of the remarkable story of the arrival of the Triebners in England; nor of the existence of at least ten, and possibly eleven, other children not mentioned in his will. The mixed fortunes of these offspring sometimes seem to unfold like the weekly episodes of a serialised Victorian novel.
Timothy had been born into very different circumstances from those of his death. He was born and baptised in Holbeck, a suburb of Leeds, in 1807. He and his two sisters, Maria Ann and Elizabeth, were the children of Timothy and Betty Triebner. The Leeds Mercury of Saturday 22 January 1803 had announced their marriage thus: "On Monday, Mr Tribner,(sic) of the Leeds and Liverpool Canal Warehouse, in this town, to Miss Rhodes daughter of Mr Rhodes of Holbeck." The marriage register at St Peters Leeds showed Timothy Triebner as a gentleman aged 25. His bride, Betty Rhodes, had been born in April 1781 to a family of prosperous woollen merchants. Unlike the Rhodes family however there was no previous trace of any Triebners in the Leeds parish records, nor in any other accessible UK records. The obvious explanation had to be that Timothy Triebner, whether as a child or an adult had been a migrant to England and the name suggested a Northern European origin. The true explanation of his father's origins is the first arresting detail in the history of Timothy Frederick Triebner's family.
Timothy Traugott Triebner, Betty Rhodes's bridegroom and Timothy Frederick's father, was indeed ethnically German but he had arrived in England from Nassau, Bahamas, in 1786, aged nine. He had been born in Georgia, during the American War of Independence in December 1777. His father, the Reverend Christopher Frederick Triebner, journeyed to Georgia from Germany in 1769 to work as pastor in Ebenezer, a Lutheran settlement. The British colony of Georgia had been founded in the early 1730s with a mixture of philanthropic and strategic aims. General James Oglethorpe, an MP and chairman of the Parliamentary Committee on Debtors Prisons, had campaigned for the establishment of a colony to the south of the Carolinas which would serve the two purposes of providing a fresh start for debtors otherwise condemned to indefinite imprisonment and which could provide a defensible frontier with Spanish Florida. Oglethorpe and other like-minded campaigners for philanthropy and expansion formed a Trust which was granted a charter in 1730 and in 1733 Oglethorpe, the first Governor of Georgia, landed with 114 settlers at what was to become the city of Savannah. In addition to debtors, other groups who needed relief and could provide a pool of trustworthy emigrants for the new colony were Protestants who were suffering discrimination and dispossession from the last gasps of the Counter Reformation sweeping some Catholic States of Austria and Southern Germany. These Protestants were of particular interest to George II, Britain's German Lutheran King and to the Society for the Promotion of Christian Knowledge (SPCK) which had been founded in 1698 to support the spread of Christianity throughout the British colonies. Under Hanoverian rule there were strong links between British and German Protestantism and Britain's American colonies offered a safe haven and religious freedom. In 1708, fourteen thousand Protestants from the Palatinate made their way to Pennsylvania and the next decades saw further such migrations. Friedrich Michael Ziegenhagen, Court Chaplain to George II, was a member of the SPCK and so too was Samuel Urlsperger, leader of the Lutheran Pastorate in Augsburg, who had once held office in the German Church at the Savoy. Both these men had been educated in Halle, the influential centre of Pietism and Lutheranism under the tutelage of Augustus Francke who had founded the famous orphanage which developed into the Francke Foundation and who was also a member of the SPCK. It was to Francke and Halle that the German Protestants of North America appealed for spiritual guidance and the recruitment of pastors. Those placed in overseas missions (including India and the East Indies) by the Francke Foundation were required to send regular reports and diaries back to Halle. Correspondence from the American colonies to Halle passed through Ziegenhagen at the Court of St James's and most matters were discussed with Urlsperger in Augsburg. The resulting mass of documents has been carefully preserved and now forms part of an archive which relates the story of the Georgia Salzburgers in great detail. A bi-lingual catalogue of the archive was published by the Francke Foundation of Halle in 1999. The SPCK also required regular reports, and summaries of these in minutes of SPCK committees held in the Cambridge University Library add to the picture of life in Ebenezer.
The founding of Georgia coincided with the expulsion of twenty thousand Protestants from the Roman Catholic Archbishopric of Salzburg in November 1731. (According to the introduction to the Francke Foundation catalogue, in 1966 the Roman Catholic Archbishop of Salzburg made a public request for forgiveness). The Francke Foundation and the Augsburg Pastorate were involved in the resettlement of these families who had been given just a few days to leave their homes. The majority found refuge in Prussia but in December 1732 Ziegenhagen, Urlsperger and Francke persuaded the Georgia Trustees and the SPCK to sponsor some of the Salzburgers as migrants to Oglethorpes new colony. A group gathered in Augsburg, under the auspices of Urlsperger before sailing down the Rhine to Rotterdam and thence to Dover. They eventually landed in Savannah in March 1734 after an unpleasant journey on the English ship, Purysburg. The colonists were promised land, support for two years, religious freedom and status for themselves and their children as subjects of the British Crown. Francke in consultation with his colleagues chose Johann Martin Boltzius as pastor and leader of the Georgia Salzburgers as they came to be called, and Israel Christian Gronau as his deputy. Included in the list of duties and advice the pastors received before they assumed office was a warning against marriage which would distract them from their work. Not surprisingly, the young men did not heed this warning: in 1734 Israel Gronau married Catharina Kroeher and a year later Botzius married her sister, Gertraut. Both girls with their mother and married sister, had travelled on the first transport, in the company of Boltzius and Gronau. In turn, in 1769, just months after he arrived to take up his duties, the Reverend Christopher Frederick Triebner married Frederica Margaretha Gronau, daughter of Israel and Catharina. Thus Gronau and Triebner, German/America pastors are joint ancestors of the English Triebners.
Pastor Christopher Frederick: from Germany to America
The Salzburgers' two-and-a-half years trek from snowy Salzburg in November 1731 seemed at first to be destined for a tragic outcome. Of 44 named passengers on the Purysburg, 20 died in 1734 or 1735, mainly from malaria and dysentery. In allocating land Governor Oglethorpe had in mind the defence of the young colony against possible Indian and Spanish incursions and therefore a need for Savannah riverside settlements to be in English hands. The Salzburgers had accordingly been allocated land twenty-five miles from Savannah in a swampy, malarial, infertile creek. It was not until 1736 that Boltzius managed to persuade Oglethorpe to allow the Salzburgers to start again at Red Bluff, on the high banks of the Savannah River. There they established New Ebenezer, preserving the biblical name of their first settlement. According to George Jones, a historian of the Salzburgers, Botzius's pleas finally succeeded because of the intervention of Ziegenhagen, using George II's authority.
Boltzius and Gronau seem to have worked comfortably together but Israel Gronau died in January 1745, after a year of feverish illness. He was still in his early thirties and he left his widow, Catharina, with two daughters, Hanna and Frederica. Herman Henry Lemke who had been working as Inspector of the free meals table in the Halle orphanage, was chosen to replace him and, with the blessing of Francke, he married Catharina, Gronaus's widow, in May 1746, thus becoming step-father to Hanna and Frederica. In November 1765 Johann Boltzius died after thirty years of service and on 1 May 1768 Lemke's unexpected early death, was reported to the SPCK board. Christian Rabenhorst, who had reached Ebenezer in 1752 was now the sole pastor to the Salzburgers. Halle, Augsburg and the Court Chaplaincy in London had already been discussing a successor to Botzius. There was an early suggestion that Boltzius's son who had returned to Halle for education should succeed his father but he was not considered suitable: a preferred candidate refused the position. Finally, in October 1768, by default, Christopher Frederick Triebner was ordained for the position in Augsburg and in December 1768 SPCK board minutes record that the Reverend Christopher Frederick Triebner, the new missionary, as they designated the Lutheran pastors, had arrived in London on his way to Georgia and desired the generosity of the Society to help him defray the expenses of his journey. It was agreed that he should be granted money from the Georgia Fund for a cassock and gown and a salary, not exceeding 40, backdated to commence from 1 November. He was also presented with religious books and tracts with money from a separate charitable fund.
Christopher Frederick Triebner, Ebenezer's new missionary, was born on 10 January 1740 in Poesneck, in what is now the German Federal Land of Thuringen. The Triebner family has lived in Poesneck since at least 1595 when local Lutheran church records show Hans Triebner, a clothmaker, marrying Margaretha Horn. The Horn family were as strongly rooted in Poesneck as the Triebners and in 1732 Hans Triebner's great-great-grandson, Christopher Daniel Triebner, born in 1690, married Sybilla Horn as his second wife. Christopher Frederick was the youngest of their children. Christopher Daniel, according to the Lutheran church account of his burial ceremony, was at one time a prosperous lawyer who in 1730 had been employed as such, and as a deacon, by the then Duke of Saxony-Saalfeld to argue a case before the consistory court. But, because of what are described as very un-Christian happenings, Christopher Daniel died penniless in 1748 and his funeral costs had to be borrowed from the charity box: he testified to his remorse on his sick-bed. Christopher Frederick was thus left a penurious orphan at the age of eight. By some means, however, perhaps sponsored by the Lutheran Church, he benefited from a substantial education and also acquired the huge self-confidence, both intellectual and physical, which took him in his twenties to Georgia and which he then displayed in the American War and in his retirement years in England.
The Francke Foundation in Halle, still holds records of two years of Christopher Triebner's education. He became a student at the university in July 1764 and returned home to Poesneck in August 1766. He had spent six months at Leipzig University before returning to Halle as a teacher in the girls' orphanage. A surviving university report is not altogether complimentary: There is a pious basis, but still a lot of love for himself.   Studies are bad, but his performance is quite good, behaviour natural. When Triebner was proposed as a successor to Boltzuis, Gotthilf Francke, (August Franckes son),described him as arrogant and unstable. Urlsperger and Ziegenhagen agreed with this assessment. However, in April 1768 Willhelm Gottlieb Reiz, one of the court chaplains, asked for his views, agreed that Triebner had no extraordinary talents or aptitudes, but saw him as full of love for the Saviour and a hunger for souls and thought that in Ebenezer Triebner would rectify his mistakes and overcome his flaws. Ironically, given Triebner's later record of loyalty to the British Crown, one fear was that he would not be able to negotiate with the English in the colony. Nevertheless it was Triebner who journeyed to Ebenezer in 1768 following the death of Pastor Lemke but Ziegenhagen described Triebner's rude behaviour when he met the SPCK board in London on his way to Georgia. At their next meeting, in May 1769, the SPCK board received letters from both the Missionaries, Rabenhorst and Triebner, describing the straitened circumstances of Mr Lemke's widow and children and responded with a grant of 25 from the Georgia Fund. In fact, by the time the Society had received Pastor Triebner's letter he had married Frederica Gronau, Lemke's step-daughter, in April 1769. The younger of their two surviving sons was Timothy Traugott Triebner, whose marriage to Betty Rhodes was the first Triebner mention in English records.
Life in Ebenezer: the quarrelsome pastors
Ebenezer in today's terms would be regarded as a hardship posting. Life was not easy for the Salzburgers, nor for the other migrants to Governor Oglethorpe's Utopia. Among those who decided not to stay were John and Charles Wesley. They were employed by Oglethorpe at an annual salary of 50 and sailed to Savannah in October 1735, taking five months over the voyage, but the two young men tolerated hardly three years in Georgia before returning to England. Savannah, the title of a John Wesley hymn tune to words by Charles Wesley, is a poignant reminder of that time. Oglethorpe and his fellow trustees had prohibited slavery and hard liquor in Georgia and many early Georgians promptly made their way to the Carolinas where slave labour made profitable crops a more likely prospect in tropical conditions. The Trustees repealed their anti-slavery provision in 1750 and granted a legislative assembly but in 1752 they relinquished Georgia to the Crown as a Royal Colony. Despite the difficulties, the Ebenezer that Christopher Frederick Triebner found in 1769 was a tribute to the zeal and the back-breaking work of the early settlers under the leadership of Gronau and, above all, Boltzius. In November 1765 when Boltzius died, Ebenezer and its offshoot communities had a population of about 1050 residents.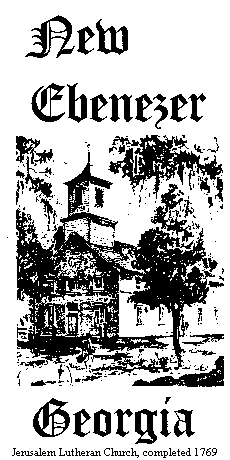 A brick church, a saw mill, a corn mill, and even a silk mill, each the first of its kind in Georgia, had all been built in their little town. A modern plaque celebrating the silk mill describes how each Salzburger was given a mulberry tree in 1736 and two of them were instructed in reeling. By 1749 two machines were in operation in Boltzius's yard and they produced fifty pounds of spun silk. However, Ebenezer's finances were always precarious and dependent on subsidies from London. In 1767, for example, the SPCK Board had received a report that the church, school houses, and Ministers' houses were in a ruinous state and that the Salzburgers could not afford to defray the whole cost of repairs. The Board had responded with a grant of 50 which had helped to build Jerusalem, the brick church Triebner found on his arrival. Following Pastor Triebner's first communication to the SPCK Board in February 1769 about the sad circumstances of the Lemke family, his further correspondence with the Board over the next few years dealt with other financial matters. In August 1771, for example, he wrote a letter which was read to the Board in March 1772: Triebner reported that the schoolmaster had left because the salary was too small and he could find no replacement. The Board agreed to supplement the salary as long as the schoolmaster taught at least thirty children and sent more books and tracts for use in the school.
Unfortunately Triebner's relations with Pastor Rabenhorst fulfilled the worries expressed about his appointment. He was not entirely to blame: it seems that although both men were educated at Halle they represented conflicting theological views about church organisation. Indeed even Boltzius had had some differences with Rabenhorst. The theological arguments were intensified by opposing views about the growing political unrest leading to the American Revolution. Rabenhorst allied himself with Johann Adam Treutlen, who was to become the first elected governor of Georgia, in support of the Revolutionary cause. Triebner and others made a declaration of loyalty to the British with Triebner, in effect, becoming leader of the loyalist faction. Triebners main ally was his brother-in-law, Johann Caspar Wertsch. Botzius in a diary entry of August 1763 referring to Wertsch, as husband of Lemke's step-daughter, (Hanna Gronau), complained that although Wertsch had acquired the ownership of the business which traded the products of Ebenezer's mills, he did not make any contribution to the maintenance of the church or school buildings. However, in the same diary entry, Boltzius also criticised Treutlen's arrogant character. Boltzius needed infinite patience to deal with the dominating personalities of the Ebenezer community but once he died there was nobody to hold the ring. In 1774 Ziegenhagen asked the Reverend Heinrich Muhlenburg, leader of the Pennsylvanian Lutheran community, to travel to Ebenezer to reconcile the two quarrelsome pastors. Muhlenburg remained there for three months but was ultimately unsuccessful. Rabenhorst died in 1776 and Treutlen was killed by loyalists in 1781. Triebner was the survivor.
The American Revolution: Triebner's compensation claims
Although the Ebenezer Lutherans were as divided as their pastors Triebner was not alone among German Americans in remaining loyal to the British Crown with its strong German Protestant roots. George II, Lutheran father of George III, had been a patron of persecuted Protestant migrants to American colonies where they had found religious toleration. But Triebner was a very active Loyalist who flung himself wholeheartedly into a leadership role. In March 1776, Triebner's house at Ebenezer was taken by order of the Americans' Assembly in Savannah for a Printing Office, the House became afterwards a Barrack and was burnt on the 8th December 1778 when the troops left Ebenezer.
The above is an extract from the claim that Christopher Frederick Triebner made to the British Government Commission enquiring into the losses suffered by American Loyalists. He submitted his first claim from St Augustine, Florida in 1783 and made further submissions from New Providence in the Bahamas in 1786. These claims and SPCK records of his letters and petitions, present a picture of a land-holding, slave-owning pre-war life in Ebenezer followed by committed participation in the failed British attempt to retain control of the American colonies which resulted, he claimed in his being made by the Continentals a particular Object of their Rage and Violence. They also show that during the ebb and flow of the fighting Triebner had suffered losses at the hands of British as well as American troops. His claims included the loss of Upwards of nine hundred acres of land; Above 600 Volumes of Books destroyed and carried off by the Americans, a Loss invaluable; Plundered by the Kings Troops of Cloathing (sic) Watches Furniture Money to the amount of 80; plundered at differend (sic) times by the Americans of five Negroes Viz two Men and a Woman and two Children.250. He also claimed for losses to the estate of Pastor Lemke to which his wife and her sister were heirs and for the loss of two Negroes taken from a poor Widow and orphans of Ludwig Wiseman now in America when the Americans were in search after me at their house, for which I have obligated myself to solicit for Recompensation. Triebner's matter of fact references to the Negroes merely reflect the fact that slaves were regarded as property by Patriots and Loyalists alike. British appeals to slaves to flee their masters and rally to the Loyalist cause implied a promise of liberty which led to an estimated five thousand slaves joining the British in Georgia during the 1778 campaign and to slaves fleeing from the estates of Patriot leaders such as George Washington and Thomas Jefferson to join the British fleet in the Potomac in 1781. In practice the Negroes reaped no benefit from their Loyalism: it was not until 1787 that the Quakers and William Wilberforce launched their committee to abolish the slave trade and it was 1833 before slavery was abolished in British Colonies. The victorious Patriots took rather longer to abolish slavery in the United States.
Georgia came largely under British control again in December 1778 when Colonel Sir Archibald Campbell captured Savannah from the sea and Sir George Prevost occupied Sunbury. A Royalist Governor was reinstated and an assembly was summoned. In 1786, Alex Shaw, successively Aide-de-Camp to Major General Prevost and to Colonel Campbell, certified to the Compensation Commissioners that Christopher Frederick Triebner at the head of his loyal flock and through some difficulty and danger was one of the first to join Colonel Campbell as he took Savannah. According to Shaw, Triebner acted as guide to the troops as they marched to Ebenezer which became their headquarters for some time, thus enabling Shaw to testify to Triebners comfortable circumstances in Ebenezer, though he was not prepared to vouch in detail for his losses. Georgia was nominally loyal to George III again for the next three years but formal peace negotiations began in Paris in April 1782. SPCK minutes record that in December 1781, just three years after Triebner had led Colonel Campbell to Ebenezer, the Pastor, his wife, three children, a young daughter of John Caspar Wertsch and twenty eight men from the congregation were evacuated with the King's Troops back to Savannah. However, Triebner's claims show that the British had not been completely in control of Ebenezer during those three years. For example he lost his 600 Volumes of Books on 10 September 1779 when, according to Triebner, Ebenezer was burnt down at the American and French invitation and no Property saved. Triebner further claims that in November 1779 replacement clothing and bedding had been plundered by the Americans. Again, in January 1780, Information being given to a Plunder Body of my being at home, about Fifty of them plundered my House, and carried off two Negroes and sundries (sic). So despite the fact that Georgia had a Royalist Governor and British military occupation Triebner seems to be describing guerrilla warfare on the part of the Patriots. The September 1779 events co-incided with the arrival of a French fleet with six thousand men in support of the Americans off Tybee Island which had been the stepping stone for Campbell's capture of Savannah. The Franco-American attempt in October to retake Savannah failed but it seems from Triebner's evidence that the Patriots were particularly active at that time. In December 1779 he wrote to the SPCK Board describing his hardships and persecution and was granted 30. Once Ebenezer came under American control in 1782, the British were blamed for the poor condition of Jerusalem Church and its alleged use as a store house and even a stable. It seems unlikely that Pastor Triebner would have allowed his church to be deliberately desecrated. The evidence of his claims to the Compensation Commission is that Ebenezer suffered from the military activities of both sides as they fought for control.
The Triebner family's first refuge after they left Ebenezer in December 1781 was Savannah. From there they moved on in October 1782, with other remnants of the British and Loyalist forces, to St Augustine, East Florida. The protracted peace negotiations resulted in East Florida being ceded to Spain which in turn recognised British sovereignty in the Bahamas and the British rump in Florida evacuated to the Bahamas some time in 1783. From there, Triebner sent regular reports to the SPCK on his continuing work as a preacher to a very small German congregation. Finally, after eighteen years of letters and reports, the SPCK minutes of 3 September 1786 record that the Reverend Christopher Frederick Triebner was introduced in person to the Board and was most warmly received. He came to the Board again the next month when his request for a testimonial in support of his claim before the Compensation Commission was unanimously granted. That Commission had also received testimonials as to Triebner's character and loyalist activities from the last Governor of Georgia and members of his Council, and from the Brigadier General Commanding the Bahamas, as well as Alex Shaw's account, already mentioned, of Triebner's participation in the 1778 conquest of Georgia. As a result he received compensation and an annuity from the British Government. In addition, in 1796, the SPCK, having already granted him a number of donations, awarded Triebner a pension of fifty pounds a year, backdated to 1795. At various times over the succeeding years Christopher Triebner approached the SPCK for help as he struggled with the financial distress he ascribed to his irredeemable losses. According to a petition in April 1798 he had returned both to Georgia and Germany in an effort to settle his affairs. He asked for money to defray the cost of these journeys and the Board, with some finality granted him one hundred pounds, stressing that it was the last sum they felt able to authorise, apart from his fifty pounds annual pension. Nevertheless, in 1812, they made another donation of twenty pounds and increased his pension to seventy pounds a year. The last Triebner business recorded in the SPCK minutes was receipt of a letter from Timothy Traugott Triebner reporting the death of his father on 15 December 1815. After being reminded of his inflexible loyalty to the British Government during the American Rebellion, the Board decided to pay the outstanding half-yearly instalment of the late Minister's pension to his son, Mr TT Triebner.
Settling in England: loyalty rewarded
Timothy Traugott Triebner, when his father died in 1815, was established in Leeds as a businessman, married to the daughter of a respected Yorkshire family, and the father of three English children. But he had been colonialborn in December 1777 into a war in which civilians were in the front line. Soldiers of opposing sides fought for control of his home town during the first four years of his life and his father was a particular target for attack. His family was part of the refugee column which left his birthplace, Ebenezer with the retreating British forces in December 1781 and joined other defeated Southern Loyalists in increasing the population of East Florida from four to seventeen thousand. In 1783 when East Florida was ceded to the Spanish, some of their fellow exiles returned to the Carolinas and Georgia, but the Triebners were among those who moved on to another British colony, the Bahamas. In 1786, presumably in search of greater intellectual horizons and greater career prospects than preaching to a small congregation in a small colony could provide, as well as placing himself in a better position to lobby for the compensation and annuities that his service to the British Crown and the SPCK demanded, Pastor Triebner removed his wife and family to England. Frederica Triebner and the children had lived all their lives as subjects of the British Crown but they were coming home for the first time: German-born Christopher Frederick had visited England on his way to Georgia in 1768. Unlike some later casualties of British decolonisation they dont seem to have faced any difficulties in gaining admission to the mother country and they had the great advantage of speaking English. Christopher Frederick started publishing pamphlets almost as soon as he arrived in England and apologised in one for his English although it seemed perfectly competent. Indeed as early as 1782 when he wrote to Pasche, Ziegenhagen's successor as Court Chaplain, to report on the flight from Ebenezer to Savannah, he enclosed his first work published in the English language which seems to have been a newspaper article about the current military situation.
Fortunately for the dispossessed Triebners, Hanoverian London provided a ready welcome for a German-speaking Lutheran of proven loyalty to the British Crown. According to a British Library introduction to its 1999 St George's Lutheran Exhibition, when St George's Lutheran Church was founded in 1762 by Dietrich Beckmann, owner of a sugar refinery, London had a German community of sixteen thousand. Some were the Germans of the Hanoverian Court but there were others of varying professions and crafts, in particular those employed in the sugar refineries. A number of German churches were founded to minister to them, as well as a German school and a German printing press. By 1787 Triebner was reported to be working at St Marys-in-the- Savoy, founded as one of the earliest German churches in 1694, and in 1788 when he published his first pamphlet he was described as Minister of a Lutheran Congregation in Browns Lane, Spitalfields, London, living at 2 Red Lion Square, Spitalfields. He went on to publish at least eight theological pamphlets. Extracts from one, published in 1795 by Mr Priestley of Paternoster Row, give a flavour both of Triebner's aggressive style and of his devotion to the Hanoverian monarchy:



I shall not immediately remark on your misrepresentation of the real sense of my words but observe only that the language of pride and contempt against German Lutheran theology do neither surprise nor discourage but rather convince me that you aim at the overthrow of the most substantial doctrines of the reformation established in your country as well as Germany Lutheran theology has, thanks be to God, altered the case in a great measure and placed the rights of kings and nations on its proper scriptural basis, that is on the immutable word of God from which I shall prove in my next that Protestants and Britons acted fully consistent with the primitive charter of all government (be it personal , domestic, civil or ecclesiastical) when they made choice of the House of Brunswick to possess the British throne independent of the Pope's temporal and spiritual usurpation.
As well as producing these contentious but apparently academically founded tracts, Triebner also conducted a voluminous correspondence defending himself against various charges about his behaviour during and since the war. Some of the accusations come from Johann Bergmann and Gotthilf Probst, a pastor and teacher despatched to Ebenezer in 1786 by Urlsperger in an attempt to revive the shattered community. Not surprisingly those who had cast their lots with the Patriots and stayed were not great admirers of Triebner and Probst reports in January 1787 that Triebner was considered throughout America to be an infamous scoundrel. A typically intemperate response by Triebner comes in a letter to Halle in September 1787. According to the summary in the Francke catalogue Trieber sees the deaths of Boltzius and Lemke, the following war and the destruction as a sign of God's wrath with Ebenezer. Some of the charges related to Triebner's handling of money. He was accused of embezzling church funds which he took when he left Ebenezer. In 1787 he claimed to have sent some back to the community and this was later confirmed by Pasche, but Triebner retained a portion because he considered the new order as unlawful. He had control of money left by Johann Caspar Wertsch which, despite counter claims he determined to keep until Hannah Wertsch came of age. There was also a contentious situation about Pastor Rabenhorst's will. Rabenhorst had married a rich widow soon after his arrival in Ebenezer and she had predeceased him. His estate was worth a considerable sum and was claimed by Mrs Rabenhorst's relatives in Germany but Triebner seems to have been mixed up in that as well. Yet another inheritance argument concerned Boltzius's estate. His widow, Gertraut, was sister to Israel Gronaus's wife, Triebner's mother-in-law. Apparently Gertraut Boltzius left her money to her niece, Triebner's wife, rather than to her surviving son in Germany. Although Triebner was in the thick of all the arguments, whether financial, theological or political, once again it has to be said that many of the participants in the correspondence seemed to take almost as much delight in the controversies and accusations as Triebner himself. A telling reminder of Halle's continued worries about Triebner is a letter to him in July 1787, soon after he had arrived in London and taken up his duties at St Mary's in the Savoy. He is warned not to be domineering and to work well together with Pasche, the Court Chaplain.
A Mission in Hull: a death in Leeds
Perhaps Triebner took heed of this because he remained in London for twelve years. Then, in April 1799, he attended an SPCK board meeting to ask for a number of testaments and bibles from a charitable foundation because he was about to settle in Hull with a Congregation of German Protestants. It seems that he remained as prolific as ever and as early as 1800 W. Cowley of Hull published A Word in Season for the enlightening of that Reason, that wishes something to be true in a world full of Deception and Wickedness by Christopher Frederick Triebner. But it was not until January 1802 that his position in Hull was formalised. Barbara Robinson, author of The Hull German Lutheran Church, published by Highgate Publications of Beverley in 2000, found in the Hull City Council's records an application dated 14 January 1802 to His Majesty's Justices of the Peace for Christopher Frederic Triebner.having been requested by Samuel Thornton and John Boys Esqrs. of Hull to preach the Word of God to the Germans employed in their sugar houses and others in Hull. to be licensed to preach. A Hull Directory for the area of Battle in 1803 lists the Rev. Christopher Frederick Triebner as a teacher of the German language at West Walls. In 1806 he made a successful written application to the board of the SPCK for more bibles and testaments to be given to the whale fisherman of Hull. His final personal appearance at the SPCK board was in February 1812 , the occasion when, as previously mentioned, his pension was raised after he had described his unavoidable financial losses and pecuniary difficulties. According to Timothy Traugotts letter to the SPCK board, his father died on Friday 15 December 1815 of an apoplectic fit following a very short illness. The Leeds Mercury of 23 December 1815 reported the death thus: Yesterday week night, at his son's house in this town, the Rev. C.T. Triebner, aged 75, of pious memory and late a missionary from the Society for Promotion of Christian Knowledge. Timothy, in reporting his father's death to the SPCK hopes and trusts that his precious soul was kindly received by that Saviour whom he was delighted to mention at all times and whose case and divinity he at all times zealously defended. Zealous seems a good word to describe what we know of this man who crossed frontiers and oceans in the service of his faith and who braved all opposition to support his adopted country.
Six months previously on 17 June 1815, both the Leeds Mercury and the Hull Advertiser had carried an obituary for Timothy Traugott's older brother:
On the 10th March in the Province of Georgia, North America, aged 39, Mr C Triebner, brother to Mr T T Triebner of this town, and eldest son of the Rev. Triebner, late missionary from the Society for Promotion of Christian Knowledge to the Salzburgers at Ebenezer in that Province. He had recently been chosen as a Justice of the Provincial Courts, the duties of which he performed with integrity and satisfaction. In his private works he was kind and humane.
Ebenezer baptism records show three sons born to Christopher and Frederica: in August 1770, Christopher August who presumably died in infancy; Christopher Frederick in July 1775, and Timothy Traugott in December 1777. SPCK records show that the Pastor was accompanied by his wife and three children when he left Ebenezer in December 1781. The third child was possibly a daughter, Johannah Triebner, who signed as a witness to Timothy Traugott's marriage. Sadly, this is the only sighting of Johanna Triebner in any records. In October1786 Mr Pasche asked the SPCK board to provide two bibles and two common prayer books for the use of Mr Triebner's two sons. If Johannah were indeed the third child she was either too young to require a Bible in 1786, or perhaps girls did not qualify. The fact that the younger Christopher Frederick had not only returned to Georgia but had been appointed a judge despite his family's loyalist record tallies with a report to the SPCK from Pastor Bergmann that Pastor Triebner himself had been pardoned and granted American citizenship in 1802. Christopher Frederick's return to Ebenezer is documented in the Mormon index of Ebenezer records which show his 1801 marriage and the birth of three children. There are also two interesting brief references to him in the Francke archives. In 1804 Pastor Bergmann reports that Triebner's son lives as a free-thinker in Savannah. He received an authorisation from his father to demand payment of the 649 of the Rabenhorst estate. This is just one of the many incomprehensible references to the estate but shows that Triebner father and son were in contact despite the son's free-thinking. In December 1804 Bergmann reports that the second child of Triebner's son has been buried according to the English liturgy out of respect for his wife.
Timothy Traugott: daughters, business and scholarship
Timothy Traugotts existence was noted as one of the three Triebner children who left Ebenezer with their parents in December 1781 and then again as one of the two beneficiaries of bibles and testaments from the SPCK in 1786. The next sight of him is in January 1803 when he married Betty Rhodes at St Peters Church, Leeds. The marriage certificate describes twenty-five years old Timothy as Gentleman of this parish. His parents had named him Traugott or Trust in God, but we know that he would have had to earn a living. He was indeed already a businessman, described in the Leeds Mercury announcement of his marriage as of the Leeds and Liverpool Canal Warehouse. This, incidentally, is the very canal which provides the Canal Turn in the Grand National, but unfortunately there seem to be no surviving pre-1830 records of its working or ownership although it is known that the Leeds and Liverpool Canal Company was issuing bonds from 1780. In 1812 and in 1815 Timothy Traugott Triebner was a party to deeds registered with the West Riding Registry of Deeds, concerning land by the river in Holbeck. A Leeds Trade Directory of 1822 lists Triebner and Co. tobacco manufacturers, near Water Lane and in 1830 the Directory has TT Triebner, Commercial Agent, Union Place, Water Lane. An 1815 map of Leeds shows Water Lane as running parallel with the canal just before it met the river and it seems that Timothy maintained business activities there from at least 1803 until 1830. Tobacco manufacturing suggests a continuing link with the American States and, according to information from the West Yorkshire Archives there were a number of tobacco merchants in Leeds at the time, as well as a number of people of German origin. This might explain Timothy's settling in Leeds where the canal provided access to Liverpool , England's major gateway to the USA, rather than Hull which looked more to Europe. Also according to the Archive Service, the Rhodes family were trading with North America in the 1790s, thus perhaps providing Timothy's introduction to a prosperous family.
Timothy is one of three Triebners to appear as authors in the British Library catalogue:  Christopher Frederick, Timothy Traugott and Timothy Frederick. The latter is Timothy Traugott's only son and has two publications to his name. Timothy Traugott has just one, a commentary on the Old and New Testaments translated by T T Triebner from the German of Johann Hubner the elder, and published by Rivington of London in 1820. Thus, Timothy had inherited his father's scholarly and religious interests: but at the same time he had to support a wife and three children, Timothy Frederick born 1807, Maria Ann born 1809, and Elizabeth born 1811. They were all still living in Holbeck in October 1829 when Timothy Frederick married Harriet Elizabeth Fownes, a ceremony witnessed by Timothy Traugott Triebner and his two daughters. Aged 22, Timothy Frederick might have been thought rather too young to marry, but perhaps Harriet Fownes, four years older, was considered a worthy match. She was the daughter of Gilbert Jellian Fownes, a Southwark-based furrier whose father, John Fownes, appears as a furrier as early as the 1790 London Trade Directory. Timothy was described as a traveller, presumably working in his father's commission agency, and it is possible that he met his bride through business contacts with her father. In fact Gilbert Fownes's fur business suggesting Baltic and Northern European trade links is a possible lead to Timothy Frederick's later trading as a Russia Broker, and dealer in tallow. But in the year following their marriage, Timothy and Harriet were in Liverpool when their first child, another Harriet Elizabeth, was born in 1830. The Leeds Liverpool canal and the tobacco trade provide obvious reasons for a move to Liverpool but the Triebners did not stay there for very long.
At some stage in the 1830s, Timothy Traugott Triebner, with wife and daughters, returned to London, to Hackney. Timothy died in 1842 at 5 Queen's Terrace, one of the many terraces built towards the end of the eighteenth century to provide homes for a growing class of city gentlemen and their families. Betty Triebner with her two daughters lived on in Hackney for some years. At Hackney Parish Church in July 1848, Elizabeth Triebner married James Abraham Rhodes, presumably a cousin. She was already 37 years old and he was over 60:  nevertheless they had three children, two girls and a boy. James Rhodes was a solicitor, born in Kensington, according to the 1851 census, but in 1848 living in Cheshire, where he and Elizabeth lived their comfortable lives: the 1861 census of 4 Eldon Grove, Tranmere, lists James, an attorney at law, Elizabeth, gentleman's wife, three children and two resident servants. After 1861 it seems that Betty and the unmarried daughter, Maria Ann, must have moved to live with Elizabeth because in June 1864 Maria Ann reported the death of Betty Triebner at Elizabeth's home in Eldon Grove. In 1881, Elizabeth, by now a widow with an income from property, was still living in the Rock Ferry area of Tranmere with her two unmarried daughters and Maria Ann. George Rhodes, Elizabeth's son and a member of the Stock Exchange, was lodging in Kent. When Maria Ann died in 1885 the Rhodes household had moved to Downside Lodge, a substantial house in the Upper Richmond Road, Mortlake. George Rhodes, still unmarried and living at home, was a stockbroker's agent. Although Maria Ann spent much of her adult life as a member of her sister's household, there is one clue that she lacked neither intellect nor wish to have her own career in an age when middle class ladies were usually confined to their homes. She is listed in the 1858 Liverpool Trade Directory as running a school in St Pauls Road, Tranmere. Timothy Traugott Triebner could have felt some satisfaction had he been able to foresee the lives his daughters would lead.
Timothy Frederick: paterfamilias
Meanwhile his son's inheritance of Triebner scholarship, adaptability and a certain readiness for risk taking, coupled with Yorkshire Rhodes business acumen and generations of business contacts, seemed to stand him in good stead and his commercial prosperity kept pace with his growing family. After the birth of their first child in Liverpool, Timothy and Harriet moved to her home ground in Southwark. In 1833 their first son was baptised at St Mary Magdalen , Bermondsey, home parish of Anne Woodcock, Harrriet's mother:  sadly, the baby died as an infant, before the 1841 census. Two more children were baptised at St Mary Magdalen: Frederica Georgiana in June 1834 and Jane Betty in November 1835. The baptismal register provided more details by the time that Jane was christened and showed Timothy as Gentleman and their address as Upper George Street, Southwark.  Another daughter, Susan Maria, was born in 1837 and now they were living at 2 Union Court, Old Broad Street and Timothy was a Broker. Old Broad Street remained his business address for some years but home was Notting Hill when Beatrice Ann was born in 1838; and by 1840, when Mary Charlotte was born, they had moved to Ballard's Lane, Finchley. According to Ben Weinreb's The London Encyclopaedia, some large houses were built in Ballard's Lane for the wealthy in the eighteenth and nineteenth centuries and by 1835 there was an 8.20 a m coach from Church End to the Bank for city commuters. However, by 1841 when the first of two sons to follow the six daughters was born, they were living in Mare Street, Hackney, equally desirable for city commuters and near to the Timothy Traugott Triebners.   Frank Tatton was born on 27 May 1841 but he was overlooked when the 1841 census was taken on 6 June. The household included a nurse, presumably a maternity nurse, as well as four other servants. A second son, Harry Nicholas, was born in Hackney in 1843. When Timothy Traugott died of dropsy in September 1842, Timothy Frederick of 24 Mare Street, reported that he had been present at the death. As already mentioned, Betty, Maria Ann and Elizabeth Triebner stayed on in Hackney for some years but the Timothy Frederick family moved on:  F Triebner Esq. is listed in the 1845 court directory, living at 10 Hornton Street, Kensington. Harriet's last child, Gertrude Margaret, was born there in October 1845.
Timothy Frederick's business highs and lows
Timothy's first listing in London's trade directories was as a merchant at 4 Finch Lane and Baltic Coffee House in 1834. Membership of the Baltic Coffee House, which evolved into the Baltic Exchange, was limited to three hundred and signified a certain standing among fellow traders. The club had its origins in an eighteenth century coffee house in Threadneedle Street where merchants trading with the American colonies and the Baltic countries met informally, but by mid-nineteenth century its members were generally concentrated on the Baltic trade: thus its changes mirrored Timothy's progression from tobacco manufacturing to dealing in Russian tallow. In fact, Timothy had apparently made himself something of an academic expert on foreign commerce. In June 1836 Effingham Wilson of the Royal Exchange published a Report on the Commerce of the Ports of New Russia, Moldavia, and Wallachia, made to the Russian Government in 1835 by Julius von Hagmeister, while in the capacity of an attach to Government of New Russia.  Translated from the original by Timothy Frederick Triebner. With Betty Rhodes as his English speaking mother, Timothy's education in German to the high standard required by such a translation must have been encouraged by his bi-lingual father. The translation was prefaced by a dedication to Viscount Palmerston, the Foreign Secretary, in which Timothy stressed the interdependence of commerce and foreign policy; praised Palmerston as the creator of a new line of our commercial policy; urged him to continue this enlightened foreign policy; and finished by expressing his belief that Palmerston would hold confidence of the British people as a sacred trust which, if its objects you cannot realise, in its faith at least you will not betray. His claims as a scholar as well as a man of business were acknowledged by the fact that on 20 May 1841 Timothy was elected a Fellow of the Society of Antiquaries, entitled to use the letters FSA after his name. This he did in 1844 on the title page of a pamphlet published in London by W Spooner, A letter to the Very Revd. JW Kirwan on some variations from the more ancient liturgies of the Church. Kirwan was apparently the Vicar General in Galway, seemingly known personally to Timothy who started his piece: I owe it wholly to your pastoral instruction. Like Christopher Frederick, his grandfather, Timothy Frederick obviously enjoyed liturgical argument and was ready to challenge the views of others. He would have found fellow scholars in the Somerset House apartments where the Society of Antiquaries was housed for most of the nineteenth century.
At the same time his commercial activities continued and he was listed year by year in the London Directories at 81 Old Broad Street and at the Baltic Coffee House as Russia Broker. From 1838 to 1842 he was partnered by William Moule who in 1842 also had a separate listing at 15 Old Broad Street as a ship and insurance agent. Triebner and Moule seem to have gone their separate ways in 1843 and by 1845 it is Triebner and Conquest who are listed as the Russia brokers at 81 Old Broad Street while the Court Directory for 1845 and 1846 lists Timothy's residence in Hornton Street. The short year's the Triebner's lived in Hornton Street, just off Kensington High Street where the Town Hall now is, mark the zenith of Timothy's business and social career. There is inevitably a time lag in the publication of annual directories and the partnership with Conquest had in fact been dissolved in May 1845. In November 1847, precipitated he claimed by the break up of this partnership, he was forced into bankruptcy and the directory no longer listed his residence although he was still shown as a Russia broker in 1847 and 1848.  The bankruptcy notice of Timothy Frederick Triebner, Russia Broker, Dealer and Chapman, appeared in the London Gazette of 3 December 1847 and he was required to surrender himself to the Court of Bankruptcy on 17 December. Ironically the information demanded by the Bankruptcy Commissioners and preserved in the Public Record Office give some of his descendants their only glimpse of the life this Victorian ancestor lived.
Timothy's in-laws, both Fowneses and Rhodeses, figure in the bankruptcy documents. On 5 December Edward Fownes, Harriet's brother, submitted a statement that he was not a creditor and that he had known Timothy for fourteen years as a Russia broker buying and selling tallow upon commission. Initially a group of creditors, including Joseph Rhodes of Wakefield, agreed that Edward should be the assignee of Triebner's estate and he in turn assigned three pound a week for the family's support from 1 December 1847. However when the case reached the court in January 1848 a solicitor for one of the creditors pointed out that Edward Fownes was not only Timothy's brother-in-law but he was also a discharged clerk from the Bank of England, we know he is in difficulties and has several judgements against him. It later emerged that Timothy and Edward, like thousands of others in those decades, had been jointly speculating in railway shares and that a dishonoured bank draft issued in payment by Timothy was one of his many debts.  Fownes's appointment as assignee was disallowed. Timothy owed 340 to Joseph Rhodes and smaller sums to other members of the Rhodes family and to personal friends. He claimed, and this was not disputed, that these people would never have demanded payment until his business had been such as would have enabled him gradually to liquidate them. However, the dissolution of the Triebner Conquest partnership in May 1845 had led to a Chancery case resulting in a judgement against Triebner which he was unable to meet at a time when he had private debts of nearly fifteen hundred pounds. And there were outstanding debts to tradesmen. The bankruptcy court records show that the first sheet that Timothy filed in the case was so informal that another had to be substituted: but that too was inaccurate and amended in red ink. In addition there was no cash book and Timothy had never kept receipts for anything. But he was able to submit a rough outline of the expenses he had incurred while maintaining life as a prosperous middle class gentleman. There had to be money for rent and taxes on the house, for clothing for wife and nine children, for the education of the children, for hire of a pianoforte, for Royal Academy of Music fees for one daughter, for medical expenses, for the expenses of his wife's confinement and for a nurse, for pew rent at the church, for servants, for laundry: and there were payments to his hatter, tailor and shoemaker and his office expenses, such as subscription to the Baltic Coffee House, salary for a clerk and an office boy, and travel on business. His outgoings amounted to over eighteen hundred pounds a year, high spending for 1847. Obviously his maternal Rhodes relatives were unprepared, or unable, to shield him from bankruptcy and his Fownes brother-in-law was floundering in as deep financial difficulties as his own, but from some source, possibly from the Rhodes connection, he was enabled to start afresh. The 1851 census shows him working as a commercial traveller and in future years he was engaged in a series of enterprises, though none as successful and prestigious as the era of the Baltic Coffee house. His name disappeared from the list of Fellows of the Society of Antiquaries in 1848.
There are few clues about his activities over the nearly thirty years between his fall from grace and his death in 1875. When Harriet died in 1861 he was still described as a commercial traveller. His children's marriage certificates invariably record him as merchant or gentleman; it was as the latter that he married for the second time in 1866. There are occasional entries in London directories and a couple of lucky finds in provincial directories. In 1858 he appeared in the Liverpool Directory as a Commission Agent at 11 Temple Court, North John Street: in 1859 and in 1860 10 Addison Terrace, Notting Hill, was listed as his residence. In 1862 and 1863 he pops up south of the river, where a number of the family seem to have congregated.  Lee and Triebner are listed as Provision Merchants at 249 Tooley Street in 1862 and Furness and Triebner as Provision Merchants in the Borough Market in 1863.  The next and last sightings are in Bristol:  the 1871 census found him in Redland, Clifton as a General Merchant and his 1875 will and death certificate have him as a Commission Agent.  Enid, his youngest daughter, remembered him as a wine merchant when she married in 1878.  Harry and Frank, his sons by Harriet, were both involved in the wine and spirit trade during the 1870s, so this suggests a business link with their father. However, it was only Arthur and Enid, his youngest children, who were mentioned in the will he made on his death bed and their very existence is one of the many surprising facts which contradict the picture presented by pre-1845 documents about Timothy Frederick's activities. Perhaps it had been Timothy Traugott Triebner who had been the business brain and his death in 1842 which had precipitated his son's business failure: it seems unlikely that Timothy Frederick could have survived for any length of time with the book-keeping methods revealed by the bankruptcy proceedings. It is more difficult to explain the vagaries in the personal life of the family man who, as late as 1844, was addressing the Very Reverend J W Kirwan with his views on the Holy Eucharist.
The family disintegrates: some unexpected offspring
In 1851 Timothy and Harriet were living at Heathfield Cottage, Wood Lane, Shepherds Bush. Their oldest daughter, the younger Harriet, had been married in November 1849 so there were only eight children still to care for in their straitened circumstances. Wood Lane was a distinct comedown from Hornton Street but they still had two resident servants, Timothy claimed occupation as a commercial traveller, and the family was all under one roof. But scraps of evidence suggest that by February 1861 when Harriet died she and Timothy might have been separated and the family had begun to disintegrate. Her death from chronic kidney disease was witnessed and reported by her son, Frank, rather than her husband, Timothy. Her address was 9 Stratheden Villas, Goldhawk Road and Frank gave this as his address also. But if this was the Triebner family home in early 1861, then it wasn't such for very long.  As already mentioned, in 1858, Timothy was listed in the Liverpool Directory and then in the London Directory at Addison Terrace, Notting Hill, in 1859 and 1860. When the 1861 census was taken just seven weeks after Harriet's death, 9 Stratheden Villas was already unoccupied: any family members who had been living there had moved out. Neither were any of them at Addison Terrace for the census. However, two of the daughters, Jane and Beatrice, had married from Addison Terrace before their mother's death. Whereas Harriet had witnessed her oldest daughter's marriage in 1849, along with Timothy, Maria Ann, Frederica and Jane, she did not sign the register for Jane or Beatrice. In 1859, Jane was supported by four of her siblings, Frederica, Mary, Frank and Harry, but neither of her parents were in attendance. In 1860, Beatrice had her father as her only family witness. Harriet's absence from such significant occasions as her daughters weddings, suggests severe ill-health or family estrangement. In fact, Jane's wedding was the last occasion when a large number of the family are seen assembled together. In June 1862, only Beatrice and Timothy witnessed Susan's marriage at St Mary Newington and thereafter the Triebners married without supporting signatures from their relatives.
It is particularly striking that there was no family at the next wedding, that of Timothy Frederick, the widower. On New Year's Day, 1866, the grandson of the crusading anti-papal Pastor Triebner married a Catholic, Rosa Flower Russell, at the Westminster Register Office. The Russell family came from Bath where Rosa's parents, John and Emily, were both school teachers. John seems to have died in the mid-1850s and in 1866 Rosa was living with her widowed mother at 11 Bartholomews Road, Camden. According to the 1841 and 1851 Bath censuses, Rosa was born around 1837 and she was therefore old enough to be the mother of Timothy's youngest children, Arthur and Enid, who were both born during Harriet's lifetime and long before Timothy and Rosa married. It is somewhat surprising that Gertrude Rhodes, Timothy's niece, was in attendance in his final illness and under the same roof as Arthur, the illegitimate son. It suggests that Timothy's sisters, Elizabeth and Maria Ann, were rather more tolerant than our assumptions about Victorian values would lead us to believe.
The next Triebner wedding listed in the General Register Office Index indicates that Timothy had had an earlier fall from grace. In June 1866, six months after Rosas wedding, her sister, Fanny, married Frederick Charles Triebner, son of Timothy Frederick Triebner, in a Catholic Church ceremony. The witnesses were two Emily Russells, Fanny's mother and sister. Fanny was said to be 23 years old but she was actually 27, born in December 1838.  Frederick Charles was said to be 21 and a Midshipman in the Merchant Service. Both bride and groom gave 11, Bartholomew Road, Emily's home, as their address. After only twelve years of marriage, Frederick died from tuberculosis in 1878, at the early age of 32, a death witnessed and reported by his mother-in-law, Emily Russell. From the age given on his marriage and death certificates Frederick would have been born around 1845, the year of Gertrude Margaret's birth in Hornton Street. Harriet and Timothy punctiliously registered the births of their children but there is no trace of Frederick Charles Triebner in the births index. Frederick Charles was not one of the nine children mentioned in Timothy's 1848 bankruptcy statement: they are all accounted for. He was not with the family in Heathfield Cottage for the 1851 census. Yet there can have no reason why he should have masqueraded as a Triebner and the Russells, who knew Timothy Frederick as Rosas husband, must have been satisfied that he recognised Frederick Charles as his son.  Sadly, unlike Arthur and Enid, he was not remembered as Timothy lay dying, but then, neither were any others of Timothy's many children.
There is one other mystery Triebner. Marion Zillah Triebner died in 1922 at the age of 73. Her residence at time of death was a convent in Worthing, her death was witnessed and reported by the Mother Superior, and her status and occupation were spinster, art mistress. The keeper of records at the local cemetery is sure that anyone dying in that year, at that convent, would have been buried in his cemetery, but he cannot find Marion Zillah.  However, some of the nuns from the convent were buried under their religious names without secular identification and this might be the situation of Marion Zillah.  The convent and school still exist, but run by a different order of nuns.  Surviving nuns of the old order have racked their brains but, not surprisingly after so many years, can recall neither Marion Zillah nor the Mother Superior.  If Marion Zillah were born in England in about 1849, she must have been the daughter of Timothy Frederick Triebner: there was no other Triebner in England old enough to be a father at that time.  She and Frederick Charles could have had the same mother:  they were close in age. Frederick's oldest daughter was named Marion, but it is a common enough name. Marion Zillah Triebner does not appear in the birth index and because she died a spinster there is no information to be gained from a marriage certificate. There is no doubt that Timothy Frederick was the father of Arthur and Enid and this makes it easier to accept the unlikely fact that he had also fathered Frederick and possibly Marion, the Midshipman and the Nun, out of wedlock and during Harriet's lifetime.
Timothy's daughters: their varied fates
Timothy Frederick Triebner was the last of the English Triebners to have personal knowledge of the German Pastor whose missionary zeal had taken him to Georgia and whose loyalty to the British Crown had brought him and his family to England. Timothy was eight when his grandfather died in 1815. When he himself died in May 1875 the number of his grandchildren was already in double figures. There are no clues as to whether he knew, or cared, about any of them. They were certainly left no fond messages in his will, but that was obviously made under stress. Perhaps more remarkable is the fact that no folk memories of the turbulent Triebner history survive in any of the three families who are known to each other and who can trace their ancestry through Timothy Frederick to Christopher Frederick.  It might be that descendants of others of Timothy's children pass on stories of German origins, the American Revolution, at least three generations of published scholarship, the trappings of wealth followed by bankruptcy and some rather unconventional personal relationships.
When Timothy was declared bankrupt in 1847 he and Harriet had seven daughters still to provide for. The oldest, the younger Harriet, was immediately affected. The Royal Academy of Music on 3 September 1847 had approved the admission of Miss Triebner, aged 17, as a student of voice. She had been auditioned on the recommendation of a Miss Bendixen and assessed as having some voice. Harriet's sponsor was not a household name but she was more than an amateur: the Illustrated London News had printed a favourable review of Undine, an overture by Miss Bendixen, in May 1844. Harriet started as a boarder in October 1847, just a few weeks before her fathers bankruptcy was announced in the London Gazette. Archives of the Royal Academy of Music which record Harriet's attendance, also relate that boarders had a rigorous régime and a very long day. Young ladies were locked into their dormitories after the last meal of the day, until 1850 when the governess was no longer able to control the young ladies and was discharged.  But Harriet boarded for only a few months.  In January 1848 Mr Triebner wrote to the Royal Academy committee asking that his daughter should become a day student and that a proportion of the sum he had already paid should be placed to her credit. Under the peculiar circumstances the committee agreed. At the end of the year, in December 1848, Mrs Triebner wrote to give notice of Harriet's withdrawal on Lady Day – a notice she withdrew in January 1849, for some reason submitting a medical certificate in its place. Whether or not Harriet resumed her music studies early in 1849, her studies certainly finished on 3 November 1849 when she married Richard Wilson at Hammersmith Parish Church.  Her husband was a clergyman who at 37 was nearly twice her age. Harriet was 19 when she lost any hopes she might have had of a music career, but her respectable early marriage must have been a relief to her hard-pressed parents. It is possible that Rhodes family introductions had been involved:  at the time of his marriage, Richard Wilson was a priest at St John's, Leeds, and had been born in the city.  Two years later, in the 1851 census, Richard gave his occupation as clergyman of the Church of England and Ireland and 2nd master of Leeds Free Grammar School. The young couple were living at 18 Coburg Street and 20-year-old Harriet had one resident servant.  They had not produced a honeymoon baby.  The next sight of Harriet is in the 1881 census when the elderly Richard was a priest without cure of souls in Cambridge.  There were just two daughters living at home: one, aged only 9, had been born in Cambridge and the other, aged 24, had been born in Leeds.   It is possible, even likely, that Harriet and Richard had other children who had left home by 1881 but there are no obvious leads to find them.  Harriet might have found an outlet for her music in church choirs, particularly if there were a family memory of German Lutheran hymn singing.
It was 1859 before another Triebner daughter married and it was another respectable match. Jane Betty's bridegroom was Montague Belfield Pizey, a schoolmaster and the son of a clergyman. Their marriage certificate shows his address as Loughborough while she was living at Addison North Terrace, Kensington, presumably 10 Addison Terrace where the London Directory had Timothy Frederick living in 1859 and 1860. Rock Ferry, home to Timothy Frederick's sister, Elizabeth Rhodes, played some part in Jane Betty's early married life. The 1871 census lists their first child as 10-year-old Frederick, born in Rock Ferry. Successive census records show that Jane and Montague produced eight more children and lived in Cheltenham and Suffolk, before settling in Lordship Lane, Dulwich, where Montague continued to work as a teacher.  Jane Betty died in Dulwich in 1895.  Montague survived until 1918 when he died in Ilford, living comfortably near Cecilia, his oldest daughter, who had married Frank Pritchard Saunders in 1892.  Cecilia's descendants thought that Jane Betty was the daughter of a 'Timothy Trubner', a German:  other facts about the Triebner family had been forgotten.
Beatrice Ann and Susan Maria were the last of the daughters to marry. In September 1860 Beatrice, like her sister Jane, was married from Addison Terrace and in St Barnabas Church. She too seemed to have done quite well for herself but records of her life peter out quite early on. Her husband, John Wilcox, was a 24-year-old assistant surveyor, the son of a colliery agent and born in Lancashire. John's address was Burwood Place Paddington, where Beatrice and John were still living for the 1861 census, with Beatrice's parents-in-law. Also in the household was a 4-month-old grandson, Alfred Arkle: presumably his mother, a Wilcox daughter, died in childbirth. There were no Wilcoxes at Burwood Place in the 1871 census.  By 1881 the senior Wilcoxes, John and Mary, were living in what seems like considerable comfort in Everton House, Castlebar Road, Ealing.  Alfred Arkle, by now an Oxford undergraduate, was the only other family member: Mary Wilcox had a lady's companion and there were two resident servants. There is no sign of John and Beatrice Wilcox as a couple in the 1881 census index. There are so many John Wilcoxes born in Lancashire that it is impossible to identify him without her.  There is a Beatrice Willcock in the census, born in Notting Hill like our Beatrice Wilcox.  Her marital status is not entered: the age she admits to is five years younger than Beatrice Wilcox would have been; but many 40-year-olds were coy about their birthdays. She was a lodger, described as a housekeeper in the home of a joiner with two young children in Lyndhurst Road, Peckham.  Perhaps John Wilcox had died young and for some reason Beatrice had not been taken in by her prosperous in-laws. But the real fact is that we do not know what happened to Beatrice after the 1861 census or whether she and John Wilcox had any children.
If Beatrice were indeed a housekeeper in Peckham she would have been following the same path as her sister, Susan, who married in 1862 with T F Triebner and Beatrice Wilcox as the witnesses. The wedding was at St Mary Newington, Southwark, in the year that Triebner and Lee were listed in the London Directory as provision brokers in Tooley Street, Southwark. Susan's husband was John Watson, a Suffolk-born clothier. His father was a veterinary surgeon. Both Susan and John gave Union Place as their address but they cannot be found in the 1861 census. John was a witness to the 1873 marriage of Susan's brother, Frank and they next appear in the 1881 census, living in Paradise Road, Lambeth. They were lodging with an elderly widow who had been born in Bond Street, Piccadilly and was living on an income from dividends. Other residents of Paradise Road were mainly artisans. John Watson was working as a General Commercial Agent and Susan was described as the housekeeper. Presumably John's earnings were not enough to enable them to maintain their own establishment. It was not quite the life Timothy and Harriet might have expected for Susan when she was born in the City of London in 1837. In her early childhood Timothy was increasingly successful in business, academic and social worlds. Even after the change in family fortunes, her sisters, Harriet and Jane, married professional men and spent the rest of their lives as middle-class wives, if not rich wives.
Susan's 1862 marriage left three of Harriet's daughters, Frederica Georgiana, Mary Charlotte and Gertrude Margaret, still unwed. Enid, Timothy's youngest daughter, was a toddler: Marion Zillah, whatever her parentage, was about 13 in 1862. Frederica and Mary had both signed the marriage register for their sister Jane in 1859. Gertrude Margaret was then 14 and she could have been a witness at the wedding: Frederica had witnessed Harriet's wedding at a similar age. However, there is no sign of Gertrude in any records after the 1851 census when she was 5 and the enumerator seems to have transcribed her name as Garland Triebner. It is possible that following her mother's death in 1861 she lived with a sister or an aunt but she is not to be found in the 1881 census which has national and regional indices. The most likely explanation is that she died in childhood and that her death has somehow been omitted from the General Record Office index.
Mary Charlotte was born in Ballard's Lane in 1840. Her father gave his occupation on her birth certificate as Russia broker and his fortunes seemed to be flourishing. As an 11-year-old in the 1851 census, she was listed as one of the eight scholars at home still dependent on Timothy Frederick as he struggled out of bankruptcy. She signed the marriage register at Jane's wedding to Montague Bellfield Pizey in 1859. Frederica Georgiana's signature on this document has a distinct elegance, rather like that of her grandmother, Ann Woodcock, when she married Gilbert Jellian Fownes in St Saviour's Southwark in 1798. In contrast, 19-year-old Mary Charlotte, produced a rather gawky, painstaking signature. Like others in the family, she cannot be traced in the 1861 and 1871 censuses and she does not seem to be in the 1881 census index. But in 1868 a Mary Triebner registered the birth of a fatherless son, Joseph. She gave her address as Portland Road, Notting Hill and she made her mark in lieu of signing the register. We know that there was no other Triebner family in England so this must be poor Mary Charlotte, presumably estranged from any of her large family, including her father, Timothy Frederick, no longer able to struggle with the writing which had seemed a chore even in somewhat happier times, but nevertheless registering the existence of her child. The names of householders in Portland Road in the 1868 London Directory offer no clues as to where Mary might have found a home; perhaps she was a domestic servant. It would be nice to believe that by 1881 she had a husband and Joseph had a step-father and that this is why, with such common first names, they cannot be found in the 1881 census.  It seems more likely that they were among the hundreds of unidentified bodies washed up in rivers and gutters, overwhelmed by poverty.  Neither of them appears in the deaths index.
Frederica was the last of the sisters to marry. She had been born in Southwark in 1834 and baptised with redolent Triebner names in contrast to her older sister, Harriet Elizabeth who inherited their mother's names. Their Triebner grandmother was Frederica, the Georgia-born daughter of Pastor Israel Gronau, and Georgiana suggests a tribute to the Georgia connection. (George had been the name given to Timothy and Harriet's short-lived son, born in 1833.) Frederica was the oldest of the scholars at home in the 1851 census, presumably deprived of the further education Harriet had enjoyed, however briefly and we have no clues about her life until, aged 25 and about three months pregnant, Frederica Georgiana Triebner signed the register with a flourish at Jane's April 1859 wedding. In February 1860 Georgiana Triebner reported the death of John Triebner, her 4-month-old son. His father was said to be John Triebner, a house proprietor, and they lived at 26 Stanley Street, in Mr Cubitt's smart, newly built Pimlico. As Frederica Georgiana Triebner, wife of John Triebner, she registered four more children: Mary Jarvis Triebner in 1861, followed by Frederica Georgiana Jarvis Triebner, Fanny Jarvis Triebner and Agnes Beatrice Jarvis Triebner in 1862, 1863 and 1866. (The baby Frederica, like her brother John, died after a few months of some kind of respiratory illness or croup.)   There was no John Triebner but there was a John Jarvis and he and Frederica finally married in March 1886 at St Martin in the Fields. By then John was a 75-year-old widower and Frederica was 51: his will shows that he had an earlier family of girls.  Presumably this late wedding followed the death of his first wife and it legitimised a relationship which had lasted for more than a quarter of a century. John and Frederica had practised differing subterfuges in order to maintain respectability.  It would probably have been more usual in their situation for Frederica to register the children as Jarvises rather than changing John's name for the records. Presumably he agreed to this formula but in the 1871 census John and Georgiana Jarvis are shown as a childless married couple, with no hint of their three surviving daughters: or perhaps for some strange reason the girls were truly not living with them. They were living at 4 Trinity Square, Newington, the birthplace of the three youngest children. Then, as now, Trinity Square was a very desirable address where their neighbours were mainly professionals.  Henry Jarvis, an architect, the district surveyor for St Giles, Camberwell and surveyor of sewers for St Mary Newington, was listed for many years at 29 Trinity Square. Henry, like John Jarvis, was born in Kent and was the right sort of age to be Johns brother; but this is only speculation.  The Southwark electoral register shows John Jarvis in Trinity Square until 1878.  Before the next census in 1881 they had moved to 22 Marine Parade, Dover and this time they were all using the name Jarvis, including the three daughters. John was living on income from house property and Frederica had income from dividends and stock. When they married in 1886 John gave his occupation as spice merchant and said that his long dead father had been a grazier. Frederica described her dead father, Timothy, as a wine merchant.  John died in 1893, leaving the then considerable fortune of £42,000. Frederica was both executor and main beneficiary. Her property included the house, stables, and carriage horses as well as capital and income. However John's will also shows that he still maintained a fatherly interest in his older daughters and their families. Indeed Robert Fuller, one of the witnesses at the 1886 marriage, was a son-in-law. He had died by the time that John made his will but Harry Fuller, a grandson, was named as an executor and provision was made for Harry's mother, John's daughter Sarah, as well as two other women and their husbands, possibly John's other daughters by his first wife.  His children by Frederica were left to her considerate care. It seems that at last one of the Triebners had achieved the financial security which had eluded the grasp of the Reverend Christopher Triebner despite his constant claims: and which had been lost by her father, Timothy Frederick, who had so overreached himself.
Timothy's sons: and a link with the Quaker Foxes
No Triebners witnessed Frederica's belated marriage. However, there are hints that Frederica remained in touch with some of the family in the first years of her relationship with John Jarvis. For example, when Timothy Frederick married Rosa Russell in January 1866 his address was Cambridge Street, Pimlico. He was not living there for the 1861 census but it is possible that he found Pimlico through his daughter and her common-law husband. Unfortunately, according to Westminster Archives, many of the 1861 census records for Pimlico were inadvertently destroyed at the time, so there are no census records for Stanley Street where John Jarvis and Frederica were still living in 1861 when Mary Jarvis Triebner was born. Timothy Frederick was listed in the trade directory as a Provision Merchant in Tooley Street in 1862 and in the Borough Market in 1863, around the years that Fanny and baby Frederica were born in Trinity Square.  Other Triebners also pop up in Southwark records around this time. It was in St Mary Newington that Susan married John Watson in June 1862 with her father and Beatrice Wilcox, her sister, as her witnesses.  Perhaps it is significant that Frederica, that inveterate signer of marriage registers, was not there to support her sister; but it is nevertheless tempting to believe that the Newington Triebners were in touch with each other and that perhaps they also found family support from the Fownes family, who had Southwark roots.
There was another Triebner Southwark event in April 1873 when Frank Tatton Triebner, the oldest of Harriet's surviving sons, married Sarah Busby at St George the Martyr, Southwark. Both Frank and Sarah gave Newington Causeway as their address although neither of them was in the Causeway for the 1871 census. One of the witnesses was John Watson, presumably Susan's husband. It had been Frank, the oldest son, who was present at his mother's death in 1861 and reported it to the registrar, but we have no other information about him before 1873. On his marriage certificate he described himself as manager of a brandy house and as a traveller in wines and spirits in the 1881 census when he was living in York. He might have found employment in the brandy and wine trade through some family connections. Although Harriet's father, Gilbert Jellians Fownes, was a furrier when she was baptised in Southwark in 1803, in 1838 when her brother, Cuthbert Woodcock Fownes, married at St Brides, Fleet Street, Gilbert was described as a wine merchant.  Another Gilbert Fownes, possibly Harriet's nephew, was publican of the Plough Inn, Clapham in 1851 and, as already mentioned, in 1879 when Enid, Timothy Frederick's youngest daughter, married she gave her dead father's occupation as wine merchant. The 1881 census shows Frank and Sarah with one child, a 15-year-old daughter, Annie, born in Brighton seven years before her parents' 1873 marriage. The General Record Office's 1866 births index has an Annie Busby registered in Lewes, the Sussex county town, and presumably she was accepted by Frank Triebner as his daughter. He and Sarah were only in their mid-thirties in 1881 so they could have had more children; but we lose track of Frank after 1881. Although Frank was listed in the 1881 York directory at his 1881 census address, his entry was not repeated in later volumes.
It is reasonable to assume that it must be more than coincidence that both Timothy, the father, and Frank, his son, were involved in the wine trade in the 1870s. And it seems even more unlikely to be a coincidence when we find that another of Timothy's sons, Harry Nicholas, was in the same trade around this time. Harry, born in Hackney in 1843, was the youngest of Timothy's and Harriets sons. Apart from the 1851 census and his signature on Jane's marriage certificate, the first sighting of him is in October 1877 when he married Marie Louise Fox in Portsea Parish Church and gave his occupation as wine merchant. The Triebner capacity to surprise is fully expressed in what we know of Harry's life and death. Born in 1825, Marie Louise was eighteen years older than her bridegroom and it seems sadly possible that Harry had hopes of her fortune.  For their marriage Harry gave his place of residence as Truro and Marie Louise Fox was the Portsea resident.  But in fact she had been born in Budock, Cornwall, the daughter of a wealthy and prominent family. The Foxes were Quakers, related by blood and marriage to many of the great Quaker families such as the Barclays, Frys, and Gurneys: and like them they combined business success with philanthropy and intellectual exercise. Their money came from coastal shipping lines, timber imports, and a foundry.  Two of Marie Louise's cousins, Barclay Fox and Caroline Fox, published diaries and journals in the nineteenth century and Barclay's Journal was re-issued in 1979.  They were the children of Robert Were Fox, a Fellow of the Royal Society, and they counted John Stuart Mill among their friends.  Their letters contain numerous references to Josephine, Marie Louise and Joanna Fox, or the Tregedna girls, the daughters of Robert's brother, Joshua. The brothers occupied neighbouring estates, Penjerrick and Tregedna.  According to R L Brett who edited the 1979 edition of Barclay's Journals, Joshua, unlike the rest of his family, was completely unsuited to business, more interested in natural history than finance. In his youth he had caused a scandal by marrying outside the Society of Friends. His wife, Joanna Flannering, who had lived in Paris and was rumoured to have been a dancer, had died when Marie Louise was a baby, and Joshua had been accepted back into the family. The girls were known for their high spirits which sometimes attracted lectures from their serious-minded cousins. In 1844, for example, Barclay records arguing with Josephine to convince her of the evils of their late hours and irregular habits. It is grievous to see those girls wasting their lives.  'Barclay had called at Tregedna to inquire after Marie who continues to suffer from headaches and sickness.' Their lives however were not all pleasure and late nights: in 1839, Barclay had referred to the Tregedna girls learning German from a Professor Schweitzer. We do not know how Harry and Marie Louise met, what had brought Harry to Cornwall, or how long he had been living there.  It is possible that Timothy's business activities in Bristol, thought by Enid to be in the wine business, might have produced contacts for his son in the West Country in the 1870s.  Timothy Frederick's theological interests and his membership of the Society of Antiquaries might have resulted in much earlier acquaintance with the scholarly Foxes: or perhaps there was a link through the girls' German tutors. Even Timothy's speculation in railway shares which contributed to his bankruptcy could have brought him into contact with the Foxes who, like many Cornish businessmen in the 1840s, were much interested in railway companies. The only witnesses to Marie Fox's wedding were W P Johns and Eleanor Johns. Walter Johns was almost certainly the son of Johns, our new little curate mentioned in Barclay's Journal in 1840, who went on to be the headmaster of Helston Grammar School.  Walter became a Wesleyan Minister and Marie Louise was probably living with Walter and Eleanor Johns in Portsea at the time of her wedding.  Joshua, her father, had died earlier in 1877.  We do not know what had become of her two sisters: Barclay and Caroline, her cousins, were long dead.  Perhaps, had her father lived, he might have counselled caution about this marriage: perhaps he had already done so and that was why she had moved, temporarily, to Hampshire.  She and Harry returned to Cornwall after the marriage but their union was tragically short-lived because Harry committed suicide less than two years later, on 28 July 1879.  A report of the inquest in the Royal Cornwall Gazette of 1 August 1879 tells a very sad tale.  Harry's body was found floating in Pencalenick Pond in St Clements Truro. The deceased had evidently walked into the pond and deliberately drowned himself in about four feet of water his coat, waistcoat and hat, together with his stick and basket, being found on the north side of the pond.  'They found in his pocket a note bearing these words in pencil, "Bless my precious wife. God have mercy upon my soul: I am mad with awful sin, but I die faithful to my wife." ' Evidence was given that Harry had been employed as managing clerk to Messrs. Nankivill and Co., wine merchants, since December 1877.  A partner, Mr H H Ley, testified that he had given the deceased notice to leave and he knew that he was applying for another situation.  On the previous Saturday Mr Ley had received a letter from the deceased, posted in Falmouth. He apologised for a few hours' absence from business and stated that certain creditors were pressing him for money.  Also he wished to see his solicitor regarding his wife's property. Mr Ley and his traveller, Mr Rogers, then examined accounts and cash books and found discrepancies.  When the deceased came into the office a few hours later Mr Ley asked him what had happened to the missing money.  Harry replied that he had taken it and other sums because he was pressed for money. Mr Ley then said take your hat and leave the office at once and I will communicate with you. It seemed that instead of going home Harry had wandered around for some hours until the evening.  His watch stopped at five minutes past seven when he drowned himself.  A letter to a creditor asking for time to pay and a large number of other bills were found in his basket and read to the jury.  They returned a verdict of suicide while in a state of temporary insanity. According to this evidence, although Harry was said to live in Truro when he married in October 1877, he was not employed there by Messrs Nankivill until December 1877, and he was dismissed eighteen months later, in June 1879.  It was a desperate young man who took his own life, perhaps after being refused help by Marie Louise's solicitors in Falmouth: and it was probably a desperate young man who married her just twenty-one months previously.   Marie Louise survived her husband for fifteen years and died in July 1894.  She had returned to a family property, Tregedna Cottage, and Mary Martin who was present at the death lived in Penjerrick.  She was probably a maid sent to look after the elderly widow who, according to the death certificate, had suffered from heart disease for twelve years.  In 1894 Marie Louise was described as Widow of Harry Nicholas Triebner, Accountant. It is unlikely that Harry's financial problems and his difficulty in holding a job for more than eighteen months would have started at the time of his marriage in 1877.  One wonders how much Marie Louise knew of his past and his fractured family.
It is possible that Harry and all the other unmarried Triebners were living happily together with their father in the1860s:  an idyll recorded in some undiscovered or inadvertently destroyed 1861 census record.  It looks as though Timothy, Frank and Harry might have shared business contacts but it is likely that Timothy's marriage in 1866 to Rosa Flower Russell, much younger than him (although not as young as she claimed), was not welcomed by Harriet's children. By 1871 Timothy was spending the last years of his life in Bristol and there he appears in the 1871 census at Loretta House, Redland, as a general merchant. His wife, Rosa, was said to be 26 (in fact she was 34) and his son, Arthur, was 13 and born in Lancashire.  Timothy's belief about Rosa's age (he gave her age as 30 when she died in 1874), and the fact that he and Rosa did not marry until five years after Harriet's death, suggests that she was not the mother of Timothy's youngest children, Arthur and Enid, but from this distance in time it is impossible to be sure. The fact that Timothy so firmly left Enid's welfare in the hands of Arthur suggests that they were full siblings, born of the same mother. As already mentioned, Timothy was preoccupied in his final hours with the future of these youngest children, but he did not leave them a fortune and they did not spend much time in Bristol after Timothy's death in 1875. Indeed, since Enid was not listed with the family in the 1871 census, we do not know whether she spent any time at all in Bristol. In any event, she and Arthur soon moved to London together.
Little more than a year after Timothy's death, in July 1876, Arthur married Mary Ann Hurst at St Pancras Old Church.  Arthur was about 18 and Mary Ann was a couple of years older. She lived at 16 Prebend Street, St Pancras with her parents Matthew and Catherine Hurst.  In the 1871 census Matthew was listed as a fireman on the railway and Mary Ann was a 16-year-old cartridge maker. Arthur had obviously settled in a very different social milieu from that inhabited by his half-sisters, Harriet Wilson and Jane Pizey, and Frederica Triebner Jarvis.  The Hursts also took lodgers in Prebend Street and it seems that Arthur and Enid lodged there and met their spouses there. In April 1879 at Pancras Register Office, Enid Triebner, aged 19, married Robert Henry Freeman, a coachman, son of Henry Freeman, a carpenter from Nottingham. Both bride and groom lived at 16 Prebend Street and Matthew and Catherine Hurst were the witnesses.  When the 1881 census was taken the young couple were living in Marylebone: Robert, the coachman, and Enid, now known as Emily, already had two sons, Frank and Edwin.  Emily gave her birthplace as Manchester. Arthur and Mary Ann escaped census enumeration in 1881 but in 1885 they had a son, Arthur Matthias Triebner, who was born in Cottenham Street, Chorlton on Medlock, Manchester:  Arthur was a General Agent.  Perhaps in moving to Manchester Arthur was returning to his and Enid's birthplace: we know that Timothy Frederick, their father, was listed in the Liverpool Trade Directory in 1858, a relevant time. Arthur's death in Rochford, Essex, in 1937 was reported by a married daughter, A Allen. She gave his occupation as Retired Manufacturer's Agent. It is not possible to keep up with Enid's fortunes after the 1881 census:  Freeman is too common a name to stand out.  One hopes that she was happy in her life, but marriage to a coachman and two children before the age of 21 is presumably not what her father had in mind when he made dispositions for his young heiress.
Two Frederick Charleses and their descendants
Despite the large number of children fathered by Timothy, and the registration in 1885 of a Triebner grandchild, Arthur Matthias, those who carry the name in England in the twenty-first century all seem to be descended from Frederick Charles Triebner, the son with the most unfathomable origins. As already described, the 21-year-old Midshipman Merchant Service married Fanny Russell in June 1866, six months after his father, Timothy Frederick, had married Fanny's sister, Rosa Flower Russell.  Frederick and Fanny were both living with Emily Russell, Fanny's mother, at 11 Bartholomew Road, Camden, which had been Rosa's address when she married Timothy, but they moved frequently in their eleven years of marriage, as evidenced by the birth certificates of their four children and Frederick's death certificate.  Frustratingly, they were not at any of these addresses for the 1871 census.  So we do not even know where in the country Frederick was born.  The only certainty is that in 1866 he was acknowledged as a son of Timothy Frederick Triebner.  His father might well have arranged for the boy to be apprenticed to the merchant service at an early age, thus relieving himself of an additional financial burden, although we must assume that Timothy did not arrange for the other mysterious Triebner, Marion Zillah, to enter a nunnery.
Fanny Triebner gave birth to Frederick Charles Triebner junior, seven months after her wedding. He was born in Hungerford Road, West Holloway: Frederick, who registered the birth, described himself as late midshipman.   Marian Agatha was born in Pancras in 1869, Edgar Ellis in Bird's Terrace, Islington in 1870, and Rosa Agnes in Russell Road, Islington in 1872.  Frederick was a commercial traveller for all of these births.   He died from TB in Esher Road, Islington in March 1878 with his mother-in-law present at the death.  Fanny was living in Corbyn Road, Islington for the 1881 census, a widow, with just two children, Marian and Edgar.  Rosa (possibly named after Fanny's sister) had died a few months after her birth.  We know from his marriage certificate that Frederick Charles junior had followed his father into the merchant navy;  so, at age 14, he could well have been at sea in 1881 and thus no longer dependent on Fanny's inevitably small purse. Fanny lived on as a widow for 56 years before she died in 1934.   Perhaps it was in deference to his widowed mother that Edgar Ellis did not marry.  When he died in 1958 at the great age of 88 he left his small estate of just over one hundred pounds to a nephew, one of Frederick Charles's sons.  Marian Agatha did marry, in St Giles's Register Office in 1896.  Her husband, David Moss, was a diamond broker whose background and business activities rivalled those of her Triebner relatives for drama.  He was a widower of 44 when they married, listed in the 1902 London Directory as a diamond merchant at 10 Hatton Garden.  No doubt Fanny hoped that her daughter had done well for herself but in 1905 David Moss was declared bankrupt.  Moreover, when he applied for a discharge of the bankruptcy in March 1910, not only was the discharge refused but a charge of dishonestly misappropriating goods entrusted to him as a broker was upheld.  David Moss's statement to the bankruptcy court tells something of his history and circumstances.  He stated that he had started his business in Kimberley, South Africa, in 1880, having borrowed 750 from a bank.  We know from his marriage certificate that his deceased father was Moses Moss, a tailor.  The names and occupations of both father and son suggest that the family was Jewish and Moses might have been one of the very large Lithuanian Jewish Diaspora in South Africa.  In 1886 David Moss came to UK and started a business in 14 Hatton Garden, moving to number 10 Hatton Garden in 1891 and then to Aubrey House, Ely Place, in 1904.  He speculated on the stock exchange and had a total loss of 7,500 (approaching half a million pounds in today's terms).  In his 1905 submission David Moss mentioned his wife and two children and claimed that his family expenses from 14 August 1903 to 29 March 1905 had been £450.  According to this 1905 submission, they lived in furnished rooms and had never possessed any furniture.  This is all we know of Marian's story, but the Mosses' address in 1905, 34, Elder Avenue, Crouch End, suggests that they were probably in touch with Fanny and the rest of the family.  Fanny Triebner and her Russell relations all lived in this area of North London from the 1870s onwards and both Fanny and Edgar were still living in the area when they died in 1934 and 1958.
Marian may have met her diamond broker husband through her brother, Frederick Charles.  He was only 19 when he married Eliza Annie Quartly at St Ann's Church, Tottenham in 1885 and he gave his occupation as mariner, like his father.   But, also like his father, he did not remain a seaman after his wedding: by 1888 when his second daughter was born, the 21-year-old father described himself as a furrier.   Such an occupation would surely demand capital, expertise, or contacts and Frederick would seem to have lacked such advantages.  His mother had been left a young widow with three children and there is no sign that his grandmother, Emily Russell, or Fanny's brothers, had any great wealth.  In the 1881 census Emily was head of a household consisting of one unmarried daughter working as a governess, two sons, seven grandchildren and no daughter-in-laws, with the help of a 14-year-old maid-of-all-work.  The Russell sons worked variously as heraldic artists and stationer's clerks, genteel and artistic occupations as befitted the sons of a schoolmaster, but probably not highly paid.  Eliza Quartly's father and two of her brothers were engravers, a skill which might well have brought them into contact with heraldic artists and stationers clerks: perhaps she met Frederick through this connection.  Another of Eliza's brothers gave his occupation in the 1891 census as a furrier's clerk. As it happens Frederick described himself in that census not as a furrier, but as a commercial traveller, probably reflecting a temporary set-back to his ambitions: but the brothers-in-law had a common interest if not joint business ventures.  Charles Quartly, Elizas brother, did not remain in the fur trade, and by 1902 he was listed in the trade directories as a draper: his two brothers, Alfred and Harry Quartly, were meanwhile establishing names for themselves as specialist wood engravers.  Frederick Triebner, however, persevered with furs.  For some reason he adopted the name Frederick Smith for business purposes and in 1903 the London Directory listed Frederick Smith, furrier, in Spelman Street, Spitalfields.  This remained his business name and address until his death in 1952.  A large number of London furriers at the end of the nineteenth century were Jewish and Frederick might well have come across David Moss, the Jewish diamond broker, in the course of his business.
The 1891 census suggests that Frederick lived his life surrounded by his Quartly in-laws and his Russell relations.  The young Triebner couple lived in St Ann's Road, leading off Hermitage Road where Elizas parents lived with her unmarried siblings including the furrier's clerk.   Eliza's brother, Alfred, also lived in Hermitage Road, his first married home.  Harold Russell, Frederick's 24-year-old cousin, an electro-type clerk, was lodging with the young Triebner couple who already had three daughters: Violet Nelsie born in 1886, Vivienne (Brian's grandmother) in1887 and Marian Agatha in 1890.  However, by 1893 the marriage had foundered.  Frederick Triebner and Eliza, maiden name Howard, registered the birth of a daughter, Frederica Elsa Olga Triebner, in Battersea.  They went on to have three sons, and it is their descendants who carry the name Triebner into twenty-first century England.
Others, however, also bear the Triebner genes, if not the name. They are descended from Wilsons, Pizeys, Jarvises, Mosses, and the three daughters of Frederick's first wife, Eliza Quartly, Brian Barder's great-grandmother.