In memoriam Alan Sillitoe, 4 March 1928 – 25 April 2010
The novelist, poet, playwright and Nottinghamian Alan Sillitoe died, age 82, in the early hours of yesterday morning.  I am a second cousin of his wife, now widow, the poet Ruth Fainlight, and my wife J. and I have got to know Alan and Ruth well in recent years:  and as the song almost says, to know Ruth and Alan is to love them.  We last saw them both just two weeks ago in their book-laden flat.  Alan, already gravely ill, was as usual his smartly dressed, chipper, friendly and sharply observant self — he went down to the kitchen and made the coffee, and we all sat round chatting about the election and other things.   I told him that he looked far better than we had dared to hope:  "You're indestructible, Alan," I told him.  "I hope so," he replied, perhaps (in retrospect) a little grimly.  Well, it turns out that he wasn't.  But his books and his reputation certainly are.
His Guardian obituary today, informative and affectionate, is required reading.  News of his death was in all the television and radio bulletins yesterday and is on the front pages of several newspapers today:  this may seem to some a little surprising, but should not be.  He was a great writer and a lovely man.
In memory of Alan Sillitoe I am reproducing below my blog post of February 2008, written to celebrate his 80th birthday.  And in celebrating Alan's life and work, we should also think of Ruth, his friend, muse, companion and wife of 60 years, and of their children, David and Susan.
February 28th, 2008
On 4 March 2008, next Tuesday, Alan Sillitoe will celebrate his 80th birthday, and tens of thousands of other people the world over should be celebrating it too.  Everyone remembers him for those early masterpieces, Saturday Night and Sunday Morning and The Loneliness of the Long Distance Runner, two works that changed the English fiction landscape for ever and whose film versions, with Alan's screenplays, are imprinted on the minds of everyone over 40 (and many younger too).  Alan Sillitoe has so far written (I calculate) 79 other books besides those two: more than one book for every year of his long life;  all published in the half-century from 1957 to 2007, this works out at just over one-and-a-half books a year, a truly Stakhanovite record — and the other good news is that he's still writing and seems set to continue writing for at least another half-century.  His versatility is also very remarkable:  the books include (in addition to the prolific fiction) autobiography, writings for children, plays, essays, poetry, screenplays, short stories, and travel. His bibliography on the Web is extraordinarily impressive.  Many of his books have (unsurprisingly) won literary awards.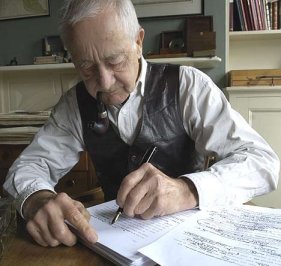 As this picture shows, Alan does most of his writing by hand, so it's the more remarkable that he is also an expert amateur radio ham, including a reader and tapper-out of Morse Code, as well as a devoted collector and connoisseur of maps, activities descended from his service in the RAF in Malaya.  He has lived at various times in various places in Europe and north Africa; now a Londoner, but still unalterably nourished by his Nottingham roots: how appropriate, then, that he is shortly to be made a Freeman of the City of Nottingham (which, I'm told, will give him the right to drive a flock of sheep through the centre of town). He's an undaunted but highly discriminating man of the left.  He has too a distinguished academic record:  Visiting Professor of English at Leicester de Montfort University (1994-7), Fellow of the Royal Society of Literature and of the Royal Geographical Society, and an Honorary Fellow of Manchester Polytechnic (1977).  He has been awarded honorary doctorates by Nottingham Polytechnic (1990), Nottingham University (1994) and De Montfort University (1998).
Meeting this sharp, observant but strikingly unassuming and friendly figure, you'd never guess that he's what the tabloids would call a legend in his own lifetime: a writer whose style is so deceptively clear and simple that you'd easily miss the artifice and skill that lies behind it.   A review of one of his books in the Guardian, published in 2004, gives an excellent impression of him.
Not least, he's the devoted and long-time husband of the distinguished poet Ruth Fainlight, of whom I'm proud to be a second cousin — as well as an admiring and affectionate friend of this amazingly productive and beautiful couple.
Happy birthday, Alan, and many more of them:  all, let's hope, still at an average rate of a book and a half a year!
Brian