Iraq Inquiry lets Blair off one hook, impales him on another
Barely a week into the Chilcot Inquiry on Iraq, two ex-mandarins' evidence has pretty definitively acquitted Tony Blair of one of the gravest charges against him, and convicted him of another.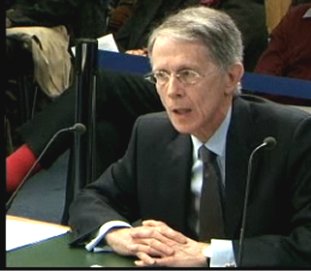 In the testimony by Sir David Manning, the prime minister's foreign affairs adviser during the key period preceding the attack on Iraq in March 2003 and a major influence on policy at that time, Sir David repeatedly stressed that Blair's promise to Bush that in the event of a US attack on Iraq Britain would join the Americans in the resort to armed force was always on the explicit condition that they would "go down the UN route" and assemble through the UN a coalition of allies acting with UN authority.  The implication of this, whether or not it was ever made explicit, was obviously that force would be used against Iraq only when all diplomatic possibilities (i.e. through the UN) had been tried and exhausted.  Force was to be the last resort.
Manning also made it clear that  while the Americans had openly regarded the objective as 'régime change' — getting rid of Saddam Hussein — the UK side had always made it clear that régime change could not be a legitimate objective justifying the use of force if and when diplomatic efforts had been exhausted.  The only objective in British eyes capable of winning UN approval was Iraqi compliance with numerous mandatory UN Security Council resolutions demanding that Iraq must rid itself of Weapons of Mass Destruction (nuclear, chemical and biological).  However, it is now clear that in both Blair's and Bush's eyes, it was almost inconceivable that Iraq would comply with the resolutions so long as Saddam was in power, and they thought it highly unlikely that Saddam could be overthrown without the use of force, sooner or later.  To that extent régime change and forcing Iraq to disarm in compliance with the resolutions came to virtually the same thing: you probably couldn't have one without the other.
Sir D Manning's assertion that Blair consistently laid down the condition of action through the UN for British participation in any future military action against Iraq is fully borne out by a re-reading of the so-called Downing Street Memos, the secret documents from March 2002 that have been leaked and are available in full on the Web (e.g. here).  These papers have been widely interpreted as evidence that Tony Blair had firmly committed himself to British participation in an American attack on Iraq at least a year before the attack took place, and that in giving several public assurances right up to the eve of the attack that no decision had been taken to go to war with Iraq Blair had been lying.  Manning's evidence, and the Downing Street Memos re-read in the light of it, demonstrates that this is not so.  Blair had always insisted on "going down the UN route" and as a result of his insistence that unless Bush went to the UN first Britain would not participate in the attack Bush decided to go to the UN, however reluctantly and despite strong pressure from the neo-cons and others in his administration not to do so.
It's certainly clear from the leaked documents, and will no doubt be confirmed in other witnesses' evidence to Chilcot in the coming days and weeks, that contingency planning for an attack on Iraq began in both Washington and London many months before it took place.  But it was contingency planning only, not involving a firm decision to use force, anyway on the UK side. Since both leaders believed, reasonably enough, that Saddam would not even consider complying with the UN resolutions unless he could be convinced that non-compliance would lead to a military attack on Iraq, it was legitimate and logical to begin to deploy armed forces in Iraq's neighbouring countries well before any decision had been taken to use them.
It's also true that both Blair and Bush were clearly convinced that all attempts to secure Iraqi compliance with the resolutions without the use of force were highly likely to fail, so that in their eyes force was almost inevitable in the end.  Because of this mindset, much of the drafting of the relevant documents tended to assume that force would indeed eventually be used, that Britain would participate once its conditions had been satisfied, and that to ensure that the use of force would be legal under international law (both for its own sake and also to bring the maximum number of allies on board while obtaining wide support from UK and to a lesser extent US domestic public opinion), it would be essential to act at all times in a manner best calculated to persuade the Security Council first to authorise a concerted peaceful effort to oblige Saddam to comply with the resolutions by disarming, and when that effort failed, to authorise the use of force to compel compliance —  which in Bush's and Blair's minds also meant overthrowing him and his régime.  In the eyes of the American neo-cons and hawks, the proceedings in the UN were purely for form's sake: going through the motions to get the UN's blessing, if possible, for what they reckoned would have to be done anyway.  It's fair, though, to believe that Blair genuinely wanted to exhaust all peaceful means of forcing Iraq to disarm (which would probably bring about régime change) before any resort to the use of force, partly to avoid the bloodshed and horror of war, but also because until peaceful means had been exhausted, the Security Council would not authorise the use of force.  Despite some waverings, Bush basically decided to go along with this.
For all these reasons, a huge US-UK (especially UK) effort was made to secure a Security Council resolution demanding Iraqi compliance with the earlier resolutions, including full cooperation with the UN weapons inspectors whom Saddam was compelled to re-admit to the country, and making it clear that if Iraq was again guilty of a material breach of its obligation to comply, military action against him would follow.  There was then a lengthy negotiation of the text of a draft resolution between the 15 members of the Council, involving at least one significant textual concession by those (mainly France, Russia and China) opposed to the use of force for the immediate future until the weapons inspectors had had much more time to complete their work, and a corresponding concession by the US and UK which wanted the resolution explicitly to authorise force as soon as Iraq committed a "material breach".  The result was resolution 1441, adopted unanimously by all 15 members of the Council — a remarkable triumph of mainly British diplomacy and a bright feather in the cap of Sir Jeremy Greenstock, the UK's Permanent Representative on the Council.
So on the charge of lying when he said that no firm decision to go to war against Iraq had been taken until the eve of the invasion, Tony Blair must be acquitted.  On the charge that he committed himself to British participation in US military action against Iraq without laying down firm conditions for that participation, he must also be acquitted.  Nothing in any of the leaked documents, nor in those made available by the Butler Inquiry into the use of intelligence in the run-up to the war, contradicts the Manning evidence to the Chilcot Inquiry on 30 November 2009 which supports those acquittals.
*   *   *   *   *
On the more serious charge, however — that Tony Blair took Britain to war before all possibilities of a peaceful solution had been exhausted and without the authority of the Security Council, Sir David Manning's evidence is damning, especially when read alongside that of Sir Jeremy Greenstock on 27 November 2009.  Here the verdict hinges in part, but not exclusively, on the proper interpretation of Resolution 1441.  In his secret advice to the prime minister on 7 March 2003 the Attorney-General, Lord Goldsmith, the government's principal legal adviser, warned that it was doubtful whether resolution 1441 could safely be relied on as authorising the use of force against Iraq by any UN member state without a further resolution explicitly conveying Security Council authority for force to be used.  Ten days later, on 17 March, Lord Goldsmith published in Hansard a different opinion, asserting that since Iraq had been found to have committed a 'material breach' of its UN obligations, the authority for the use of force in a much earlier Security Council resolution had been 'revived' by the terms of resolution 1441;  and that if the Council had meant to require a further resolution before force could be used following a 'material breach', resolution 1441 would have said so, whereas all the resolution had actually required was that in the event of a report of a material breach, the Council would meet to 'consider' it, not to take a 'decision' on it.  In his evidence to Chilcot, Sir Jeremy Greenstock amplified this argument in support of his own view that the war was 'legal' by referring to the 'negotiating history' of the text of 1441.  During these negotiations, France, Russia and others had pressed for the inclusion in the text of a specific reference to the need for the Council to take a further 'decision' — i.e. to pass another resolution — before force could be used if another material breach was reported.  The UK and US had resisted this, and the end result had been that 1441 had required the Council only to 'consider' the situation following a reported material breach, not necessarily to take a decision on it.
This argument for the interpretation of 1441 as authorising the use of force without the need for a further Council resolution has however failed to convince the great majority of authorities on international law.  The Attorney-General himself warned in his earlier, secret, opinion that if the matter came before a court, it was doubtful whether arguments based on the negotiating history would be admissible since there were no impartial records of those negotiations.  It is anyway contrary to common sense to assert that in promising to 'consider' the situation following a further material breach, the Council was denying itself the right to decide what to do about it.  Under the Charter it is for the Security Council, not any member state or states, to decide when the use of force should be authorised.  Above all, the UK had made the most strenuous efforts to get the Council to agree to a second resolution explicitly, or at least implicitly but unmistakably, authorising the use of force, but had completely failed to muster the necessary nine votes in favour of such a resolution, since a clear majority on the Council favoured giving the inspectors more time — perhaps six months — to complete their work before war could be justified.  It is obviously difficult to argue that the Council, in adopting resolution 1441, had intended the resolution to convey authority for any member state to go to war with Iraq without the need for another resolution conferring that authority when a clear majority of the Council had refused to agree to precisely any such resolution.  Not only the Attorney-General but also the FCO's legal advisers, specialists in international law as Lord Goldsmith was not, had advised that going to war without a second resolution would be illegal — and therefore, as the deputy legal adviser said in her letter of resignation, would amount to the "crime of aggression".  To make matters worse for the then foreign secretary, Jack Straw, and for Tony Blair in No. 10, Ms Wilmshurst made it clear that she was not just expressing her own view:
My views accord with the advice that has been given consistently in this office before and after the adoption of UN security council resolution 1441 and with what the attorney general gave us to understand was his view prior to his letter of 7 March.
And just to give the knife a final twist, both Sir Jeremy Greenstock and Sir David Manning, both of whom had been active at the very heart of these great events, told the Chilcot Inquiry that in their own personal view the inspectors should have been given more time to complete their work before any member state resorted to the use of force. When Manning was asked whether the UK had had any options when its efforts to get a second resolution collapsed and the US prepared to go to war forthwith, he replied that of course we had: we had had the option of refusing to take part in the US invasion.  It is rarely indeed that the former senior adviser to a prime minister publicly condemns his former master in such explicit terms.
On the balance of the evidence so far, therefore, Tony Blair stands condemned for having failed to stand by the condition he had laid down for joining the Americans in the attack on Iraq;  for joining in the use of force before all other options had been exhausted, since force was not a last resort, even if the then Attorney-General's and Sir Jeremy Greenstock's interpretation of 1441 is accepted;  and if it isn't, for using force without the authority of the Security Council and thus in contraversion of the UN Charter and of international law — "the crime of aggression".
The importance of this indictment is that it does not depend on any particular interpretation of resolution 1441.  There was no need to go to war when we did, whether or not we did so with legal authority.  The majority of Security Council members wanted the inspectors to be given more time before there needed to be a decision — by the Council, not by Washington or London — that the time had come to use force.  Even if you accept the Goldsmith-Greenstock argument that resolution 1441 gave authority for the use of force (which few legal experts do), it doesn't mean that using force when we did was justified;  the case for regarding it as tragically premature is overwhelming. The Manning and Greenstock testimonies have surely put the matter beyond doubt.
Critics of the war in general and of Tony Blair and his Cabinet in particular need therefore to be careful about their targets.  Continuing to denounce Blair for having committed us unconditionally to war many months before the decision was first announced will only muddy the waters:  Blair has a strong defence against that charge.  It will be more effective to concentrate on the issues where, anyway at this stage of the Inquiry, he has little or no defence available.  He took us to war when it was unnecessary and inadvisable to do so, and probably in breach of international law into the bargain.  That's quite enough to be going on with.
There are other matters on which Tony Blair is convincingly accused of having lied:  in misrepresenting the strength and volume of the intelligence indicating that Iraq had WMD;  in promising not to go to war without the Council's authority unless a majority in the Council was in favour of giving that authority but was frustrated by "an unreasonable veto";  in claiming that the French had said they would never in any circumstances at any time allow a Security Council resolution authorising the use of force to be adopted — and that this had prevented us from getting the second resolution we had sought, neither proposition being true.  But before pronouncing judgement on these charges, we must await the further evidence that will be given to the Chilcot Inquiry.  Meanwhile we can enjoy the luxury of watching the oral evidence live on streaming video, of watching past oral evidence and reading the transcripts of it, and of reading the written submissions, thanks to Sir John Chilcot's insistence on maximum transparency in the face of Gordon Brown's expressed preference for secrecy.  Bravo, Sir John!
Brian