Is this the end of the United Kingdom? It needn't be, if only…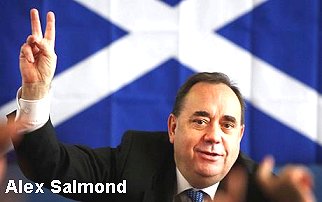 Easily the most significant and daunting feature of last week's elections and AV referendum was the sensational victory of the Scottish National Party, with an unexpected overall majority in the Scottish parliament and a commitment to the secession of Scotland from the UK.  Alex Salmond, SNP leader and Scotland's First Minister, has promised a referendum on Scottish independence during the second half of his five-year term, i.e. 2014 to mid-2016.  This poses the greatest potential threat to the integrity of the United Kingdom since the second world war.  Responding to this challenge to save the country from disintegration demands a radical programme of constitutional change that seems likely to be beyond the courage and imagination of our political leaders at Westminster.  Compared with this, the referendum on AV and the future of Mr Clegg are mere entertainments.
Media reactions in England have broadly been twofold:  either that according to opinion polls barely a third of Scots want independence, so the SNP's referendum will fail, and there's nothing to worry about; or else that the SNP have enough time to bring enough Scots round to voting Yes in the referendum, which will accordingly and irrevocably spell the end of the UK in just a few years' time. A third theme is that the SNP's fiscal and social policies are so manifestly unaffordable, with the promise of continued free university education for Scots (and EU citizens other than the English, Welsh and Northern Irish), free prescriptions, free care for the elderly, a freeze of council tax, etc., that the SNP government will soon be exposed as irresponsible and incompetent, and obviously incapable of governing an independent Scotland. All these forecasts need sceptical examination.
On the prospects for the SNP getting a majority for independence in a referendum in, probably, three or four years' time, it's dangerous to underestimate Mr Salmond's remarkable skills and powers of persuasion.  He's extremely canny, taking a shrewd long-term view; charismatic and likeable, even by those who distrust him and reject his policies and objectives and risky exploitation of nationalistic passions;  witty, quick on his feet, and — perhaps most potent of all — optimistic and up-beat.  A Scottish friend, long resident in England, described him to me as a politician who
would have made a formidable leader of the Labour Party (at Westminster, that is).  A good deal more formidable than the present incumbent, indeed. His chiefest asset by far is that he so clearly enjoys what he is doing – whether that be governing Scotland or pissing off Westminster. He is also genuinely funny, and hard not to warm to – quite a combination. [1]
He's probably the most capable and effective politician in Britain today.  He has been running a minority government with considerable flair and success, despite having been constrained by the risk of being voted down on every controversial issue by a numerically superior opposition.  Now he has an overall majority and can do whatever he likes, subject only to the need to woo and satisfy Scottish public opinion.
Mr Salmond is already seeking greater fiscal powers through amendments to the Scotland Bill now going through parliament at Westminster: extensive borrowing powers, increased scope for varying income tax, power to reduce or raise corporation tax, a share of oil revenues.  Scotland will gain additional funds from the transfer of certain sources of income from Crown Lands;  and we can expect a fierce struggle over Scotland's claim to the lion's share of the income from North Sea oil, around 80% or more of which is in waters which would be Scottish if Scotland were an independent state.  As long as oil prices remain sky-high, oil revenues would in principle be more than enough to pay for tuition fees, prescriptions, and the freezing of council tax[2].  Of course before Scottish independence, or even after it, no government at Westminster is likely to hand over the bulk of its oil revenues just because Mr Salmond asks for them, however politely.
But Mr Cameron, or indeed any UK prime minister, is going to be in a dilemma.  The more toughly he rejects Mr Salmond's demands, the more unreasonable and oppressive the English will appear to Scottish public opinion, and the more potent the effects on the result of the independence referendum.  The SNP will be given the perfect excuse for any fiscal or economic failings.  If, on the other hand, Mr Cameron accedes too readily to the more modest of Mr Salmond's requests for greater fiscal autonomy, he'll be giving the SNP government the opportunity to demonstrate that its generous social policies, contrasted with the coalition's assaults on the welfare state south of the border, are affordable, and that the Scottish government has the necessary skills to run a viable independent Scotland.  This is going to be a no-win situation for the Conservative-led coalition at Westminster unless Mr Cameron can prove himself even cannier than Mr Salmond.  Mr Cameron has pledged to fight to keep the United Kingdom together "with every single fibre that I have"[3].  Whatever he might mean by his 'single fibre',  he may have his work cut out to succeed.
However, even if the referendum, when it comes, produces a clear majority for independence, that won't and can't be the end of the story.  No British government is likely to ignore the will of a majority of Scots expressed in a referendum, but the terms of the divorce will have to be agreed by both sides, and their negotiation will provide ample scope for disagreement, delay and dispute.  We can expect that after losing the independence referendum, any government at Westminster would take every opportunity to impose the harshest and most ungenerous terms, in the hope of impressing on the Scots that independence would cost them dearly, that they might have made the wrong choice, and that they could still change their minds.  Mr Salmond however will see the way round that danger:  he will try to pin down the UK government on the terms it will offer for the divorce ahead of the referendum, thus presenting Mr Cameron (or his successor, if we're lucky) with the same dilemma.  If his terms are unduly harsh, anti-Westminster and anti-Tory sentiment in Scotland will be hardened and a consensus for independence encouraged;  if his terms are too generous, the independence option will seem the more attractive.
One joker in this pack is often overlooked.  Mr Salmond promises a third option in his referendum in addition to "Yes" or "No" to full independence: "devolution max", or full fiscal autonomy for Scotland within a sovereign United Kingdom [1] [4].  This will not only complicate the interpretation of the result of the referendum (what if each of the three options wins around a third of the votes cast?  will voting be by AV or first past the post?):  it also presents a problem for the UK government.  Should Westminster offer to grant "devolution max" if the Scots vote for it in preference to independence, given that it would at least avert the disintegration of the United Kingdom, or should it state, ahead of the referendum, that this option is simply not on the table, forcing the Scots to choose between full independence and the status quo?  The latter would represent a reckless gamble, and as such it might appeal to Mr Cameron;  many in Scotland and the rest of the UK would think it unforgivable to exclude in advance what might prove to be the least bad result.  More on this in a moment.
There's a naive tendency on the part of some commentators to assume that a Scottish vote for full independence will be the end of the story.  In practice it would only mark the opening of a new chapter of demands, conditions, bargaining and recrimination.  One of the most difficult matters requiring agreement between Holyrood and Westminster would of course be the division between an independent Scotland and the rest of the UK of government revenues, including especially revenues from oil, and government debt.  If the Scots had voted to break their ties with the rest of the UK, no Westminster government would see any need to be unnecessarily generous on this, and anyway English public opinion might preclude generosity.  Would the Westminster government be willing to sponsor an independent Scotland for membership of, for example, the UN and the EU, and if so on what terms?  The EU in particular, smarting from the cost of bailing out some of its bankrupt smaller members, might well impose ferocious conditions of fiscal austerity on a Scottish application for membership, noting the role of the Scottish banks in the recent banking crisis.  (The notion, voiced in a recent Guardian letter[5], that both Scotland and the rest of the UK would have to apply to join the UN or the EU in their new independent identities is entirely fanciful:  Russia automatically inherited the Soviet Union's UN membership when all the other Soviet constituent republics seceded, without the need for a fresh application, and UK membership of international bodies would not be affected by Scottish secession, even in the unlikely event — predicted in the same Guardian letter — of the UK being obliged to change its name after Scotland's departure.)
Other almost insoluble problems would arise from Scottish independence, most of them requiring resolution before independence could take effect.  What would be the citizenship status of the thousands of Scots living in England and elsewhere in the UK:  would they become foreigners in what most would still see as their own country?  What would happen to the Scottish regiments of the British army, and to other Scots serving in the UK's armed forces?  Would all those expatriate Scots throughout the world be allowed to vote in the referendum?  Would English people living and working in Scotland vote in it?  Would an independent Scottish government require the closure of UK naval and military bases in Scotland, notwithstanding the economic disaster that such closure would inflict on local communities — not to mention the damage the demand for closure would inflict on infant Scottish-Westminster relations?  Would Irish nationalists in Northern Ireland watch passively while Scotland broke away from the United Kingdom or would there have to be some new negotiation of the status of Northern Ireland's position in the rump of the UK?  Mr Salmond envisages that an independent Scotland would wish to continue as part of the English Crown's realms, but would the English monarch, acting on the advice of Her English (and Welsh and Northern Irish) ministers at Westminster, meekly and automatically comply with that wish — and would it require the consent of all the Queen's other realms as well?  Mr Salmond also wishes to maintain sterling as the currency of an independent Scotland:  how much say would he have to be given in its management?  Negotiation of answers to all these and a thousand more practical questions could well take years before Scottish independence could become a reality; and in that time, who knows what changes in Scottish public opinion, indeed what changes in the régime at Holyrood, might take place under the impact of the problems that would emerge?
Meanwhile a factor that could exercise a negative influence on the referendum result is mounting anti-Scottish sentiment in England, prompted by envy of Scotland's self-government under devolution (still indefensibly denied to England);  by the largely unjustified conviction that Scotland's ability to do without prescription charges, to freeze council tax and to provide free university education to its people is all at the expense of the English taxpayer;  by resentment of what's represented as Scottish ingratitude to the generous English in seeking to break up the United Kingdom;  and even by a Little Englander supposition that England would be better off without the need to go on subsidising the pesky, demanding and rebellious Scots.  As the Guardian's Michael White says in a characteristically trenchant blog post,
I love it when the egocentric London newspapers periodically remember that there's a place called Scotland somewhere to the north of the M25 and either get into a huff about its demands or say – with equal silliness – that England should sever its ties and good riddance
— except that I personally don't love it at all:  I despise it.  This infantile and demeaning prejudice against Scotland would be boosted by any concession on the part of the Westminster government to Scottish demands for much greater fiscal and other autonomy as the price for forgoing full independence, while England, alone of the UK's four nations, continues to be denied even the basic building-blocks of self-government, namely its own government and parliament.  Continued adamant refusal by anyone at Westminster even to contemplate devolution for England may limit the extent of any concession to Scotland of substantially more fiscal and other autonomy than it already enjoys.  That in turn could turn the Scottish tide in favour of a majority vote for full independence, the almost certain prelude to the eventual break-up of the United Kingdom, with formidable implications also for Northern Ireland.
What conclusions should the government at Westminster draw from this complex of problems and decisions?  First, it's no good blaming devolution.  Devolution was devised (mainly by Scots) as a means of heading off growing demands for full Scottish independence, and we can now see that it has failed in that purpose.  But it has not failed through any fundamental defect in the concept of devolution: it has failed, so far, because weak and narrow-minded leadership by all three of the main parties at Westminster has failed to push devolution to its inevitable and logical conclusion, namely full internal self-government for all four of the UK nations (yes, including England), leaving the government and parliament at Westminster with only those powers which are bound to be exercised centrally and which can't be devolved — principally foreign affairs, foreign trade and defence.  There's a name for that kind of constitutional settlement:  it's called a federation.  Not only would it require a government and parliament for England, and a significant reduction of the powers of what would become the federal government and parliament at Westminster: it would also require a written constitution setting out the powers and functions of the respective tiers, written constitutions for each of the four constituent nations, and probably a Senate on the lines of those in the US and Australia, with equal representation for all four nations regardless of size or population, to prevent the federation being unduly dominated by the disproportionately numerous English — a protection conspicuously missing from our existing constitutional arrangements.
All this, especially the creation of autonomous governing organs for England, would take many years to accomplish.  It would also take an imaginative leap on the part of our political leaders, and a willingness to exercise bold leadership in order to gain the consent of public opinion throughout our instinctively conservative and sceptical kingdom, a degree of imagination and leadership that look to be well beyond the talents of our existing national politicians.  But, like it or hate it, we are already half-way to that federal destination, having by now become, whether or not intentionally, what Professor  Bogdanor calls a "semi-federation".  This is a process which, like riding a bike, you can't suddenly suspend in its half-finished state without producing increasingly itchy and distracting anomalies and problems.  The West Lothian Question encapsulates the most pressing of these.  There can be only one durable and democratic solution both to the West Lothian Question and to the plethora of problems raised by the overwhelming electoral victory of a secessionist party in Scotland:  the completion of the devolution project, and the conversion of the relationship between the four nations of the United Kingdom into a full-hearted federation.  Waiting to be recognised and adopted, here is a far-sighted, generous, optimistic, inspiring and democratic programme to match and surpass the narrow, nationalistic vision of Mr Alex Salmond.  Does Ed Miliband, searching for a way out of the mess that Scottish Labour has got itself into and for the Big Idea that could re-launch the British Labour Party as the party of change and reform, have the imagination and courage to pick up the federal ball and run with it?  The mere adoption by a major political party of federalism as a long-term aim for the whole of the United Kingdom would transform forever the whole context in which a Scottish independence referendum would be held.  What alternative is there, other than the disintegration of our country?
I have to declare an interest.  I am English, but I regard Scotland as being as much a part of my homeland as Dorset or London:  in the sense that JFK declared himself a Berliner, I am a Scot (and a Welshman and Northern Irish) too.   Britain without Scotland would be an unfamiliar and unattractive land.  I could never regard my Scottish friends as foreigners, or think of visiting Edinburgh or Glasgow as going abroad.  Scottish secession would be a kind of amputation.  There has to be — there is — a better way.  Come on, Mr Miliband:  take the plunge:  the water's lovely!
Brian
________________
Notes:
[1] "If only someone had managed to get Alex Salmond to grow up, he would have made a formidable leader of the Labour Party (at Westminster, that is). A good deal more formidable than the present incumbent, indeed. His chiefest asset by far is that he so clearly enjoys what he is doing – whether that be governing Scotland or pissing off Westminster. He is also genuinely funny, and hard not to warm to – quite a combination.
"What those opposing independence need to take on board is that it is essential not to run a purely negative campaign – eg one based on the experiences of Ireland and Iceland, for example. Salmond's campaign will be positive, optimistic, forward-looking, inspiring – and the opposition needs to be on a par.
"It appears unlikely right now that he will win an independence vote – which is of course why he has announced the intention of putting a further, compromise, question on the ballot: that way his chances of being on something he can represent as the winning side are greatly increased."
[Scottish expatriate living in London (private message)]
_____________
[2]"[Mr Salmond's] tactic will be to blame any budgetary problems he has, and he certainly will have them, on the Coalition in London and its attempt to cut the UK deficit too fast and therefore cut the Scottish block grant.  Having stoked up a fair amount of ire against Westminster policies he will then have the referendum.  He will also blame Westminster for not letting him have all the fiscal powers he wants, notably oil revenues and power to reduce corporation tax.
"… Scotland has public expenditure per head about 16 per cent above the UK average, much the same as London, less than Northern Ireland but more than Wales or the two northern regions of England.  Tax revenue per head is about the UK average if North Sea oil is excluded.  So there is a deficit.  But if some 80 per cent of North Sea revenues came to Scotland that approximately fills the deficit so long as the oil price remains high.  In the past, on this basis, Scotland would have been in colossal surplus in the first half of the 1980s but in deficit for much of the 90s when the oil price came down.   …
"I do not expect the Scottish Government to become insolvent.  …  But their commitments certainly raise an affordability problem.  [There is an obvious problem over the pledge to maintain free university tuition for Scottish and EU students (but not those from England, Wales and Northern Ireland).]  The gap there will be about £300 million and the Council Tax freeze will be about £500 million over the lifetime of the Parliament.  The local authorities are already being squeezed hard and that will mean school education in particular.  But if the block grant is cut as savagely as I expect he will of course blame that on Westminster and use that as an excuse to abandon the commitment to freeze Council Tax.  In addition, if the Calman proposals are enacted, he could put a penny on income tax and use that to help fund the tuition fees, saying all the while that none of this would be necessary if Westminster would let him have the oil revenues from the Scottish sector.  Independent assessments make it quite clear that 80-90 per cent of the North Sea oil is in what would be Scottish waters if the area was divided between sovereign states.  Never mind that it was developed as a UK resource with the infrastructure funded from the UK exchequer rather than only the Scottish taxpayer.  So he has quite a lot of wriggle room."
[Scottish economist (private message)]
_______________________
[3] Mr Cameron said he would campaign to keep the UK together, as he congratulated Mr Salmond.  He said: "I passionately believe in our United Kingdom, so I congratulate Alex Salmond on his emphatic win, but I will do everything obviously as British prime minister to work with the first minister of Scotland, as I always do, and treat the Scottish people and the Scottish government with the respect they deserve.  But on the issue of the United Kingdom, if they want to hold a referendum, I will campaign to keep our United Kingdom together, with every single fibre that I have."  http://www.bbc.co.uk/news/uk-scotland-13319936
[4] http://www.guardian.co.uk/politics/2011/may/08/scotland-independence-vote-financial-autonomy
[5] http://www.guardian.co.uk/politics/2011/may/09/scotland-snp-victory