The defenestration of Julia Gillard by Kevin Rudd as Australian prime minister
[Note by Brian:  The following is a blog post written for Ephems by an Australian friend of long standing about the Australian Labor Party (ALP) leadership contest on 26 June 2013 between the then prime minister, Julia Gillard, and her predecessor, Kevin Rudd, whom she had herself displaced as party leader and prime minister three years earlier.  A 'spill' is a leadership contest prompted by a challenge either to an incumbent leader by a rival or vice versa.  A 'caucus' is a meeting of all the MPs and Senators of a party in the Australian parliament. 'John' is the writer's husband. Australian elections to the House of Representatives are due to take place in September 2013.   Now read on…]
I'm furious, devastated, incredulous…. at Julia Gillard's defeat by Kevin Rudd.
When we heard that there'd be a leadership spill, called by Julia, at 7 pm, I said to John that I'd put my money on Julia. Not because I thought that she'd win the September election so should be supported, but because she is so determined, so feisty, whereas Kevin Rudd has been a wilting lily when it's come to leadership contests. The rumoured leadership challenge in the last few days looked as if it was in the same category.
So it was a shock that Julia lost 45 – 57 to Rudd.
As one commentator said, it was a case of caucus members assessing their electoral chances. The polling has been devastating for Labor. So in the last few weeks when leadership speculation emerged, yet again, it was against the background of the possibility of Labor losses such as the party hasn't seen since 1966. In other words, lots of jobs lost.  You could ask, well what's changed recently? And the answer can only be, time. It's getting closer to the election date, 14 Sept, and as it gets closer I guess incumbent politicians lose their nerve.
What is infuriating is that Labor, under Julia Gillard, has introduced some very progressive policies – a carbon tax (OK, they were pressed into it by the Greens, but that was more a matter of timing than of policy itself), a disability insurance scheme, a new and significant education funding mechanism, general dental care, plain packaging for cigarettes, increased funding for mental health care….  and that's just off the top of my head. But recently an opinion poll showed that people supported the policies of Labor, but not the Labor Party itself.
So, why?
Could it possibly be because Julia Gillard is the first female PM? Sounds very defensive, until  you take into account the attacks from the shock jocks and the Murdoch press. Alan Jones's references to 'Ju-liar' now seem so mild. Oh, he did say that she ought to be taken out to sea in a chaff bag, hopefully to be sunk there, but that is all mild compared to the sort of obscenities that have emerged since. It's not mainstream, admittedly, but it defies reason to suggest that the appallingly sexist, disgusting stuff that's been circulating hasn't had its effect on mainstream commentary.
You over there could well ask what's the difference between the tossing out of an unpopular PM, Julia Gillard, and the tossing out of a popular PM, Kevin Rudd, 3 years ago? To my mind, Kevin Rudd's deposition was one which only the Canberra insiders – and the ALP numbers men/women – understood. In vote-winning terms:  it was a loss of nerve, as Rudd's popularity, although declining, was not at election-losing level. However, he hadn't delivered much. Much was the promise, but….  So I was willing to go along with that assassination.
The public however was not. It wasn't until last year that Labor politicians bared their breasts and admitted to why they'd axed Kevin: he was impossible to work with. Meanwhile the public perception was that Julia had knifed Kevin. Paul Keating was allowed to knife Bob Hawke, the incumbent PM, in 1991, but Julia, a woman, was not.
Julia has been dogged throughout her term as devious, a PM-slayer. Various slips – like the "no carbon tax under my government" – as they have been publicised, have contributed to the image of untrustworthiness. All bollocks, but what can you do with a print media dominated by Murdoch?
In the next few years or decades there'll be a major revision of Julia Gillard's reputation and record. She's been a terrific driver of policy, an extraordinarily effective negotiator, right from the day she negotiated the arrangement which created stable government out of a hung parliament, and an incredibly courageous person.
*
The morning after:
I'm not the only one to be devastated at the treatment meted out to Julia Gillard. Debate is raging over whether she was or was not the victim of misogyny. And if so, why.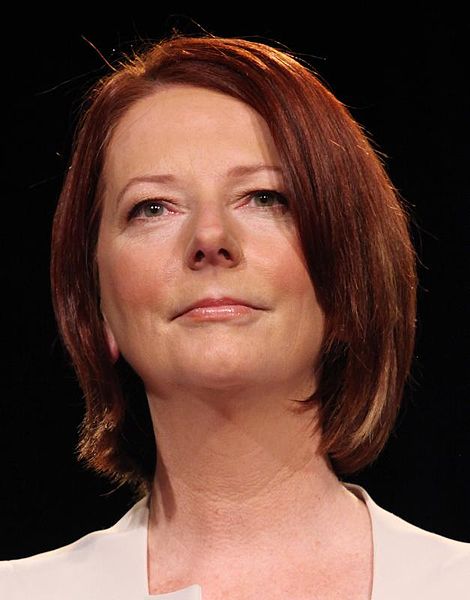 People who know her personally, politicians and press alike, say that Julia Gillard is a warm, witty, likeable woman. Coming from a migrant background – her  parents came from Wales to Australia when she was a child – she has acknowledged that the work ethic of her working-class parents, and the opportunities open to them and their children here in Australia, are what inspire her to work for a free and fair society. Education has always been a priority, as have workplace relations where she made a name for herself in opposition when she faced off then Minister for Workplace Relations, Tony Abbott.
But somehow her warmth of personality couldn't penetrate the TV cameras. And has she been criticised!  For her (strong Australian) accent, her nasal tone of voice, her nose, her ears, her choice of clothes, her choice of partner….
Is she to the Right or Left in the party? Once upon a time she was labelled Left, but that label slipped years ago when she engineered, or at least supported, the ALP's cringeing policy towards asylum seekers. That was in 2001, and in the elections of that year, Left-inclined ALP supporters took their vote elsewhere, swelling the Green vote to an unheard-of 10%.
Since coming to office, the Left label has fallen off completely: why do a deal with the miners that would satisfy them but reduce by billions the projected revenue from a super-profits tax? why go back on her own policy of holding non-government school funding at current Australian dollar  levels while increasing government school funding in real terms? why propose (pre-2010 election) postponing for three years any price on carbon? (and then go back on that?) why undo the humane treatment of asylum seekers and for that matter go perilously close to failing Australia's obligations to the Refugee Convention which we've signed up to?
Because she could.  Because she had to, in a hung parliament. Therein lay the conundrum. From very early on it was hard to see what Julia Gillard stood for, but that very problem had as its flipside: that she could negotiate, and she could get results. No mean feat in a hung parliament. She did what the Opposition leader, Tony Abbott, defied her to do – led a government that went its full term.
And just the opposite to Kevin Rudd who promised much but achieved very little other than a huge and growing in-tray. It was a well-known Canberra secret that departments leapt at the chance to put up policy documents for signature by Deputy PM Gillard when PM Rudd was out of the country. She always cleared the backlog!
Another opposite is her grace and her dignity, exemplified by her offer to quit politics if she lost the ballot. And she has kept her word. Kevin Rudd, by contrast, never stopped undermining her leadership, from way back before the election of 2010 when (his) damaging leaks unsettled the Gillard campaign, to his destabilising efforts throughout her tenure of office. He has hung around and hung around;  Julia Gillard has always been fighting Her Majesty's Loyal Opposition and at the same time the disloyal former prime minister and one-time Minister for Foreign Affairs, Kevin Rudd.
The brutality of her treatment was not confined to Wednesday 16 June, but has been a constant for three years. And yet she has introduced reforms which will make big changes to Australia for decades – and I mean 'reforms', not merely 'changes'.
But it is the morning after. I find myself sharing the sadness in the looks of those of her colleagues who deserted her, clearly reluctantly. Yet there is at least some hope now that Tony Abbott will not win the election, and there is even an expectation that the size of his victory if he does win will not secure him control of the Senate, hugely important in ensuring that the legislation of the present government will not be overturned.
At least there's going to be a real contest.
A reason for tuning in again to what has been a very depressing scene for the last year or so.
Jill Greenwell
(former head of classics at Canberra Girls' Grammar School, and author of 'Vietnam Diary' and 'What's Jill doing in Bhutan?' on this website)