Julian Assange: a modest suggestion and some clarifications
Today's Guardian (20 Aug 2012) publishes a letter from me dismissing one suggested solution for Mr Assange's future and proposing another:
Letters: Diplomatic dilemmas and Julian Assange

Your editorial (17 August) states categorically that "an embassy car is not diplomatically protected", although I don't know how you square that with Article 22(3) of the Vienna Convention ("The premises of the mission, their furnishings and other property thereon and the means of transport of the mission shall be immune from search, requisition, attachment or execution"). This, however, seems unlikely to help Mr Assange to get himself to Ecuador without being arrested when he leaves the embassy to get into the car or at the port or airport when he gets out of it. A safer way might be for Ecuador to appoint him to the diplomatic staff of their embassy in London, for which the UK government's agreement would not be required. Mr Hague would then expel him, after the Ecuadoreans had refused to waive his diplomatic immunity. But Assange would retain his diplomatic immunity from arrest until he had left the UK, presumably on his way to Ecuador and political asylum. Such diplomatic chicanery to enable Assange to escape British and Swedish due process would lay Ecuador open to retaliation – Britain could expel its ambassador or even break off diplomatic relations – but the Ecuadoreans might think it worthwhile. No doubt Mr Assange would!
Brian Barder
London
Since I submitted my letter, a friend much better qualified than I has queried my assertion that the British government's approval would not be required for Ecuador to appoint Mr Assange to the diplomatic staff of its embassy in London, citing Article 8 (2) and (3) of the Vienna Convention:
2.Members of the diplomatic staff of the mission may not be appointed from among personshaving the nationality of the receiving State, except with the consent of that State which may be withdrawn at any time.

3.The receiving State may reserve the same right with regard to nationals of a third State who are not also nationals of the sending State.
Mr Assange, being an Australian citizen, would be covered by (3), which seems to entitle the British government to withhold consent from the appointment to the Ecuador embassy of a national of neither Ecuador nor the UK — but arguably, by implication ("may reserve"), only if HMG has availed itself of the permission given in 8(3) to reserve that right in respect of nationals of a third state and has notified Ecuador that it has decided to exercise it.  The Convention seems unclear about whether the right under (2) of the receiving state (the UK) to withdraw its consent to an appointment "at any time" also applies to (3) and therefore to Mr Assange.  All one can say is that an attempt by Ecuador to go down this route would seem likely to provide lucrative employment for many years to lawyers representing Ecuador, the United Kingdom, Mr Assange, and Sweden, and probably the judges of one or more international courts and tribunals, before the matter could be resolved.  Throughout this time, Mr Assange would presumably continue to be confined either to the London flat which serves as the embassy of Ecuador, or possibly to an English prison while he once again contests, this time on grounds of his disputed claim to diplomatic immunity the UK's right to extradite him to Sweden.
The other letters on the subject also published today (including one from the indefatigable Mr Keith Flett) raise some other interesting questions.  One letter-writer thinks the British government should "insist" on Sweden sending its prosecutors to interview Assange in the Ecuadorean embassy in London — forgetting that it's for the Swedes, not us, to decide where they should question him about serious allegations made by Swedes about crimes allegedly committed in Sweden.  If the questioning were to result in a decision to prosecute Assange, he would clearly need to be in Sweden to be arrested and charged, which could hardly happen in a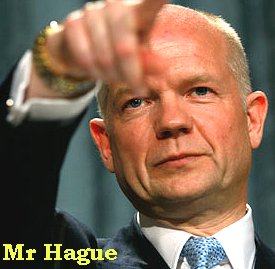 foreign embassy in London.  Another letter questions William Hague's announcement that HMG doesn't recognise the concept of diplomatic asylum, recalling that Britain didn't object the the Americans sheltering Cardinal Mindszenty from the communist government of Hungary for 15 years in their embassy in Budapest.  But Mr Hague's announcement probably refers to a convention on diplomatic asylum signed by a number of South American states, including Ecuador, but not by the UK, which among other things obliges the country where a refugee has been given shelter in a foreign embassy to give the refugee safe passage to the embassy's home country.  HMG has already made it clear that it will not give Assange safe passage to Ecuador or indeed to anywhere else other than Sweden, and Britain has absolutely no obligation to do so under international law.
Today's excellent Guardian editorial provides a refreshing reminder that the issue at stake here is the serious allegations of sexual assault and rape made against Mr Assange arising from his conduct in Sweden. The Guardian has tried to work with Mr Assange and knows whereof it speaks. Those who are emotionally committed to him as the founder of Wikileaks and the orchestrator of the publication of a vast mass of American classified documents hardly seem the kind of people who would argue that a serious rape allegation should not be followed up by proper investigation;  radical feminists have long protested at the frequent failure of police forces here and elsewhere to take accusations of rape and other offences against women sufficiently seriously.  It is these allegations which Mr Assange is struggling so ingeniously and energetically to avoid answering, not extradition to the United States on an application by the US which has not been issued, to face charges which have not been laid.  The motives of the Ecuador government in coming to his rescue to save him (temporarily) from extradition to Sweden seem connected with its practice of irritating Washington (which clearly has no love for either Wikileaks or its founder) whenever possible, and strengthened by Mr Hague's inexplicable blunder in explicitly threatening to use non-existent powers to send his coppers into the Ecuador embassy without its permission to arrest Mr Assange, in plain contravention of international law, thus regrettably putting Britain in the dock alongside Mr Assange.  None of this should distract attention from the only serious issue:  should Mr Assange go to Sweden, preferably voluntarily but otherwise in handcuffs, to answer the allegations against him?  Of course he should.
Postscript:  Amid the plethora of blog posts and comments on the Assange affair, here are two which usefully explode some myths and provide clarification of the law:
http://www.newstatesman.com/blogs/david-allen-green/2012/08/legal-myths-about-assange-extradition
and
http://www.headoflegal.com/2012/08/15/julian-assange-can-the-uk-withdraw-diplomatic-status-from-the-ecuadorian-embassy/.
Brian