Norman Kember comes home: foolhardy or rational?
Norman Kember, a 74-year-old Briton from Pinner, was one of four soi-disants Christian Peacemakers kidnapped in Iraq 119 days ago. One, an American, was murdered. On Thursday, 23 March, Kember and his remaining two fellow-hostages, both Canadians, were rescued in a bloodless, multi-national military operation spear-headed by the SAS. Martin Kelly's short, sharp and sensible blog post betrays a certain impatience with Professor Kember's escapade:
"Whilst the release of Norman Kember from his captivity at the hands of Iraqi neck-smiters is certainly to be welcomed, one hopes he's flying home commercially. He made his own way there, so he can make his own way back. Preferably with a bill from the SAS in his pocket."
I agree with that.

In the past 24 hours the question of Kember's attitude to the military and to their action in rescuing him (when he had said before he was kidnapped that in such an event he wouldn't want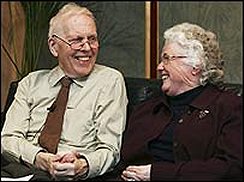 any military operation to rescue him) has been in all the headlines and lead reports here in Britain, the subject of heated discussion in the chat shows and current affairs discussion programmes, and extensively argued out in the blogs (2,430 posts currently contain references to Norman Kember, according to Technorati). Did he or didn't he, when first released, thank the SAS special forces and other military who rescued him and the two Canadians? Last night on television General Sir Michael Jackson, Chief of Defence Staff, said he had not thanked his rescuers, unless he (Jackson) had missed it. Uproar! — see e.g. today's report in The Times Online, headed: "Army's top general attacks Kember for failing to thank SAS rescue team". Kember did include a word of thanks to the soldiers in his formal statement issued this afternoon on his return home to Pinner, but it wasn't much better than perfunctory —
"Another group that I hope you do not forget are the relatives of British soldiers killed or wounded in Iraq. I do not believe that a lasting peace is achieved by armed force, but I pay tribute to their courage and thank those who played a part in my release."
And at least one spokesperson for his religious organisation, Christian Peacemaker Teams (CPT), has been quoted as answering criticisms (of Kember's action in going to Iraq when he knew he was liable to be kidnapped, and of his ungracious reluctance to thank his rescuers) by pointing out that he had made it clear that he didn't want the military to do anything for him if he was captured, and that since his express wishes had been ignored, it was hardly surprising that he had been in no hurry to say thank you. This is partially contradicted by a statement from CPT according to which —
The Rev Bob Gardiner, of Harrow Baptist Church, said: "We are grateful to the British government for its close co-operation with myself and the Kember family since Norman was kidnapped in November. We were impressed by the sensitivity with which it responded to our concerns about any possible use of force in any rescue attempt. We are thankful for the way in which they honoured their promises to intervene only when there was a considerable degree of assurance that there would be no loss of life."
The FCO and MOD have declined to confirm that any such promises were given. But it saves face all round to pretend that they were, even if they were not; and it's difficult to believe that they could have been. An SAS source has been quoted as saying that the army in Iraq could do without having to divert scarce resources to rescuing people who had ignored official advice not to go to Iraq; they had enough on their plates without that. Meanwhile, according to the same BBC News report,
Despite the kidnappings, another CPT member, Jan Benvie has told BBC News she intends to go to Iraq in July. She said she did not accept her presence should mean an extra responsibility for the security forces.
It's not entirely clear what the CPT members have actually been doing in Iraq, although CPT claims to have been the first to discover and publicise the abuses at Abu Ghraib and also abuses of Iraqi detainees by British soldiers. They say they have been building bridges and making peace by their day-to-day contacts with Iraqis in the course of shopping, doing the laundry, etc.
According to the BBC, "Between 10 and 40 Iraqis are kidnapped every day – often children snatched on their way to school and held for a ransom of between £3,000 and £30,000."

It may not be entirely fair to suspect Kember and his three kidnapped companions of actively seeking Christian martyrdom, General Gordon style, but they do seem to have acted with culpable disregard of the possible implications for others of their own recklessness. It's all very well to make a kind of Living Will with instructions that there's to be no military action to rescue you if you're captured (or alternatively that there's to be no rescue attempt if there's a risk of loss of life in the process, which is rather different), but such demands are wholly unrealistic. No government could contemplate confronting public opinion at home with an abject failure to take whatever action might be necessary, at almost any cost[1], to save its citizens whose lives are in imminent danger, on the excuse that the captives had said they didn't want to be rescued by soldiers: and any military rescue attempt is bound to entail a risk that people will be killed or wounded.

[1] According to the Times report quoted earlier, —
The hunt for Norman Kember and his fellow hostages involved:
250 men from the Task Force Black US/British/Australian counter-kidnap unit;
100 men from Task Force Maroon, the Paras and Royal Marines backing special forces;
15 men in helicopter crews;
AND tens of thousands of pounds spent on helicopter and transport aircraft flights.
Which I suppose says it all. If a single British or other soldier had been killed in the course of the rescue operation, the welcome home for Mr Kember might have been a good deal cooler. Professor Kember's statement today ended:
"I now need to reflect on my experience – was I foolhardy or rational? – and also to enjoy freedom in peace and quiet."
He shouldn't need very much time for reflection to arrive at the obvious answer to his own question.
Postscript: For an interesting discussion of the economics of dangerous activities voluntarily undertaken by individuals regardless of the potential cost to public funds and risks to the lives of others, look here.
Brian