Random reflections after a terrible election (1)
It's taken a few days to recover from the nasty jolt administered by the exit poll on Thursday night, since when things have only got worse. I had planned to write a blog post with profound constructive thoughts about what went so badly wrong and what the Labour party needs to do to begin its recovery, but after absorbing the wisdom of a thousand expert commentators on many hectares of newsprint and in hours of television, I still have no answers to those questions, and conclude that there probably aren't any. So I just offer some random interim jottings.
* * * * *
Will the weirder of the results (Scottish National Party with 4.7% of the votes and 56 seats, UKIP 12.6% of the votes and just one seat) prompt a general demand for "reform" of the electoral system, abandoning First Past the Post (FPTP) for some form of proportional representation (PR)? UKIP certainly has just cause for complaint, having come third behind the Conservatives and Labour in the national vote. A proportional system would have given the Greens, with 3.8% of the vote, a respectable 25 seats; UKIP's nearly four million votes should have won them 82, a sobering thought. I hesitate to call UKIP a fascist party: Farage seemed relatively benign as far right party leaders go. But plenty of UKIP members clearly hold fascist views, and as the third biggest party in parliament it could be a magnet for some more sinister, charismatic and dangerous champion. Fascism in Germany was born of recession, distrust of conventional politicians, and a sense of grievance over the country's treatment by foreigners. Hitler won power through democratic elections. Which is more dangerous, relying on FPTP to deny almost four million voters their due representation in parliament, or changing the system to make them the third biggest party?
* * * * *
I don't suggest that it accounts for the Tories' stunning victory, but their campaign does seem to have profited mightily from the constant repetition of the four Mendacious Mantras: (i) "Labour crashed the economy"; (ii) "Britain's famous recovery from the mess we inherited from Labour is down to brilliant economic management by George Osborne"; (iii) "Ed Miliband is a Marxist weirdo who's not up to the job of prime minister"; and (iv) "a minority Labour government would be in hock to the illegitimate, anti-UK, secessionist SNP wreckers." Ed gave the lie to (iii) by performing strongly during the election campaign, but it was probably too late. Labour never succeeded in rebutting the other three lies, not even (i), the most damaging and most obviously false. With the Tory press daily repeating the four Mendacious Mantras as a kind of Greek chorus, getting the rebuttals across would have been hard work. But in an understandable determination to be positive, Labour didn't really try.
* * * * *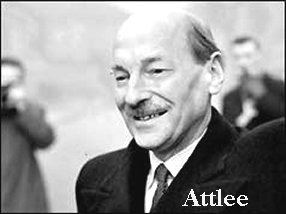 By winning 50% of the votes in Scotland the SNP has broken all records set by the UK parties since the 1930s. Even at the peak of its election successes in 1945, and especially 1951 (when, contrary to the conventional wisdom, Labour actually won even more votes and a higher proportion of the national vote than in 1945), Mr Attlee's Labour party never quite managed 50%. Under PR, no UK government since 1945 could have governed alone with an overall majority in the House of Commons. The SNP's success in virtually sweeping the board in Scotland, winning 56 out of 59 seats, obscures the fact that if 50% of voters voted for the SNP, the other 50% did not. Still, there's no denying the nationalist surge that has swept Scotland since last year's independence referendum, inflicting humiliating defeats on the Conservative, Labour and LibDem parties alike, and stirring up hitherto largely dormant English nationalism in the process. How strange that neither of the main UK parties has any vision of a constitutional future for the whole UK that could satisfy legitimate Scottish and English ambitions for self-government, and put relations between the four UK nations, and between them and the UK as a whole, on a durable, democratic footing. No-one will risk espousing the obvious solution, a full UK federation to replace the semi-federation we have now: too radical, too many problems en route (all soluble, actually). Vision is in short supply nowadays. Meanwhile all available energy will be expended on a divisive battle over Europe and on wrapping up the dismantling of the welfare state, virtual privatisation of the NHS, and the binning of the Human Rights Act, to be replaced by a régime making civil rights conditional on performance of "obligations" to the state as defined by Mr Michael Gove. It's tempting to give up interest in politics. Instead, with Candide, "we should cultivate our garden".
* * * * *
Will someone please explain to Mr Blair, Lord Mandelson, Mr Straw and Mr Blunkett that it's time for them to — well, cultivate their gardens, and that they might usefully remember Mr Attlee's polite advice in a letter to Harold Laski, then Chairman of the Labour Party, in 1946: "I can assure you there is widespread resentment in the Party at your activities and a period of silence on your part would be welcome"?
Brian