That was my week that was….
More disconnected reflections on the past week's news and experiences:
I'm no great admirer of Gordon Brown, but once again you have to feel sorry for him.  His visit to New York for the UN General Assembly and the historic Security Council meeting chaired by President Obama was in many ways a personal triumph: he was widely hailed as the architect of the global response to the recession, "honoured as world statesman of the year at a VIP-packed gala dinner at which the award was presented …  by the veteran US former secretary of state Henry Kissinger";  he earned international respect for a major speech to the General Assembly containing concrete initiatives on climate change, terrorism, nuclear proliferation, poverty and shared prosperity, and was a co-sponsor of the historic Security Council resolution, unanimously adopted, calling for a world without nuclear weapons.  A few days ago he was in Berlin developing a new initiative on Afghanistan with the Chancellor, Angela Merkel.
Yet he comes back from New York to be vilified by the media because there wasn't time for a formal bilateral meeting with President Obama — whom Brown sat next to (or only one seat away) in the Council.  Obama inevitably took advantage of the presence in New York for the UNGA of numerous world leaders to talk privately to those with whom his contacts are rare.  He and the UK prime minister meet often and talk on the secure telephone even more often.  Yet even the Guardian treats us to a banner headline proclaiming that Obama has snubbed the unfortunate Gordon.  Truly, no man is a prophet in his own country.  Fair enough to take Brown as we find him, warts and all:  but the UK media never seem to notice anything but the warts.
*    *    *    *    *
Earlier in the week I was stopped and searched by an extremely courteous police sergeant under the infamous Article 44 of the Terrorism Act 2000.  I had just emerged, with my wife, from Green Park tube station; we were walking through the park on our way to have lunch with some old friends from university, all of us septuagenarians.  Under section (3) of Article 44, authority to stop and search anyone "may be given only if the person giving it considers it expedient for the prevention of acts of terrorism".  The sergeant smiled drily at my speculation that I had been singled out for this treatment because of my beard, presumably an almost infallible pointer to terrorist proclivities.  A search of my back-pack failed to reveal a bomb, but the sergeant was pretty suspicious of my sachets of powdered sweeteners ("Splenda", actually: strongly recommended).  I suppose any copper must hope to have hit pay-dirt when coming across white powder in a beardie's rucksack.  He took my wife's word for it that it was only sweetener, and refrained from tasting it.  There followed a fairly lengthy ritual of identification, the policeman laboriously copying details of my driving licence, the time and location of the search, and the provision of the Terrorism Act under which he was acting, onto elaborate forms.  He gave me faint, barely legible copies of these, "in case you wish to lodge a complaint against my conduct or against the system, Sir".  I assured him that I had no complaint against him personally: his conduct had been impeccable.  As for the system, I had already made vociferous public complaints against it ever since the enactment of the pernicious law in question.  I assured him that I would continue to do so.  So I must assume that my name and details are now irrevocably recorded in some police database under the heading of 'terrorist suspects'.  Not really funny, I suppose.
*    *    *    *    *
I was glad to see a letter in the Guardian on 22 September (I can't find it on the website) making the points, not to my knowledge made elsewhere in the media, (1) that the 'fine' of £5,000 imposed on Baroness Scotland, the Attorney-General, by a government body called the UK Border Agency for her failure to make a photocopy of the passport of her Tongan housekeeper was ludicrously and disproportionately severe considering the laughably trivial nature of her 'offence' (it's not even a crime); and (2) that things have come to a pretty pass when British citizens can be arbitrarily fined to the tune of thousands of pounds by a government department without any vestige of due process.  Another unpleasant feature of this non-event has been the opportunistic rush by the Tory shadow home secretary and his LibDem counterpart to demand that Patricia Scotland should "consider her position" — mealy-mouthed Westminsterese for "resign as Attorney-General".  And yet another unpalatable aspect is the fact that the law imposes on all of us this mad duty to photocopy the passport and other documents of any foreign person whom we employ, in a brazen attempt to make us do the UK Border Agency's work for it.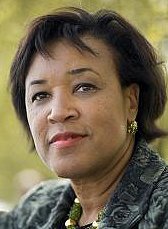 The UK Border Agency has acknowledged that Lady Scotland had not "knowingly" employed an illegal worker, and had "taken steps" to check her housekeeper's documents, so her sole offence was the failure to photocopy them.  Did the opposition spokespersons hollering for her resignation raise any objection to this barmy and oppressive provision of the Immigration, Nationality and Asylum Act 2006 when it was scrutinised by parliament?  If not, they should shut up.  It's especially sad that all this should cast a shadow over Patricia Scotland's distinguished career (thanks to the Daily Mail, needless to say) when hers has been such an inspiring example of sheer talent and hard work, taking a girl from Dominica in the West Indies, the tenth of a family of 12 children, to Britain as a young black immigrant, to a starry career as a barrister, to ministerial appointments and a seat in the House of Lords, and then on to the position of the government's principal legal adviser with the right to attend Cabinet.  The Daily Mail and those demanding her resignation must feel very proud of themselves.
*    *    *    *    *
Continuing down through Green Park after my brush with the law, we cut through to Pall Mall via the passageway leading past Bridgewater House, one of the magnificent buildings lining the side of the park.  Designed by Barry in 1847 for the Earl of Ellesmere, the house is still privately owned, unoccupied most of the year other than by a caretaker and his wife.  This week, however, it was the centre of vigorous activity, as dozens of workmen dismantled a gigantic stage, supported by extensive scaffolding, over the grounds between the house and the park, and laboured to remove the massive cantilevered steel canopy that had been erected over it.  The stage and canopy had been built, so we gathered, for a party last weekend for some 400 people, given by an unnamed host who was staying at the time at the Ritz, just at the top of the park.  It had taken more than two weeks to build these massive structures, and seemd likely to take at least another two weeks to dismantle them and take them away.  No doubt some restoration of the grounds underneath will also be necessary.   I just thought you'd like to know.  It must have been some party.
Brian