The Blair defence: never take a risk
Tony Blair's six hours at the witness table of the Chilcot Iraq Inquiry yesterday gave us a bravura performance, allowing him to display all the old familiar dramatic and forensic skills that got him out of so many scrapes during his years at No. 10.  The media this morning all comment on how nervous he seemed initially (those in the room apparently saw his hand shaking when he poured himself a glass of water), although I would have said only that he was tense to start with — as who wouldn't have been?  But it didn't take him long to recover the old charm, fluency and unquestioning self-confidence.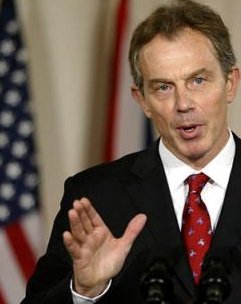 The performance, which is exactly what it was, revealed all the old familiar weaknesses, too:  the evasion of inconvenient detail by elevating the discussion to a grand, sweeping level of generality;  the reduction of all issues to a Wagnerian conflict between Good and Evil, with Blair (surprise, surprise) doughtily championing the former; above all, the constant justification by reference to his "passionate belief" in his own unvarying rightness of every decision, however badly flawed by inattention to the facts, or failure to heed contrary advice, or predictably disastrous consequences.  Self-belief is his trade-mark, and what makes him appear strong and decisive.  Contrary to the placards waved by the anti-Blair protestors outside the building, denouncing BLIAR!, he rarely lies, anyway in the strict definition of the word.  He says things that are not true or accurate, but he passionately believes them to be true when he says them:  there is rarely any obvious intent to deceive.  Challenged to defend his misrepresentation in the government dossier, and in the key house of commons debate on the eve of war, of the intelligence about Saddam's WMD as definite and beyond doubt (when it was neither), he counters that it was definite and beyond doubt in his own mind, which was all that mattered — to him, anyway.  For Blair, as for Hamlet, ""There is nothing either good or bad, but thinking makes it so."
There's no need to repeat here the textual analysis of yesterday's Blair gospel very adequately undertaken this morning by the massed regiments of the commentariat and the bloggers.  But one key attitude was skilfully revealed by some insistent questioning, an attitude that reveals a huge amount about Blair himself and indeed more generally about New Labour: his attitude to risk.  When Sir Roderic Lyne, most tenacious of the Inquiry's members, pointed out that Blair's perception of Saddam Hussein as posing a potential threat to the whole world, including Britain, had not been shared by many other governments and people to whom Iraq was much closer and in principle more potentially menacing, Blair replied that —
you are right in saying, "If this and if that", but you see, for me, because of the change after September 11, I wasn't prepared to run that risk.  I really wasn't prepared to take the risk….  given Saddam's history, given his use of chemical weapons, given the over 1 million people whose deaths he had caused, given ten years of breaking UN Resolutions, could we take the risk of this man reconstituting his weapons programmes, or is that a risk it would be irresponsible to take?  I formed the judgment, and it is a judgment in the end. It is a decision. I had to take the decision, and I believed, and in the end so did the Cabinet, so did Parliament incidentally, that we were right not to run that risk, but you are completely right, in the end, what this is all about are the risks.

SIR RODERIC LYNE: Thank you.

RT HON TONY BLAIR: ….my judgment is you don't take any risks with this issue.

[Chilcot Iraq Inquiry, 29 January 2010, testimony by Tony Blair,
http://www.iraqinquiry.org.uk/media/43909/100129-blair.pdf, pp. 90-91]
There's no serious attempt to weigh the extent of the risk — related to hypothetical future developments rather than to any actual risk to Britain posed by Iraq in 2003, even if you believed at the time that Iraq still possessed some WMD — in relation to the harm certain to be done by launching a full-scale war, with all its predictable and unpredictable consequences for thousands of innocent (and guilty) people.  "You don't take any risks with this issue."
This disproportionate response to even remote and hypothetical risk is at the root of the most mysterious and unaccountable decision taken by Blair on Iraq — namely to abandon UN diplomacy and the weapons inspection process before they had had a chance to resolve the WMD problem peacefully, joining G W Bush in the attack on Iraq, even though not one of the conditions he had laid down (according to Blair's own account and that of several other witnesses) for UK participation in American military action had been satisfied, namely that all peaceful means of resolving the problem must first have been exhausted, that war must be a last resort, and that the UN Security Council must have authorised the use of force:
[p. 127] [SIR RODERIC LYNE:]  At this really critical moment, and obviously a very
15 difficult moment in your life, you had reached the stage
16 where you weren't going to get a second resolution,
17 military action was imminent. Now, you had been working
18 intensively for months, indeed for a year, to try to
19 create a supportive environment… but you hadn't actually got
21 a clear and strong international consensus for this
22 action. Public opinion here in the UK was divided. No
23 really major progress had been made on the Middle East
24 peace plan…. We
25 hadn't got the second resolution, and you were also…
starting to hear warnings from
2 people like Brigadier… Tim Cross,
3 who came to see you in Downing Street and saw
4 Alastair Campbell, I think, that the post-conflict
5 preparations being made by the Americans didn't look at
6 all good.
7 At this point, you must, I suppose, have had some
8 pause for thought. Did President Bush at this point,
9 when you hadn't really satisfied the preconditions you
10 wanted to achieve, offer to go it alone and offer you
11 a way out?
12 RT HON TONY BLAIR: I think the Americans would have done
13 that. I think President Bush actually at one point
14 shortly before the debate said, "Look, if it is too
15 difficult for Britain, we understand". But I took the
16 view very strongly then, and do, that it was right for
17 us to be with America, since we believed in this too,
18 and it is true that it was very divisive, but it was
19 divisive in the sense that there were two groups. There
20 was also a very strong group in the international
21 community, in Parliament, I would say even in the
22 Cabinet, who also thought it was the right thing to do.
….
[p.130]  It was a really tough situation, yes,
15 and in the end, as I say, what influenced me was that my
16 judgment ultimately was that Saddam was going to remain
17 a threat and that in this change in the perception of
18 risk after September 11 it was important that we were
19 prepared to act, our alliance with America was
20 important, and, to put this very clearly, we had been
21 down a UN path that I genuinely hoped would work.
22 I hoped that 1441 would avoid conflict happening.

(Chilcot Iraq Inquiry, 29 January 2010, testimony by Tony Blair,
http://www.iraqinquiry.org.uk/media/43909/100129-blair.pdf)
"Even" in the Cabinet there was a "very strong" group that supported the war!  Well, who would have guessed it?
This inability to balance the scale of a specific risk against the drawbacks and dangers of the action necessary to avoid it is further demonstrated by Blair's definition of the evidence of Iraqi non-cooperation with the weapons inspectors, which he insists constituted a sufficient 'material breach' to justify the invasion and occupation of the country:  namely Saddam's failure to allow the inspectors to take Iraqi scientists out of Iraq to interview them elsewhere without risk of intimidation.  When it was pointed out to him that the chief inspector, Blix, had been reluctant to act in this way for fear that any scientist whom he invited to accompany him for interview outside the country might be killed, Blair replied triumphantly that this just showed what a vile régime Saddam's had been — true enough, but not an adequate answer to the proposition that Blix's reluctance made Iraq's failure to pass this test of cooperation a flimsy basis for a verdict of material breach of Iraq's obligations under the UN resolutions, a breach so serious as to justify war:
[A]ctually, if you look, both at the Blix reports and we can come to the detail of that and the Iraq Survey Group, [Saddam] was deliberately concealing documentation, and what is more, he was deliberately not allowing people to be interviewed properly.
(Ibid, p. 105)
And for this material breach Iraq was subjected to the 'shock and awe' of bombardment, invasion and occupation, hundreds of thousands of Iraqis were to be killed, and 179 British and 4,374 American servicemen and women were to lose their lives.  Operative paragraph 4 of resolution 1441 had required the Security Council, not the UK or US governments, to "assess" the situation in the event of a report of a further material breach by Iraq:  what assessment could have concluded that the gravity of this breach was sufficient justification for the abandonment of the weapons inspection and the immediate resort to war?
There's a more general lesson to be learned from this ingrained habit of over-reacting to risk.  It has been characteristic of New Labour under Blair and Brown to be pathologically risk-averse.  The reaction to even the most limited threats of terrorism has been to rush into legislation, much of it designed to permit the imprisonment or house arrest of people who have not committed any offence but who the security authorities think might commit some terrorism-connected offence in the future: hence the indefinite detention of terrorist suspects without charge, trial or conviction for any crime, under the vile régime of Control Orders:  and the attempted deportation of foreigners who have lived blameless lives in our country, sometimes for years, on mere unproven suspicion of some indirect involvement with terrorism or other terrorist suspects.  The government has tried to legislate to permit the sectioning and indefinite detention of people suffering from indefinable and untreatable forms of mental illness — not because they have done anything to harm others or themselves, but because some committee of men in suits thinks they might do so in future.  The same government has introduced the even more vicious system of Indeterminate Sentences for Public Protection (IPPs) under which those who have committed any of a huge number of offences, some inherently trivial, may be given a tariff or minimum sentence of imprisonment representing the punitive element in the sentence (for retribution, deterrence and rehabilitation) but who will not be released after serving the minimum sentence — sometimes just a few weeks — but will be kept indefinitely in prison until they can prove to another body of men (and women) in suits that they won't re-offend if released.  Thousands of people are swelling our already grotesquely large prison population with little or no prospect of ever being released because they can't satisfy naturally risk-averse parole boards with an unprovable forecast about their future hypothetical behaviour;  only around 3 per cent of those enduring this Kafkaesque, or Stalinist, form of preventive detention are being released each year, the rest being effectively punished indefinitely for offences they haven't yet committed.  As a result, there are people still in prison years after completing brief minimum sentences for (e.g.) indecent exposure who have in effect been given life sentences. Iraq is attacked, its people slaughtered and its economy laid waste, not because it posed a threat to its attackers but in case it might do so at some unspecified time in the future.  "My judgment is you don't take any risks with this issue."
This congenital aversion to risk is not, I believe (passionately or otherwise), driven mainly by any rational fear of the implications of the risk materialising, still less by a rational cost-benefit analysis of trying to avert it.  Ministers, the heads of the security and police services, parole boards and sometimes even judges and magistrates are far too often frightened of being blamed for having done nothing to avert or pre-empt a risk which then materialises.  Faced with an offender who has completed his punishment and is applying for release with promises of good behaviour if his application is approved, the parole board will naturally act on the calculus that if they release the applicant and he promptly re-offends, they will be blamed for failing to foresee the new offence;  whereas if they reject the application and return the applicant to his cell for another few years until he can apply again, the risk to themselves is nil.  (Never mind that rejection runs the risk of a monstrous injustice to the applicant:  that's unprovable, since no-one can ever know what would have happened if he had been released.)  Similarly, it's far safer to invade Iraq and overthrow its government than to leave it in place with the risk that it might develop nuclear weapons at some future time and rent them out to some terrorist gang for use in Regent Street, W1;  we'll never know if that would have happened or not.  The motto is: mind your back.  Never lay yourself open to the charge that you have done nothing in the face of an identified risk, however remote or trivial. Pass yet another law enabling you to lock up foreigners with bushy black beards and back-packs.  Apply your sledge-hammer to every nut.  Public acknowledgement that some risks simply have to be accepted, if the only action to avert them carries heavier penalties than accepting them, ensures that you will be crucified by the tabloids and that your candour will be exploited by an unscrupulous Opposition.  Play safe!
Such is the governing philosophy of cowards.
Brian