What are the LibDems for?
Last Thursday on the BBC's Question Time programme the two candidates for leadership of the Liberal Democratic Party, Nick Clegg and Chris Huhne, spent the hour ducking and weaving to avoid answering the key question for anyone considering a vote for the third party: what will the LibDems do if there's a hung parliament after the next general election?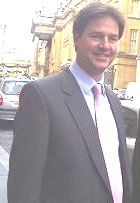 The LibDems, as a party which struggles to win one-fifth of the votes at general elections, and has no hope of forming a government itself, are potentially important and interesting only in that situation: a hung parliament, with neither Labour nor the Conservatives having won an overall majority of the seats in the house of commons. Some pundits predict that this is quite a likely outcome of the next election, probably in 2009. If it happens, the LibDems will probably hold the balance of power, and thus the power to determine whether Gordon Brown or David Cameron will be installed (or re-installed) in No 10 Downing Street as head of a Labour or Conservative government. Even if the LibDems decline any offer to join a formal coalition with one or other of the major parties, or if no such offer is made to them, they will still be in a position to lay down their conditions for giving general support to either a Labour or a Conservative government and thus enabling one or the other to govern without the immediate risk of losing a vote of confidence in the house of commons.
So every British voter has an obvious interest in knowing, before he or she casts a vote, what are the likely consequences of voting LibDem: which of the two major parties the LibDem leader would be likely to support in a hung parliament, and what are the conditions that the LibDems would lay down for awarding their support to either Labour or the Tories. The answers to these questions, after all, might well determine whether we have a Labour government under Gordon Brown or a Tory government under David Cameron for five years after the next election. Yet neither Clegg nor Huhne, one of whom will presumably be the party's leader at the next election, would even consent to discuss the matter, still less to indicate which way they would be likely to jump.
The LibDems in parliament sound, look and behave pretty much as a left-of-centre party. Their most recent leader has often confirmed that this is how he saw it. Before the 1997 election, Menzies Campbell made no secret of his urgent wish to turn out the Conservative government and see it replaced by Labour:
In 1983, and again in 1987 – indeed, to some extent in 1992, we were arguing about equidistance. But, the truth is no one ever expected us to allow Mrs Thatcher to go back into Number Ten Downing Street or to shore up the fractured aspirations of Mr Major in 1992. So abandoning equidistance was simply an acceptance of reality. … there's no doubt whatsoever that if the people of the United Kingdom decide they don't want one Party to have an overall majority in the House of Commons, they will not look very kindly on the politicians of this country if they find themselves catapulted into a second General Election within a matter of a few months becauses parties who may have some common objectives are unable to find a way of running with each other… I do not rule out the prospect, and I never have of an arrangement between the Liberal Democrats and the Labour Party to bring about these objectives which I've already outlined to you. Europe, Education, Health and Constitutional Change.
[Menzies Campbell, BBC interview, 22 Sept 96]
The LibDem leader at the time, Paddy Ashdown, was secretly negotiating an agreement with Tony Blair under which LibDems would be given a few seats in a Labour cabinet in return for backing Labour in the event of a hung parliament at the 1997 general election or a narrow Labour victory without a working majority. LibDems didn't bother to conceal the obvious reality that they were politically and ideologically much closer to Labour than to the Tories and that any kind of deal with the Tories to keep them in power was inconceivable.
Now, a little more than ten years later, Clegg and Huhne refuse to say which way they would lean — and Polly Toynbee, always sympathetic to the LibDems from a left of centre position and obsessive campaigner for proportional representation, writes in the Guardian that the sole criterion for the LibDem decision in a hung parliament on which of the two main parties to put into government should be which of the two is willing to promise proportional representation for house of commons elections, thus holding out a clear prospect of hung parliaments at all foreseeable elections and so guaranteeing the LibDems a role as king-makers and junior but indispensable partners in every foreseeable British government:
If, at the election, the Tories get most votes but Labour most seats, the electoral system is thoroughly bust. Both would bargain for support from the Lib Dems, who need to be willing to bargain with both, demanding not only a PR referendum but that the party in power back it themselves in a referendum campaign. [Emphasis added.]
There we have it. The LibDems have no political or philosophical preferences as between Labour and the Tories. All they are interested in is which of the two serious parties will grant them a role as maker and breaker of governments for as far ahead as it's possible to see. Of course it's true that the Labour Party under Blair and now, apparently, Brown, has moved far to the right, occupying considerable territory once the preserve of the Tories, while Cameron is sporadically trying to drag the Conservatives kicking and screaming towards some limited areas once occupied by Labour; but that doesn't make them indistinguishable, and it's an indolent cop-out to pretend that there's now nothing to choose between the main party of the left and the main party of the right. It's still true, as always, that in general, and despite multiple backslidings, the left stands for maximum equality of outcomes and not just of opportunity: for a positive and proactive role for the state in promoting social justice and prosperity and not for laissez-faire individualism: for protecting the weakest and most vulnerable against the interests of big business, privilege and property: for putting reform and change ahead of continuity, stability, or preservation of the status quo: for internationalism rather than narrow nationalism: for human rights and liberty even at some cost to security. And in general the right stands for the opposite of all those things. Yet the LibDems refuse to say on which side of that great ideological divide they stand. They will if necessary throw their potentially decisive weight behind the party of reform or the party of privilege, depending solely on which will trade proportional representation for a few years in office. Will no LibDem in parliament summon the courage to denounce this political flabbiness and demand that his or her party tell us where they stand, before they claim the right to invite us to vote for them?
Footnote: I hope that comments on this post won't be diverted into yet another sterile argument about the rights and wrongs of proportional representation, on which I recognise that many otherwise sensible and right-minded people disagree with me. Whatever one's view of PR, it should still be possible, and must be desirable, to try to extract from the LibDems a firm or even a conditional indication of what they will do in a hung parliament. If their position in the political spectrum is where most of them say it is, they shouldn't find it unduly difficult to choose.
Brian