What Labour should do about honours
The publication of the 2013 New Year's Honours List reminds us (or should do) of how unsatisfactory the whole honours industry has become, and of the need to decide what the next Labour government ought to do about it.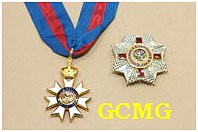 The latest list (PDF), issued by the Cabinet Office and covered nowadays only very selectively by most of the media, is 109 pages long, starting with Lord Coe (made a Companion of Honour for running the Olympic Games), and ending with 24 pages of recipients of the "Order of the British Empire: Medallists of the Order of the British Empire",  including "Shirley, Mrs WILLIAMS, For services to Music, the community in West Wales and charitable services" — Mrs Shirley Williams BEM must have earned her award twice over for having to endure a lot of confusion over her identity.  (More later about these mysterious "Medallists of the Order of the British Empire".)  The 109-page main honours list doesn't include the Diplomatic Service and Overseas List of honours, another eight pages of awards, from a KCMG for the Director of GCHQ ("His leadership of GCHQ has been transformational, adapting the organisation to meet the challenges of the 'cyber age' and moving the organisation's focus to be at the heart of the UK's prosperity and national interest agenda") to the award of the 'Overseas Territories Police and Fire Service Medal For Meritorious Service' to one Ms Elizabeth Gomez, Constable, Royal Gibraltar Police — along with a CMG for HM Ambassador to Spain (Jeremy Paxman's baby brother, no less) and an MBE for a former Entry Clearance Manager, UK Border Agency, British Embassy, Kuwait, "for services to UK prosperity" (seriously!), among many others.
There's still more: the London 2012 Olympic and Paralympic games list, the New Year Honours List 2013 – Higher Awards, a Departmental List, and a "Departmental List (Citations for D/KCMG recipients)", the Military Division of the new year's honours list, Police Honours – England and Wales, and The Queen's Fire Service Medal, not to mention awards in the Queen's personal gift, such as the GCVOs and lesser gongs for members of the royal household and others who have earned the special appreciation of the Palace.  According to the Cabinet Office website, 1,068 candidates have been selected at BEM, MBE and OBE level, 286 at BEM, 535 at MBE and 247 at OBE.  72% of the recipients are people who have undertaken outstanding work in their communities either in a voluntary or paid capacity.  There are 572 successful women candidates in the List, representing 47% of the total. Women candidates include 13 Dames, 40 CBEs and 2 CBs.  5% per cent of the successful candidates come from ethnic minority communities.  And this is just one New Year's list:  there'll be another, the Queen's Birthday honours, in June (yes, Her Majesty's birthday is in April, but never mind).  So multiply everything by two for the annual rate.
Those 286 British Empire Medallists (BEM) are of special interest.  Unlike the 535 MBEs, they are not members of the Order of the British Empire, but they are nonetheless "affiliated with the Order", whatever that's supposed to mean. According to Wikipedia, the British Empire Medal had not been used in the United Kingdom or its dependencies since 1993, but was revived in 2012 with 293 BEMs awarded for the Queen's Diamond Jubilee. Presumably someone thought that was a good idea at the time.  "In addition, BEM is used by the Cook Islands and by some other Commonwealth nations"!
It should be obvious that the whole thing has got completely out of hand.  Most of those given the highest awards are honoured for becoming very senior in the organisations or sectors for which they work — in other words, for doing their jobs and being successful at them.  These people — top bankers, industrialists, civil servants and diplomats, sportsmen and sportswomen, dancers, conductors and actors — are already being rewarded by promotions, generous and rising salaries and prize money or bonuses, high status in their own professions and in some cases the achievement of national or international fame.  An appearance in the honours list is just icing on an already fairly rich cake.  What does Andy Murray's derisory OBE add to his Olympic gold medal and his Grand Slam victory?
The problem about abolishing honours for achieving prominence by doing the job for which they are being paid boils down to the demands of precedent.  If the Chairman and Chief Executive of The British Pins and Needles Company Ltd has been knighted, and all his predecessors going back a hundred years have similarly been knighted, there's a natural expectation that his successor, Mr J Doe, will automatically feel the tap of the Queen's sword on his shoulder, arising from his knees as Sir John, soon after assuming his high office.  If he remains plain Mr Doe after a couple of New Year and Birthday honours have passed, questions will be asked and suspicions voiced, around the water coolers at BPNC and in the Athenaeum lounges:  is there a skeleton in old John's cupboard? How has he blotted his copybook? — and other such clichés.  Yet poor Mr Doe is quite likely blameless, his copybook entirely unblotted; he's just one of many victims of a largely arbitrary and capricious system.
Similarly, if Her Majesty's British ambassadors to Tsetseland have invariably been made knights of the realm, either before or soon after their arrival in that country, but a newly appointed ambassador arrives as a Mister and stays that way for a couple of years, the government and people of Tsetseland will begin to feel that they have been short-changed: either they and their country are no longer regarded in London as sufficiently important to HMG to warrant representation by a Sir, or the new ambassador is a person of unprecedented insignificance, which comes to the same thing.  Tsetselanders will write to complain of their downgrading to government ministers in London, perhaps also to the Queen;  visiting British ministers and minor royals will be button-holed sotto voce at receptions and dinners about what the Tsetse people have done to deserve this (literal) dis-honour?  Some will even discreetly express their sympathy to HM ambassador himself over his supposed humiliation. Sooner or later someone in London will ask why such questions and complaints should be endured when there's an easy solution ready to hand that costs hardly a penny of taxpayer's money: give the fellow a K, for God's sake, whether he wants it or not!*
Thus the system has several defects. It is arbitrary and capricious; attempts to make it more consistent by following precedents simply make the lists progressively longer, more inconsistent and more unmanageable (the most conspicuous examples of this being awards to sportsmen and sportswomen, where proliferation has resulted in some hurtful anomalies). It is offensively class-based: the various ranks within each Order correspond closely to social status, sharpening divisions in an already class-conscious and hierarchical society. It causes endless embarrassment: few people understand its arcane ramifications, and even fewer know the rules about addressing someone with 'Sir' mysteriously attached to his name, either in writing or face-to-face; 'Dames', with their pantomime undertones, present even more obviously insurmountable problems. The system combines two wholly different categories of honorands: people who have got near to the top of the greasy pole in their jobs and main activities, and others who have genuinely rendered devoted service to their communities without ever receiving much, if anything, in the way of official recognition, still less reward.
None of these defects is beyond remedy, although their solutions may seem too radical for the obsessively centrist parties which currently govern us. Only Labour is likely to take seriously proposals for sorting it out, without simultaneously destroying elements in the system which are worthwhile and deservedly popular. Here is the outline of a possible six-point programme of reform:
1.  No one should be given an honour for being successful in the job for which they are paid or in the activity in which they primarily engage, and in which there are plenty of other forms of recognition in terms of promotions, high salaries, bonuses or prize money, status and fame.
2.  Honours should be given to recognise exceptional service to the recipient's community, local, regional, national or international, going beyond the requirements of the person's job and normally irrelevant to it, in circumstances where there is no other obvious form of reward or recognition available.
3.  With very few defined exceptions, no more knighthoods or damehoods should be awarded. The handle 'Sir' or 'Dame' in front of the recipient's name is divisive and embarrassing.  Knighthoods should in future be given only to men and women of real and exceptional distinction who are no longer active in their former fields and whose achievements have significantly benefited the country. No knighthoods should be awarded to any person whose decisions, policies and judgements in their working lives could possibly be perceived as capable of having been influenced by hope of a knighthood or damehood after retirement.
4. Each Order should have only one rank, indicating 'membership': no more distinctions between holders of the MBE, OBE, CBE, KBE and GBE; no more Commanders, Knights Commander, Knights Grand Cross and the rest.  The statutes of the Orders should be revised so as to eliminate implied conditions for membership such as adherence to a specific church or religion or set of political or social beliefs.  A study should be made of the possibility of reducing the number of Orders to a maximum of three, perhaps fewer.
5.  In any case, the Order of the British Empire is long overdue for renaming or burial, for obvious reasons. The mysterious revival of the British Empire Medal is surplus to requirements and it should be put back in the cupboard.
6.  Consideration should be given to the possibility of preserving the existing systems of specialised honours, such as those in the personal gift of the monarch and those awarded to the military, police and fire services, subject to there being no more knighthoods or damehoods in any of these.
Of course holes can be picked in these suggestions, which are offered purely for discussion and refinement.  But I would hope that their basic thrust might be acceptable to a party of the centre-left.
________________________________
Please feel free to comment on this blog post, whether applauding, denouncing or correcting it — but please append your comments at the end of the original article at https://barder.com/3888, not by private email.  For example, please don't send your comments as a reply to the email you may have received notifying you of a new blog post with the full text of it (but probably no illustrations or comments by others), unless what you want to say is purely personal.  Thanks.
________________________________
*Full disclosure: some readers of this may well feel entitled to think, or say, that I'm a fine one to make such suggestions, arguably an example of someone already aboard calling for the ladder to be pulled up behind him.  To such critics I can only plead that it is partly because of my own experience in the field that I want to see it reformed.
Brian