Barack Obama's book
I have been reading Barack Obama's first book, Dreams from My Father — skipping rather rapidly through the second half of it because it was due to be returned to my public library and I didn't give myself time to read it properly, an omission soon to be repaired. Many commentators on both sides of the Atlantic have been very considerably impressed by this book (written, of course, before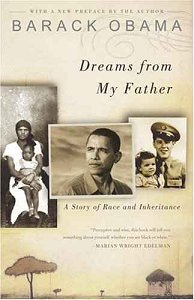 Sen. Obama launched his candidature for the Democratic Presidential nomination). So was I. It is a very striking chronicle of a deeply complex young man's journey from confusion and loneliness to self-knowledge and the discovery that he could relate the most unusual complexity of his ethnic make-up and upbringing to the state of the American nation and its future. Joe Klein, himself no slouch in the political writing department, is quoted in Wikipedia as having written in Time magazine that Dreams from My Father "may be the best-written memoir ever produced by an American politician." (Klein's article about Obama is worth reading in full. But of course so are many others like it.)
Many things about this book came as something of a surprise to me, despite my having already read so many articles about Obama (haven't we all?). Although his Kenyan father spent relatively little time with Barack jnr. before his death, he has obviously played a major role in his son's voyage of self-discovery — bigger than I had realised. So has Obama's awareness of the importance of Africa in his genes, and also his awareness that he differs materially from most other Afro-Americans in not being descended from slaves, in not having experienced the civil rights campaigns of the 1960s and 1970s, and in the immediacy of his African heritage. There are other significant things that set him apart from a vast majority of other Americans, white as well as black and brown: not least among them his upbringing in Hawaii and Indonesia as well as in the US, and his lengthy visits to Kenya to establish relationships with his African relatives. Such a cosmopolitan background, movingly and extensively described in Dreams, is evidently central to the person he has become, and it's so different from the American norm that his ability to inspire the empathy and affection of millions of ordinary Americans is the more remarkable.
At the same time, Obama's qualifications for the highest American political office are also impressively mainstream: Harvard Law School, editor of the Harvard Law Review, experience in the state Senate of a major State as well as in the US Senate, work as a community organiser in the most deprived areas of Chicago, a beautiful and brilliant wife and the obligatory pair of beautiful daughters. He writes revealingly and movingly in Dreams about his controversial relationship with the radical pastor, "Reverend Wright" (or as we in the UK would call him, the Reverend Jeremiah Wright), convincingly putting that issue into a positive perspective.
There are sixteen passages from Dreams on a website here which give something of the flavour of the book. Whether or not Barack Obama becomes the next President of the United States, his book is obviously required reading by anyone who wants to know more about this remarkable figure, who has emerged so unexpectedly from outside mainstream American politics, marginalising in a few months the woman who for the past two years or more has been the front runner for nomination as the Democratic Party's Presidential candidate, and placing himself in pole position to be the first black President of the United States.
Who would have predicted even a year ago that the Presidency could be almost within the grasp of an American with an African father (and a Muslim grandfather), educated in a Muslim and a Catholic school, much influenced by an Indonesian step-father, who describes in his own memoirs how he was at one point in danger of becoming a drug addict, born and partially educated in the outermost margins of the US in Hawaii, a voracious reader of radical black literature (and much else) who was almost destroyed by the loneliness and isolation of his uniqueness but who came to develop out of that adversity an inspiring political personality as a unifier and reformer? To quote the Guardian cliché, you couldn't make it up.
None of this means that Barack Obama, if nominated and if (a much bigger if) able to defeat both the vastly experienced McCain and a mountain of racial prejudice, would necessarily turn out to possess the inner steel, physical and moral strength, ruthlessness and serpentine subtlety, required to be an effective liberal reforming President. In conventional political terms, none of these qualities has been severely tested in the Senator's life and career to date. But he has demonstrated unusual strength of character and determination in converting the experience of discrimination, apartness and loneliness into a vision of unifying reform and his special personal role in achieving it that just might change the world. I started out as a supporter of Hillary Clinton who doubted if there was much hard-core political substance to her black challenger. I have now come round to the view (confirmed by but not originating in Dreams from My Father) that if Barack Obama is not given the chance to show what he can do as President of the United States, it will be a kind of tragedy, not just for him, not just for the United States, but for all of us. It will be a huge gamble, and one that might well not come off. But it's a gamble that looks increasingly important to take.
Update (14 May 08): Please now read Jonathan Steele's important article in today's Guardian about Barack Obama and his likely foreign policies if elected President in November. Steele writes of Dreams from My Father:
It's a beautiful book. One wonders whether any would-be US president has been so good a writer. More importantly, has any other candidate grown up with such a direct encounter with a country under massive political repression or seen the cynical face of the US empire? The Republican nominee John McCain accuses Obama of not having national security "experience", but what experiences do he or Hillary Clinton have which compare with Obama's? They were raised in the usual American cocoon of believing that the values behind the country's anti-colonial beginnings still guide its international behaviour. Obama, by contrast, knows the US has run a global empire for at least the past half a century. His mother taught him, he writes, "to disdain the blend of ignorance and arrogance that too often characterised Americans abroad". [emphasis added]
Carl Lundquist's comment on this post (below) is also interesting reading, especially coming from an acknowledged Republican and McCain supporter; so are some (but not all!) of the comments so far appended to Jonathan Steele's article in Comment Is Free.
Brian