Bibi on proportionality
Extract from Benjamin "Bibi" Netanyahu interview with BBC Television, (?) 13 August 2006:
Interviewer: "How come so many more Lebanese have been killed in this conflict than Israelis?"

Netanyahu: "Are you sure that you want to start asking in that direction?"

Interviewer: "Why not?"

Netanyahu: "Because in World War II more Germans were killed than British and Americans combined, but there is no doubt in anyone's mind that the war was caused by Germany's aggression. And in response to the German blitz on London, the British wiped out the entire city of Dresden, burning to death more German civilians than the number of people killed in Hiroshima. Moreover, I could remind you that in 1944, when the R.A.F. tried to bomb the Gestapo Headquarters in Copenhagen, some of the bombs missed their target and fell on a Danish children's hospital, killing 83 little children. Perhaps you have another question?"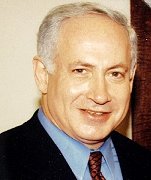 Game, set and match to Bibi.
Thank you to an American (anglophile) friend for sending me this. It's been posted on other blogs, including seraphicpress.com, but I haven't been able to track down details of the exact date or time of the interview, which BBC channel it was on or who the BBC interviewer was. Some blogs attempt to rebut Bibi's argument, and of course it's true that his analogy isn't exact — analogies rarely are. But his main implied point is irrefutable: once a country resorts to military operations, whether defensive or offensive, it will use such a level of force as it deems (or finds) necessary to achieve its political and military objectives; attempts to persuade it to reduce that force level (and thus to increase the risk of military failure) by reference to considerations of proportionality are as likely to be heard attentively in Tel Aviv now as they would have been in London in 1939-45 or in Washington from 1942 (oops).
I would lay a very modest bet on Bibi being prime minister of Israel again within the month.
Brian