Hezbollah vs. Israel: who won? No-one, yet
Now that the fighting has stopped, however briefly, Hezbollah and its many supporters in and outside Lebanon are claiming a great victory over Israel, while in Israel an agonised post mortem (or post mortes) is already going on to establish who's to blame for what Israelis seem determined to regard as the country's first defeat and humiliation at the hands of its enemies.
However, there are two reservations to be made about these apparently consistent verdicts. First, it's far too soon to judge which side has 'won' the encounter: meaningful verdicts need to be suspended until we know how long and to what extent the cease-fire holds, and above all the extent of successful implementation of UN Security Council Resolution 1701. Secondly, if the major elements of res. 1701 are implemented (a big 'if', certainly), Israel's principal objectives in launching its counter-offensive will have been achieved and Hezbollah's capacity for resuming its attacks on Israel will have been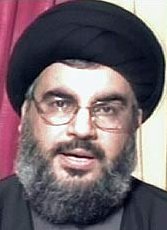 effectively degraded or even eliminated. It would be difficult to interpret such an outcome as a defeat for Israel or as a victory for Hezbollah. Conversely, if attempts to implement the resolution fail (for whatever reason, whoever is responsible for the failure, and leaving aside the likelihood of many setbacks along the way), Hezbollah will be free to replenish its armoury of rockets and other supplies, it will retain its presence in southern Lebanon up to the Israeli border, and it will be free to resume its attacks on Israel, in which case it will emerge as effectively the winner, and Israel as the loser. So everything is still to play for.
Whatever happens, though, it's safe to say that Lebanon is the loser, having suffered appalling loss of life and other casualties along with extensive damage to its homes and infrastructure. It will depend on your personal prejudices whether you lay the principal blame for this disaster on Hezbollah for its policy of siting its rocket launch pads in heavily populated civilian buildings and districts (hoping that reluctance to risk heavy civilian casualties will inhibit Israeli attempts to destroy these legitimate military targets): or on the Lebanese government, in which Hezbollah is represented, for its failure/inability (delete whichever does not apply) to regain control of the south of its country from Hezbollah and to disarm Hezbollah as required by the Security Council; or on Israel for inflicting the damage and killing the civilians, especially if you have evidence-based reason to disbelieve Israel's repeated claims to have attacked only military targets, including Hezbollah's re-supply logistics and communications, and to have done everything possible to keep civilian casualties to the minimum consistent with achievement of its military and political objectives. In practice no doubt all three have to share the blame, but in what proportions is a matter for, in the end, subjective judgement.
Read as a whole, the Security Council resolution undoubtedly identifies Hezbollah attacks on Israel as the root of the problem, and the need to prevent it from resuming them as the principal aim of UN action. This reflects an analysis much closer to Israel's — and indeed to Lebanon's — than to Hezbollah's, Iran's or Syria's, or to that of Israel's more draconian critics in the West. It's also consistent with the Council's earlier resolutions. Of course it's possible and easy to attribute this perceptible slant in the resolution to the bargaining power of the United States in its role as Israel's patron and protector. But the resolution was adopted unanimously. It's intended to produce an outcome that's in sharp contrast to what would have resulted if those who were clamouring for an 'immediate and unconditional cease-fire' at the outset of the Israeli counter-attack had had their way.
There's a useful paragraph-by-paragraph analysis of resolution 1701 here — followed by some dissenting comments.
Brian