Christmas in Brussels
J and I spent five days over Christmas with son O and daughter V in Brussels, and were very pleasantly surprised. I was last there with a large, predominantly Canadian military and civilian group in early 1978, and took away with me a rather negative impression of a city of ponderous architecture and even more ponderous cuisine. I was wrong on both counts: although admittedly the architecture has become, if anything, more ponderous since 1978 with the addition of the huge numbers of EU buildings, from the amazing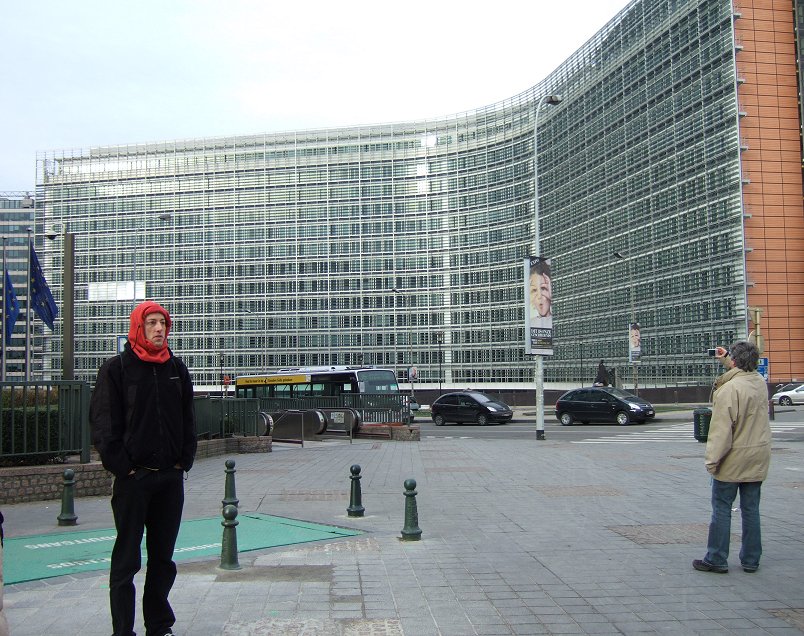 Berlaymont building, home of the EU Commission, to the EU parliament building (one of them, anyway), offices of committees and commissions, a museum, massive apartment blocks for the Eurocrats, and many more. I quite liked them; most of the rest of my family thought them overbearing, even Stalinist.
As for the cuisine, there's certainly a lot of it, but there's plenty of choice, and no need to get up feeling stuffed from every meal. There is a vast variety of restaurants, cafés and bars, some of the international/European type that one finds anywhere in the continent these days, some more flavoury. To walk down the narrow rue des Bouchers (or, its more challenging Flemish name, Beenhouwersstraat) with dozens and dozens of restaurants lining both sides of the road, each with boards outside advertising almost indistinguishable menus, is quite an experience. Most are predominantly sea-food establishments, rather oddly for a city so far from the sea. One feature common to almost all is what must be Belgium's unofficial national dish, moules frites. We ate a lot of those, generally washed down with quantities of pole-axe-strong Belgian beer, ranging from Guinness-black through brown-ale brown to the pale yellow of tasteless English pub lager — except that Belgian 'blonde' beer actually tastes of beer too. The pick of the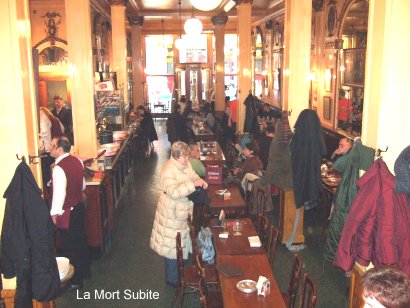 bars, a little off the tourist beat, seemed to us to be La Mort Subite, little changed from its establishment in 1928 and serving a variety of beers so wide-ranging as to blow the mind; excellent omelettes, too. Jacques Brel, that famous Belgian, rara avis, used to drink here. A drink at the Sudden Death is, we think, an obligatory feature of any visit to Brussels, however fleeting.
In the evening of Christmas day, after an excellent dinner at Chez Léon in the rue des Bouchers, we wandered along to the Grand' Place to watch a brilliantly innovative son et lumière display projected on and from within the glorious Hotel de Ville to the sounds of the Grand March from Aida, Nessun Dorma (Pavarotti of course), La Donna e Mobile and Bohemian Rhapsody by Queen, among other familiar favourites. It was a crisp clear night with a bright full moon smiling benevolently down on the scene and the lights glowing on the giant Christmas tree in the middle of the square, changing colours in time to the music. There wasn't a policeman in sight, no-one was vomiting or fighting, there was no sign of booze, just politely enthusiastic clapping for the more spectacular lighting effects and the crescendos of the music; clusters of people all over the legendary square quietly listening and watching, entranced. The Europeans aren't by any means finished yet.
When I was in Brussels for those few days in 1978, the British ambassador to NATO, resident in Brussels like his two British ambassadorial colleagues (ambassadors to what was then the EEC and to Belgium respectively), was the late and much missed Sir John Killick, who had earlier been my ambassadorial boss when I was a lowly first secretary at the embassy in Moscow. With typical generosity, Killick came and picked me up from our hotel in his official chauffeur-driven Rolls on our one free evening and spirited me away to his residence somewhere on the outskirts of Brussels for an extremely boozy family dinner, after which he drove me back at very high speed in his own sports car to the hotel. My Canadian fellow course members of the Canadian National Defence College were gratifyingly impressed. (So was I, actually.)
The whole idea of a visit to Brussels is transformed utterly by Eurostar and the tunnel: for us Brits to be able to board a train at St Pancras International in the heart of London (sadly for us south Londoners, no longer so easily accessible as its original terminus at Waterloo) and to get off after a comfortable trip just two hours later in Brussels (or Paris or Lille) is a hearteningly European experience. The security checks and immigration controls are thorough but not intrusive and the whole thing easily beats flying: no contest. Altogether an extremely agreeable way to pass a few days, without needing to set foot in a ship or a plane, in the welcoming capital of the European Union, whose name alone is enough to make our pathetic mesolithic Europhobes foam at the mouth (and probably from several other orifices, too).
You can see some more of my pictures of our five days in Brussels by clicking here — in case by some remote chance you're sufficiently interested. If you do, I recommend viewing them in 'Slideshow' mode — click 'slideshow' above the first of the columns of thumbnails.
Brian