If it turns out to be John McCain…. (with 16 Jan. update)
It's early days yet, but we had all better start looking more seriously at Senator John McCain to see what may be in store for us all. There's good reason, as matters stand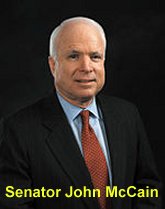 after Iowa and New Hampshire, to expect him to win the Republican nomination against Romney (suspect in the more liberal states and among independent voters as a Mormon) and Huckabee (ditto as a fundamentalist Christian conservative); he would represent a change — the key word in this contest — from George W Bush; he has experience and a spectacular war record, perhaps enough to offset his "great age": he was born on 29 August 1936 (almost two years after me!); and he's no party hack, with a record of frequent Senate votes against the GOP party line. For the GOP the most cogent argument for McCain is that he's the Republican who looks at present most likely to beat either Hillary Clinton (not a change but a reversion to the Clinton White House; divisive; widely disliked; possibly too left-wing in US terms to be electable; a woman; unpopular with male voters especially; query over her real experience) or Barack Obama (extremely inexperienced, a special handicap with a recession and virtual defeat in Iraq looming; weak on policy detail; little or no record of achievement in the Senate, and signs of negligence there; black but not mainstream civil-rights background Afro-American; foreign — Kenyan — father).
Of course things can and probably will change radically between now and November, and only a tiny proportion of the delegates to the nominating conventions has been mandated so far. Nevertheless most of the factors listed above seem unlikely to change. So we had better not harbour any illusions about Senator McCain. A useful corrective to a few current myths is made by the New York-based website FAIR ('Fairness and Accuracy in Reporting') in an incisive demolition job on a piece in Time magazine [several links in this are also well worth reading]:
Time: The Voters' Revenge (1/10/08) by Nancy Gibbs & David Von Drehle

A typical media rendition of "straight-talking" John McCain:
"He entered the campaign a year ago as the apparent front runner, an awkward role for a free-ranging, fence-jumping, kick-the-corral maverick. McCain never got the hang of it, breaking with his party's mainstream on tax cuts, immigration, harsh interrogation of terrorist suspects—the list goes on. By July his bank account and his poll numbers were in a race to zero, which turned out to be a blessing."

Of course he doesn't "range" much at all from his party's line. Take the first issue listed—tax cuts: He voted against the Bush tax cuts because there weren't enough spending cuts to go along with them, which in a way is a more "conservative" approach than Bush's. He supports them now, and thinks that when you cut taxes you increase revenues. That's standard right-wing crazy talk. As FAIR founder Jeff Cohen pointed out way back in 2000, McCain is
"conservative on almost every issue of social, economic or foreign policy except campaign finance and tobacco…. He votes consistently anti-choice on abortion and against gun control measures like the Brady Bill and the assault-weapons ban. He opposes a minimum wage-hike. [in 1999], the League of Conservation Voters ranked McCain's environmental voting record at 11 percent, up from zero in 1998."

FAIR does not endorse every opinion expressed or vouch for facts presented here, except by ourselves. Send link suggestions to jnaureckas@fair.org.
A sobering record, worth bearing in mind.
In the personal opinion of this column, far away on the other side of the Big Ditch, Hillary Clinton is by far the most attractive and promising candidate of those who currently appear to be in with a chance, followed at some distance by John Edwards (whose prospects look pretty dim as of now, unless Hillary and Obama both come terrible croppers before the nomination is decided, not impossible eventualities). On his record, McCain is a reactionary conservative and an unpredictable maverick: undoubtedly an improvement on W, but not a huge one. And incidentally, contrary to much UK media sniggering at Hillary's allegedly 'teary' or 'tearful' emotional moment in New Hampshire, widely and implausibly held up as having persuaded a few thousand women voters to switch their votes to her, she didn't shed a single tear — not una furtiva lagrima, as even the majestic El Pais couldn't resist calling it.
If John McCain wins the Presidency of the United States in 2008, remember: you (may have) read it here first. If he doesn't, don't.
Update, 16 January 2008: Perhaps the most obnoxious attack on Hillary Clinton (accompanied by unreserved praise for Barack Obama) to appear recently in the UK media has been the long article in the [London] Sunday Times of 13 January 2008 by Andrew Sullivan. Any self-respecting editor of a prestige Sunday newspaper, even one of Richard Murdoch's, should have hesitated about allowing this piece to appear. Sullivan, English-born, a former President of the Oxford Union with a first-class Oxford degree, still a UK citizen, has long lived in the US and is a Roman Catholic 'libertarian conservative' whose colourful background is readably described in Wikipedia (there is also an undeniably impressive and frank biography of him on his own blog here). His blog is only a little less vitriolic than his Sunday Times article about Hillary Clinton, and almost equally effusive about Obama, as even some of Sullivan's right-wing fans seem to be admitting. I think we can safely give this kind of stuff a miss.
Brian