Clare Short's infinitive does the splits, and other marvels
Commenting on Gordon Broon's promise to retain Our British Bomb, Clare Short became so apoplectic that she contrived to split her infinitive by inserting no fewer than 13 words into it (is this a record?):
Ms Short told Radio 4's The World at One: "To just, in a Mansion House speech that's meant to be about the economy, throw it away and say 'this is what we are going to do' – I can't support that kind of leader, absolutely not.
A few days earlier, Neal Lawson, Chair of Compass, opening a Robin Cook Memorial Meeting in Central Hall Westminster, recalled some celebrities who had used the same hall in the past:
When the suffragettes, Gandhi and Atlee [sic], met in this great hall in their times, I'm sure they were daunted too. But it didn't stop them.
It certainly took a lot to daunt those sufragettes.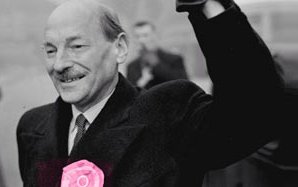 While we're on the subject of Clem Attlee, this memorable limerick about him is supposed to have been written by Attlee himself:
Few thought he was even a starter.
There were many who thought themselves smarter.
But he ended PM,
CH and OM,
An earl and a Knight of the Garter.
He also of course 'ended' as one of Britain's greatest prime ministers and Labour Party leaders of the 20th century.
I wonder if Mr Blair can produce an equally crisp limerick about himself.
(Please don't start another great Commentfest about how pedantic it is to automatically condemn a split infinitive even when to awkwardly avoid it is to obviously make the end product uglier. I ought to damn well know that by now — and I do, I do.)
Brian