Clem Attlee as poet
In a recent Ephems post I quoted a pointed limerick about himself by Clem Attlee, the greatest ever Labour Party leader and Labour prime minister. Now my wife has unearthed a longer example of the great and versatile man's verse. Can anyone verify it as genuine Attlee with reference and source? I haven't yet tracked it down on the Web.
Here it is:
The Civil Servant

No more the old street corner
Where the busy traffic plies
No more the dear old platform
And the cause that never dies.
I've got a government job now
Propaganda isn't wise.

No more I'll take the platform
With my comrades tried and true
And talk for twenty minutes
To three men and a dog or two.
I've got a government job now
That sort of thing won't do.

No more the old branch meeting
Where I learned and where I taught
The minutes, correspondence
And delegate's report.
I've got a government job now
My silence has been bought.

I feel a sort of traitor
But who the stone can cast?
The dread of unemployment
And the workhouse at the last.
I've got a government job now
And the job has got me fast.

But when my time has ended
And my pension in my hand
Though I be old and weary
I'll join again our band
And have just one job only
Preach our gospel through the land.

— C.R. Attlee, c 1907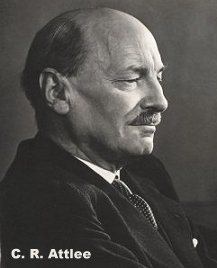 So if the date attributed to it is correct, it's now 99 years old. Born in 1883, he would have been 24 years old at the time, and was to join the Independent Labour Party the following year, after working with and for poor slum children in the east end of London. He served in the army in the first world war (and was wounded in action), becoming Mayor of Stepney in 1919 and first elected to parliament as MP for Limehouse in Stepney in 1922.
I wonder if any other future or serving prime minister produced comparable verse?
Brian