Ephems suspended for a while (with update 18 July)
Alert readers of this blog will have seen from a recent post about my rather positive experience earlier this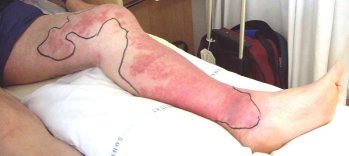 month of an NHS hospital that I have had a problem with a badly infected leg. According to the book, it should have responded by now to the Shock and Awe of an intensive antibiotic assault, first intravenously and lately by tablets, but unfortunately it hasn't. So I'm back on the foul-smelling pills, with leg elevated ceiling-wards, and unless the infection surrenders unconditionally within 48 hours, I shall probably be back shortly on the dreaded IV (intravenous, not Roman four) in a hospital unlikely to be of my choice, and — worst penalty of all — without internet access.
Meanwhile anyone desperate to know my views on Gordon's beginnings, Alastair's scribblings, Boy David's punishment of the Russians for refusing to breach their own constitution, further imminent blunders in deciding the future of Kosovo, and whether the future of the Special Relationship with George W. Bush is being decided by Lord Malloch Brown or by plain Mister Brown (the one in No. 10) — or even by that nice young Mr Douglas Alexander? — will just have to wait with such patience as he or she can muster. Back soon, I hope. No flowers, by request. (Yet.)
Update (18 July): I have a reprieve, graciously granted by my beautiful GP, who judges that I may continue to manage the leg at home with oral antibiotics, subject to continued progress and good behaviour — more of the latter than hitherto. My release on licence is to be reviewed on Monday (23rd) so I'm superstitiously keeping my incarceration bag packed for the time being. Meanwhile I'm to keep the leg elevated, calf higher than heart (surprisingly difficult posture to maintain while simultaneously using a laptop — try it!), minimum walking about or sitting, climbing stairs, etc. But any price for staying out of reach of the dreaded cannula and hypodermics is worth paying. So it remains much appreciated if friends will continue to keep e-mails to me to the minimum and please always copy them to my assiduous and long-suffering spouse. Watch this space for any further late, late news.
Brian