The Barders of Krakow and London in the 18th century
My father's family originated in Poland and migrated to England in the mid-nineteenth century. One of my cousins has done a great deal of research both in England and in Poland and has established that Lazar (Louis) Barder, my great-grandfather, was recorded in the Old Testamenter's Municipality of Krakow in 1852 when a son was born to him and Hale (Hannah), his wife. My (English ancestry) wife, Jane, is searching the archives for more facts in the story. [Postscript: since this piece was written, Jane has researched and produced  a more up-to-date account of my father, Harry Barder, his family and their origins: click on Harry Barder and his Family to read it.  Return to my home page for links to many other pieces of family research by Jane.]
It is now about 150 years since Louis and Hannah Barder arrived in England. Kazimierz, the Jewish enclave in Cracow which had been their home, had been founded in 1335: the Jewish community there and the learning of its rabbis had been famous throughout Europe. Cracow itself, throughout their lives, was an outpost of the Austrian Empire but it has a special place in Polish history as Poland's first capital, one of the most beautiful cities in Europe and as Poland's cultural capital during the sad years of Polish partition, from 1795 until 1918. Austrian Poles suffered less from Austrian rule than their Polish countrymen under Prussian or Russian dominion.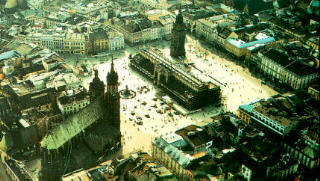 _______________________
Krakow Market Square
_______________________
However, the relatively light hand of Austrian rule did not necessarily benefit the Jews. They were not usually subject to the overt discrimination imposed on Russian Jews but they did share the general poverty of central Europe and the Polish Catholic Church did nothing to discourage the anti-Semitism which held the Jews responsible for all ills suffered by their neighbours.
From the mid-1840s a steady trickle of Jews began the arduous emigration which took them to England and, for many, on to the United States. The numbers did not reach the millions who flooded out of Poland and other areas of eastern and central Europe in the last quarter of the nineteenth century but figures quoted by Bill Williams in "The making of Manchester Jewry", published in 1976 by Manchester University Press, suggest the beginnings of this flow. He quotes the account books of the Old Hebrew Congregation in Manchester as showing that between 1848 and 1851, 2,000 paupers, more than twice the resident Jewish population of Manchester at the time, were supplied with relief by the Jewish Congregation. Many of these impoverished Jews seem to have been passing through Manchester on their way across England from Hull, their port of disembarkation, to Liverpool where they hoped to continue their journey to the United States. Again according to Williams, the linking of the Leeds Extension Line with the Manchester and Liverpool Railway at the new Victoria Station in Manchester created a direct chain between Liverpool, Manchester, Leeds and Hull. Migrants came by ship to Hull from northern European ports and then travelled to
Auschwitz
Hull and Manchester both figure in the records we have so far found of the early years of the Barders in England. Harry Barder, my father, was born in Whitefriars Gate, Hull in 1883 and always staked his claim as a Yorkshireman because of this, though as yet we have no evidence of any long sojourn there. Samuel, born to Louis and Hannah in Hackney in 1867, married in Hull and died there in 1947. Harry's father, Levy, son of Louis and Hannah, was married in 1875 at the Great Synagogue, Prestwich, to Rebecca Waxman, who was born in Cheetham in 1855. A Waxman child, possibly sister to Rebecca, was born in Hull in 1857. The Levy Barders and Levy's brother, Isaac, with his Manchester-born wife, Charlotte, were all living in Manchester at the time of the 1881 census. Louis himself seems to have been living in Manchester around 1870: his daughter, Sarah, is recorded in the 1891 census for Hackney as being 21 years old and born in Cheadle Hulme.
At the same time the Barders can also be found in London records. Six children were born to Louis and Hannah in London between 1856 and 1867. Their birth certificates show the family moving between Spitalfields, Bishopsgate and Hackney. Although Harry Barder was born in Hull in 1883, his parents, after their Manchester marriage in 1875, had experienced the birth, and death, of 3 children in 1876, 1877, and 1878, in Bethnal Green and Hackney, before returning to the north of England. Back in Manchester their daughter Hannah was born in about 1879 and was still alive at the time of the 1881 census, although she did not survive to adulthood.
We do not yet know, and possibly will never know, whether Louis and Hannah originally planned to join the onward migration to the States. Nor do we know for certain the reasons for the frequent moves between cities: but we can guess that it was because of their struggle to earn a living. Louis was listed in Cracow as a haberdasher. As a father, listed on English birth certificates, he was variously described as a tassel maker, a fancy trimming maker, and a master tassel maker. In 1875, when his son Levy married, Louis appears on the marriage certificate as a merchant. He died in 1906, in Brondesbury Villas, London, a master furrier. Isaac, who was born around 1853 before his parents left Austrian Poland, was listed as a traveller in the 1881 Manchester census: Jacob, born in London in 1856, was living in Moss Side in 1881 and listed as a fancy goods traveller: Levy, Harry's father, was described as a draper when he married in 1875. In the 1881 census he is listed as a commercial traveller. On Harry's 1883 Hull birth certificate, Levy emerges as a toy dealer. He died in Hampstead, a master furrier, in 1930. Harry Barder, my father, in turn established himself as a furrier on a prime site at No. 26 College Green, Bristol.
The early Barder occupations were not unusual for Eastern European immigrants and the existence of large Jewish settlements in the East End of London as a source of contacts and goods to sell no doubt explains the frequent forays of the Barders to that region of England. In Spitalfields, seventeenth-century Huguenot refugees had established a quality silk weaving industry: now nineteenth-century Jews were predominant in the fashion trade sweatshops. No reference to immigrant life in Spitalfields can ever omit the story of the Huguenot Chapel built on the corner of Brick Lane and Fournier Street in 1743. In the nineteenth century it became a synagogue and is now being used as a mosque for the benefit of the Bangladeshi community which services the fashion trade. in 1997. In the Barders' time in Spitalfields Green furriers' workshops were an increasing element in the area.
An examination of the wills of Louis's sons and grandsons, and some family knowledge, shows that a high proportion of them became furriers. These were the offspring of an economic refugee: Louis would probably have been unable to claim life-threatening persecution in 1840 Cracow, but life was desperate enough for him to bring his wife and infant son to the industrial revolution towns of northern England and to the slums of London's East End. He and Hannah had to leave behind the familiar culture of Kazimierz with its 400-year-old synagogues and its wise rabbis and adapt to an unknown island culture where an Anglicized Jewry, relishing its hard-won acceptance, was suspicious of an influx of Jews who looked and sounded so foreign. It is remarkable how successful many of the Barder sons were in one generation of English life. The wills index at Somerset House lists five of Louis's seven sons: Levy, whose birth certificate is untraceable, is also absent from the wills index! Each of the five left estates worth several thousands of pounds at a time when thousands of pounds were real money. (Unfortunately if Levy, my grandfather, had thousands of pounds to leave, they have proved as elusive as his birth certificate and his will.) Traditional names such as Esther, Isaac, Levy, Leah, Jacob, give way in family documents to the Tristrams, Merlins, Tobys, Hollys, Virginias of a modern English generation. Some of the old Bible names – Sarah, Rebecca – have never been unfashionable and provide a consistent thread throughout the generations of adapting and Anglicization.
There is much to be learned yet about the Barders, but still more about the Waxmans, Harry Barder's maternal family. Harry himself always said that his mother's maiden name was Rebecca Warshawski and that her family came from "a part of Poland that is now Russia". He used to tell a story of one of his grandfathers fleeing Poland in order to avoid the conscription being forced on Jews and stealing a passport with a new surname in order to do so. This chimes in with the historical facts that in the turbulent political climate of the 1840s in Eastern and Central Europe, the Russians did conscript Polish Jews into the army to keep them from revolutionary activity. Rebecca's father was Abraham Waxman, who "made his mark" (because he could not write) on her birth certificate in 1855 and on her marriage certificate in 1875. The dates suggest that it was Abraham himself, rather than his father, who fled Poland and who would seem to have had a good claim for political asylum in twentieth-century Britain. But we have not yet found him on a census which would confirm the country, or even the city, of his birth. When Rebecca was born, Abraham was a cloth cap maker. Bill Williams describes cloth cap making as the boom industry of the late 1840s and the '50s. It was apparently an industry particularly well adapted to a mass market and the use of unskilled labour. A number of Jewish entrepreneurs in Manchester became involved in this trade. When a half-brother was born to Rebecca in 1862, Abraham was described as a commercial traveller and he, like Louis Barder, appeared as a merchant when Rebecca married Louis's son, Levy, in 1875.
We'll add to the Waxman, and Barder, stories as more facts emerge from the archives. [For example, now see Harry Barder and his Family, produced in October 1999.]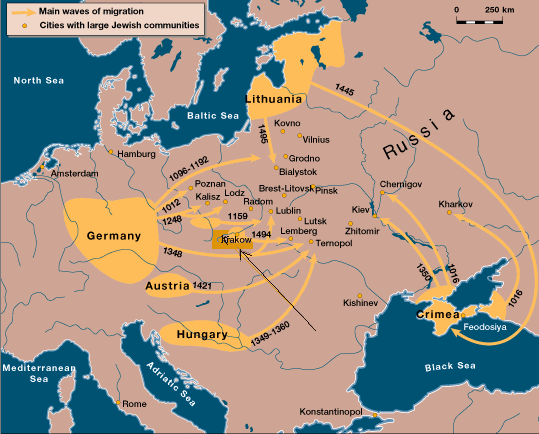 [Note: Effectively all the foregoing is culled from the researches, not only of my cousin, but also of my wife, Jane, whose labours continue….]