'Hitler's Favourite Royal': getting it right (not)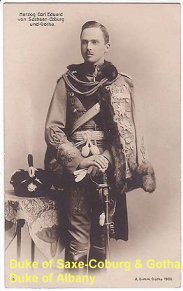 Although advised by a team of illustrious historians, the Channel 4 television programme Hitler's Favourite Royal, broadcast on 6 December 07, seems to have slipped up on a royal relationships banana-skin. The programme told the seamy story of Prince Charles Edward, Duke of Saxe-Coburg and Gotha (Leopold Charles Edward George Albert; in German Carl Eduard, Herzog von Sachsen-Coburg und Gotha), Duke of Albany: a kind of proto-Prince Charles, although one hopes not politically. Someone has anonymously slipped me a copy of a polite but indignant message sent to one of the most prominent of the advisory historians:
You were listed as the lead historian on this interesting programme which was shown here, 6 December 2007, Channel 4.

It was a shame that early in the programme Charles Edward was described as a first cousin of George V, Kaiser William and Tsar Nicholas. It is such a common mistake to believe that these three monarchs were first cousins through descent from
Queen Victoria. In fact, as I am sure you know, George V and Tsar Nicholas were cousins, with an astonishing likeness, because their mothers were sisters, daughters of the King of Denmark. It was the Tsarina who was a first cousin of George V, Kaiser William and Charles Edward, Duke of Albany, because her mother was a daughter of Queen Victoria and therefore a sibling of Edward VII, The Empress Frederick, and The Duke of Albany. The false cousinship is mentioned so often in popular histories that people will begin to believe it. Many of the consultants on the programme should have picked up this mistake.

A reference later in the programme to the Duchess of Albany as an 'English Princess' was also somewhat misleading. It is true that from the time of her marriage Helen of Waldeck lived in England and was a loyal member of her husband's family. But she was born the daughter of His Serene Highness, Prince George of Waldeck-Pyrmont and lived in Germany until her marrriage. One of her sisters was The Queen of Holland and another was married to King William of Wurttemberg. This
reference was a trivial point in the story of Charles Edward but a careless description can cast doubt on the veracity of other facts. And, in the same way, the fact that Charles Edward found himself Duke of Coburg must have been incomprehensible to anyone who did not already know that Victoria's husband, Prince Albert, was heir to his childless brother, the Duke. When Albert died in 1861 the Prince of Wales waived his right to inherit Coburg and passed the succession rights to his younger brothers. I think this could have been explained, however briefly.

Nevertheless the programme had a lot to recommend it. Thank you.
To which the eminent historian courteously replied:
Thank you for your thoughtful and well-informed note. I believe you are correct on all counts. If I may, I'll pass on your comments to the filmmakers.
I hope that's clear?
Brian