Party funding: pick the true statement
Amid all the hysteria in the Westminster village over Mr Abrahams's donations to the Labour Party, some of them channelled through intermediaries ('proxies'), a number of questionable assumptions seem to have crept into the voluminous commentaries in the media. Here are ten statements, all of them reflected or implied in current newspaper and television stories and comments; the task is to pick out the one (and there seems to me to be only one) which is true, so far as we can tell from facts already made known:
1. It is an offence under the Political Parties, Elections and Referendums Act 2000 to give money to a political party through an intermediary.
2. A political party is committing an offence under the Act by knowingly accepting money given through an intermediary.
3. A political party is committing an offence under the Act by accepting money given through an intermediary even if the recipient doesn't know at the time that the donor was acting as an intermediary for someone else.
3. Anyone who knows about a donation made through an intermediary and fails to report it is committing an offence.
4. An intermediary who allows himself or herself to be used as a channel for a donation to a political party of money which in fact comes from someone else is committing an offence.
5. The General Secretary of the Labour Party has admitted that he failed to report to the Electoral Commission certain donations, i.e. those received through intermediaries.
6. If the Labour Party's chief fund-raiser knew the true identity of the original donor of money given through intermediaries but did not report it to the Electoral Commission his omission amounts prima facie to an offence.
7. If the then General Secretary of the Labour Party knew the true identity of the original donor of money given through intermediaries but did not report it to the Electoral Commission his omission amounts prima facie to an offence.
8. If it were to emerge that Gordon Brown or Tony Blair knew at the time that some donations from Mr Abrahams (or anyone else) were being given to the party through intermediaries, and did nothing about it, that would be prima facie evidence of an offence under the Act.
9. Acceptance of money given direct by Mr Abrahams to any official of the Labour Party who knew that Abrahams was also making other donations through intermediaries would be an offence under the Act.
10. The facts already publicly revealed are enough to justify prosecuting Mr Abrahams under the Act.
I'm no lawyer (as others have drily pointed out in other contexts), and if I'm wrong in my belief that only one of these ten propositions is correct, I'll be glad to be corrected. On the other hand, if I'm right, the gravity of what has happened is being absurdly exaggerated — not least by Gordon Brown, with his initial expression of shock and horror, reactions then taken up with understandable glee by everyone else from David Cameron to the political commentariat and so on down to less exalted Labour ministers, vying with each other to express the profundity of their anguish or the extremity of their anger.
Anyone arriving today from Mars and reading the Sunday newspapers could be excused for assuming that the entire Labour cabinet except Gordon Brown had been convicted of conspiracy to commit murder, and that the hapless general secretary of the party had been arrested at Heathrow attempting to flee to Paraguay with a suitcase containing the entire war-chest of the Labour Party in cash. The facts so far revealed, if I understand them and the law correctly, actually reveal no more than a fairly minor omission in reporting by a single party official whose name hardly anyone knew until this whole thing blew up. Yet Mr Rawnsley of the Observer describes the situation as a swamp ("to all the other problems besetting the government we can add vicious division and recrimination about who is to blame for stranding them in this swamp") and "another sleaze eruption". He even goes so far as to add that "in one crucial respect this looks to be worse than cash for coronets": and the one crucial respect turns out to be nothing worse than that it will be easier to prove in this matter that an offence has been committed, and who committed it, than it was to prove that New Labour under Blair was dishing out peerages and knighthoods in exchange for massive donations to party funds. Our political morality yardsticks must have got badly bent if we are now to regard one offence as "worse" than another simply because it is more easily proved.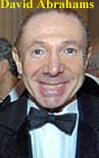 Let's try to remember that even if Mr Abrahams is a strange and probably rather unsavoury figure, all our political parties would be in deep trouble if they refused to accept money from the strange or the unsavoury; that Abrahams's uninhibited public revelations to both the Labour Party and to the media about his use of named individuals as intermediaries for some of his donations to the party can hardly be described as a failure of transparency; that there has been no suggestion that he has sought or been offered any kind of honour in exchange for his donations; that the party official who had been responsible for reporting the identity of the ultimate donor to the Electoral Commission resigned as soon as he realised that he had been required but had failed to do so — and issued a statement admitting his failure in detail; and that despite David Cameron's insinuation, under cover of parliamentary privilege, that Gordon Brown's personal integrity was now in question, not a splinter of evidence to support that accusation has so far been produced. Meanwhile, let's regard with appropriate derision all references to 'anonymous' or 'secret' donations, to 'sleaze' and to 'corruption'. A bad mistake was made by someone who ought to have known better, but that's hardly an indictment of an entire party or of an entire system. Calm down, dears, it's only a peccadillo!
I hope and believe that in six months' time Labour's lead in the opinion polls will have been restored and that when we try to remember what really happened about Mr Abrahams and his proxies, we shall wonder what all the fuss was about. But by then a serious economic downturn, verging on a recession, may well have transformed our political landscape out of all recognition. As a wise friend of mine remarked in a recent e-mail, vamos a ver. It's not over till it's over, or until the fat lady sings.
Oh, and won't you tell us the number of the sole proposition out of the ten above that's unquestionably true?
Brian