McCain on policy
One or two of Senator McCain's pronouncements on policy issues and other matters during the third and final debate raised some eyebrows.
Healthcare: McCain berates Obama for his proposed compulsory universal healthcare programme, preferring to give everyone a $5,000 tax credit and leaving it to individuals to spend it on health insurance if they feel so inclined. Housewives and mothers with layabout husbands or partners (surely such people exist even in the United States?) won't be too impressed by that. McCain also invokes the freedom of all Americans to choose the best healthcare scheme for themselves, their families "and their employees". And their employees? What kind of freedom is that? Under existing arrangements the power of employers to determine, in effect, the healthcare schemes that their employees may join is one of the most questionable aspect of healthcare in the US, at any rate as perceived by us unregenerate old socialists in Europe; to propose to perpetuate it seems perverse.
The recession: McCain seems to think that government spending should be cut — or at best frozen — at the start of a deep recession, rather than doubled or trebled or whatever it takes to create jobs and get demand and consumption going again. God help America if he becomes President and can't grasp that! He's right of course that this is no time to raise taxes, but this seems to be for conservative doctrinal reasons, not because he understands the dynamics of recession. Like the British Tories, he doesn't appear to understand that increases in government spending in a recession and reductions in taxes need to be funded by increased government borrowing, not by cutting government spending (although as Obama rightly pointed out, there should be plenty of scope for cutting government spending on things that don't create jobs and revive demand, and transferring it to things that do, such as infrastructure projects).
Promising to eliminate the budget deficit and to balance future budgets, as McCain did, looks equally misguided in a time of recession. Perhaps this is a throwback to Reaganomics and Thatcherism, guided by Mrs T's conviction that the economics of a country should be analogous in every detail to the economics of managing a Grantham grocery.
Neither of the candidates really seemed prepared to tackle head-on the grave issues raised by the imminent prospect of recession, nor the budgetary and fiscal implications of the huge-scale bailouts and recapitalisations of the banks from public funds. Perhaps to do so would have been too damaging electorally for the candidate brave enough to discuss these matters, if his opponent continued to pretend that they didn't exist. To become President, you have to look on the bright side, if you can find one.
Oil dependency: Senator McCain seems to be fixated on reducing American dependence on foreign oil (for national security reasons) but gives no hint of understanding the need to reduce dependence on any oil (for the sake of the future of the planet). Perhaps he's stuck with his running-mate's enthusiasm for the alarming slogan "Drill, baby, drill!", which must sound like plain common-sense if you're in Alaska. Senator Obama is reassuringly sound on the urgent need to develop alternative, green, fuels.
Down's Syndrome and autism: McCain clearly doesn't know the difference between the two. He went on at length about autism, in the context of Governor Palin's deep understanding of the condition and the need to do more to help the parents of autistic children (Sarah Palin's child has Down's Syndrome, not autism). But we're assured that he's not really confused at all:
McCain was not mixing up the two disorders, according to Palin spokeswoman Tracey Schmitt.

"McCain speaks often of autism because he has seen families who are deeply affected and he knows that the Palin family has been affected in a similar way by having a beautiful baby with special needs," she wrote in an e-mail. "He was drawing a parallel between parents of children with special needs."
(Washington Post, 16 October 2008)
Oh, yeah?
This might all sound like kicking a man when he's down. But he's not that far down, considering that he's the candidate of a party whose sitting President is the most unpopular in American history, presiding over a near-collapse of his country's banking system, the nationalisation of a raft of banks, and the imminence of a recession that threatens to deteriorate into a global depression, facing a gifted, articulate, intelligent and charismatic opponent. Considering that political background, it's hard to explain Obama's mostly slim leads in the major swing states (as well as nationally — only 4 points ahead according to today's Rasmussen poll). He should by rights be heading for a landslide. How important is the Bradley Effect going to be? It's not so much that some people — no-one knows how many — are going to vote against Obama because he's black but are ashamed to admit it to the pollsters, thus causing Obama's support to be overstated in the polls: it's just as much the tendency of racism-driven voters refusing to tell pollsters how they intend to vote and accordingly being put down as undecided, or else excluded from the figures altogether. Most American commentators are playing down the Bradley Effect as a likely major factor this time, but no-one really knows.
Two other factors are going to be significant: first, that voting has already begun in some states, and by the official polling day (4 November, less than three weeks away) around a third of the electorate may already have voted — probably good news for Obama. Secondly, that by now most voters have probably made up their minds and aren't likely to be swayed by fresh arguments or campaign advertisements, unless in the next seventeen days or so there's some major cataclysmic event that changes all the calculations — the likeliest being some terrorist attack, which would benefit McCain. Yet there's still a significant number of undecided voters, or at any rate voters who won't tell the polls how they mean to vote — probably most in practice going for McCain.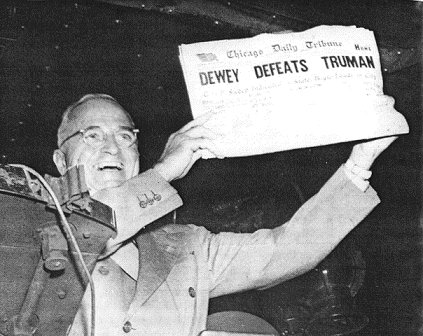 So it's too soon and rash to count Obama chickens. Remember not only Bradley but also Truman in 1948! We may yet find the result hingeing on the outcome of court challenges to the validity of a handful of hanging chads in Florida.
(Hat-tips: my wife and my daughter — the New York one.)
Brian