Scottish independence referendum: two reckless gamblers
It's surprising, and disturbing, that the UK Prime Minister, David Cameron, and the Scottish First Minister, Alex Salmond, should have signed an agreement on the Scottish independence referendum to be held in autumn 2014 in which there will be only one question – probably on the lines of "Do you wish Scotland to remain in the United Kingdom, yes or no?" – and under which children of 16 and 17 will be eligible to vote.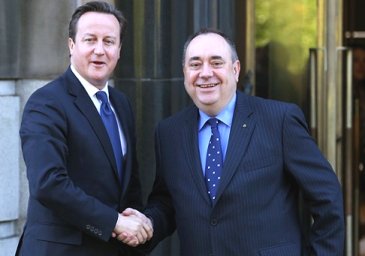 The first and minor surprise is that Cameron should have agreed to give the vote at the referendum to children. Common sense suggests that teenagers are much likelier to vote for the radical option of independence than most older voters; so he has given the SNP and the independistas a head start, while apparently getting nothing in return. He has also set a most dangerous precedent for other future elections, not just in Scotland. If votes for children are OK in a referendum to settle the future of the United Kingdom, why should they not be OK in future UK general elections, local elections, referendums on Britain's future in the EU, and the rest? If children of 16 are to be trusted to vote, why not 15- or 14-year-olds? This is the worst kind of pandering to the sentimental idealisation of the young.
The second and much more worrying surprise is that either Cameron or Salmond should have agreed to a single-question referendum. Until recently, Salmond was speculating about the possibility of a third question, implying three options: independence, the status quo, or "devo max" (i.e. further maximum devolution of powers to Scotland, amounting to full internal self-government). The evidence of recent polls is that a clear majority of Scots would prefer devo max to either independence or the status quo, and it looked at one time as if Salmond and the SNP were preparing if necessary to accept a referendum vote for devo max as the next best thing to independence and a possible stepping stone to it.  Conversely, a more cautious British leader than Cameron would surely have taken the view that Scots faced with a straight choice between independence and the status quo, when most of them apparently want devo max, might well feel themselves forced to vote for independence, and that an offer of devo max (as a further alternative to the status quo option) would be the best way to minimise the number of votes for independence.
So each side had a good though different tactical reason for wanting a three-way choice, with a reasonable expectation that devo max would win. The SNP would then have been able to welcome this as at least a partial victory, leaving the door open for a vote for independence later; and those wishing to keep Scotland in the Union would similarly have been able to welcome a vote for devo max, in the hope that the grant of substantial further devolution to Scotland would blunt the edge of the desire for full independence, and provide the basis for a durable settlement between Scotland and the rest of the UK.  Thus it was difficult …  [More >>>]
________________________________
Please feel free to comment on this blog post, whether applauding, denouncing or correcting it — but please append your comments at the foot of the original article at https://barder.com/3804, not by private email.  For example please don't send your comments in reply to the email you may have received notifying you of a new blog post with the full text (but probably no illustrations or comments by others), unless what you want to say is purely personal.  Thanks, and now read on.
________________________________
Thus it's difficult to understand why Cameron should have insisted on a single 'yes or no' answer to the question whether Scotland should remain in the United Kingdom. It is equally difficult to understand why Alex Salmond should have dropped the idea of a compromise option of devo max, given that this seems to be what most Scots want. The agreement of 15 October paradoxically entails a grave risk for each side. The risk for Cameron is that a majority of Scots, deprived of the option of voting for devo max as they would like to do, will vote instead for independence, frustrated and exasperated at being denied the option of voting for what they actually want. The risk for Salmond and the SNP is that by the time of the referendum in the autumn of 2014, there will still be no majority appetite for independence, enthusiasm for which has been ebbing in recent months, and that accordingly there will be a clear majority for the only alternative on offer, namely the status quo, which would inevitably (and quite reasonably) be interpreted as a decisive rejection of independence.
Part of the answer may lie in internal Conservative party politics. A substantial number of Tories both in Parliament and in the country, already sceptical about the limited devolution to Scotland, Wales and Northern Ireland so far granted, are said to be strongly opposed to the devolution of yet more powers to Scotland. A more farsighted objection in some minds is that devo max, amounting to full internal self-government for Scotland, would prompt irresistible demands by England for the same status, remedying the absurd and unsustainable situation in which England, alone of the four UK nations, currently enjoys no devolution at all. With Wales and Northern Ireland, both already extensively devolved, likely to follow suit, full internal self-government for each of the four UK nations would make the United Kingdom a full-blown federation, which is clearly the logical (and highly desirable) culmination of the devolution process. No wonder that Westminster politicians, flattering themselves with the long exploded myth of parliamentary sovereignty in which the powers of the government and legislature at London are represented as both unlimited and constitutionally incapable of being limited, view with horror the idea that the vast majority of the subjects with which they deal from day to day would be transferred to the parliaments and governments of the four nations, leaving them with responsibility for little more than foreign affairs, defence, and any other matters which are necessarily dealt with on an all-UK basis.
However, it appears that David Cameron at least is in fact prepared to contemplate further devolution to Scotland, provided that the Scots vote no to independence in 2014:
[After concluding the agreement with Salmond] Cameron said that if people in Scotland wanted further devolution, they should reject independence.
"One thing is clear: that if independence goes ahead, it's the end of devolution. All those who want to see not only the status quo but further devolution from the United Kingdom to Scotland must vote to stay within the United Kingdom."
Cameron said that if Scotland voted to stay in the UK, further devolution would be possible.
[http://www.guardian.co.uk/politics/blog/2012/oct/15/salmond-cameron-scottish-independence-referendum-live; my emphasis]
Cameron's warning to the Scots that if they vote for independence, "it's the end of devolution" is a meaningless threat, indeed a statement of the painfully obvious. What is more significant is his reported promise that if Scotland votes to stay in the UK, "further devolution would be possible". This however seems to imply that the London government will be prepared to discuss what kind of further devolution will be available to Scotland only after the Scots have rejected independence in a referendum that's still two years off.  Such a sequence will surely be untenable.  To ask the Scots to vote against independence and in favour of an alternative involving an undefined measure of further devolution is to ask them to buy a pig in a poke.  Salmond and the SNP will certainly be forced to spell out in much greater detail than they have done so far what exactly would be involved in independence. Already Salmond has been caught out equivocating, almost to the point of mendacity, about whether an independent Scotland would automatically remain part of the EU, or whether she would have to join the queue of applicants as a new candidate for membership. Similar questions will arise over Scottish membership of the UN and many other international bodies. There will be countless other thorny matters in connection with possible independence demanding answers between now and the referendum.  But by the same token there will be questions to be answered about what exactly is meant by the 'further devolution' dangled by Cameron in front of Scottish voters as a reward for rejecting independence. It is time for some hard work to be done by both sides on the answers to all these questions, in plenty of time for the referendum.  Scottish voters are entitled to those answers before they vote, not afterwards when it will be too late.
It seems therefore that both Cameron and Salmond have each agreed on a huge gamble: Cameron betting that the Scots, deprived of the option of devo max which most of them actually want, but reassured by a vague promise of 'further devolution' if they vote against independence, will vote accordingly; Salmond gambling that without a specific offer of devo max, plainly defined, a majority will go for independence as the nearest thing to it. Both sides have a lot to lose if their gambles fail.  If Cameron has guessed wrong, Scotland will vote for independence and the United Kingdom will disintegrate; Cameron will then go down in history as the prime minister who presided over the dissolution of his country. Conversely, if Salmond has guessed wrong, Scotland will say a flat No to independence, with little prospect of another bite at the independence cherry for a generation, and not even a bankable guarantee of further significant devolution. Not only are both men gamblers: they are reckless and irresponsible gamblers who have lost sight of the best interests of both Scotland and the United Kingdom, which plainly lie in a commitment to the offer of further full devolution and all that will follow from it.
The best hope now must be that Labour and the Lib Dems will refuse to follow Cameron down his reckless path, and instead will work together, ideally in consultation with the SNP and the other nationalist parties, on elaborating a programme of full devolution, amounting to full internal self-government, for Scotland if the Scots vote No to independence in 2014.  This programme would form a commitment by a future Labour government, with or without Lib Dems support, spelled out in as much detail as possible well before the Scottish referendum.  If it remains the case that when they come to vote in 2014 the majority of Scots will still prefer devo max to either independence or the status quo, a detailed promise by Labour and the Lib Dems of full devolution in the event of a rejection of independence would effectively give the Scottish voters what Cameron and Salmond have conspired to withhold from them: the opportunity to vote in the referendum for what most Scots want. Do the Labour and Lib Dem leaderships have the foresight and guts to do what needs to be done, not just for Scotland but for the future of Britain?  Don't bet on it.
Brian