Song lyrics then and now
I have been copying my treasured Billie Holiday LPs and 45s (remember LPs and 45s?) into my iPod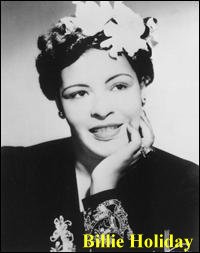 via iTunes on my computer, as part of my battle against terminal boredom as I pound the treadmill and pedal furiously on the stationary exercise bike at my local gym. To do this I have been using a miraculous machine, a birthday present from my imaginative offspring, which converts the sweet old records into mp3 files. At about the same time the Guardian has been issuing with the newspaper booklets of (mostly contemporary) song lyrics in its series "Great lyricists" [sic]. One of these, a collection of lyrics by Bob Dylan, has prompted a pungent attack by everyone's favourite Aussie Sheila, Germaine Greer, who quotes a few lines of a Dylan lyric and comments:
It's not verse, not even doggerel. Nor is it prose, because it doesn't make sense. Its combination of pretentiousness and illiteracy isn't surprising, which would be something; it's just annoying. God knows why the texts put to 20th-century music began to be called lyrics rather than words.
Dr Greer goes on to compare Dylan's words with the best-known poem by William Blake (O rose, thou art sick), not necessarily to Mr Dylan's advantage. This has earned her a magisterial rebuke, very Guardian, from Michael Horovitz (identified as a jazz troubadour, Poetry Olympics tochbearer and editor-publisher of New Departures, described in Wikipedia as "often considered … to be one of the last living links to the Beat poets and their milieu") under the wonderfully predictable heading: Bob Dylan does not deserve this snobbery and pedantry.
I don't always agree with Dr Greer — who does? — but I'm bound to say that I think she has a point, even though I enjoy some of the Bob Dylan classics. One of the many glorious songs sung by Lady Day and now securely housed in my iPod is that great standard, These Foolish Things, written by Eric Maschwitz and others. Here are a sample verse and chorus:
The smile of Garbo and the scent of roses,
The waiters whistling as the last bar closes,
The song that Crosby sings
These foolish things
Remind me of you.

How strange, how sweet to find you still!
These things are dear to me
That seem to bring you so near to me!
The scent of smould´ring leaves, the wail of steamers,
Two lovers on the street who walk like dreamers,
Oh, how the ghost of you clings —
These foolish things
Remind me of you.
One of the Guardian Great Lyricists, with a booklet to himself, is Alex Turner of the Arctic Monkeys. In his Foreword the poet, playwright and novelist Simon Armitage writes that —
[O]f all those writing lyrics today, Turner is among the most poetic. His use of internal rhyme exists to be admired and envied.
Here's a sample, chosen more or less at random, of Mr Turner's poetic lyrics; it's from a song called Red Light Indicates Doors Are Secured:
You see her with the green dress?
She talked to me at the bar
How come it's already two pound fifty?
We've only gone about a yard
Didn't you see she were gorgeous
She were beyond belief
But this lad at the side drinking a Smirnoff Ice
Came and paid for her Tropical Reef

But I'm sitting going backwards
And I didn't want to leave
I said it's High Green mate
Via Hillsborough please

[Original punctuation]
You don't need to compare that with Blake. Eric Maschwitz will do. "Snobbery and pedantry"? Who, me? I never said a word!
I rest my case.
Brian