Diary of a[nother] cruise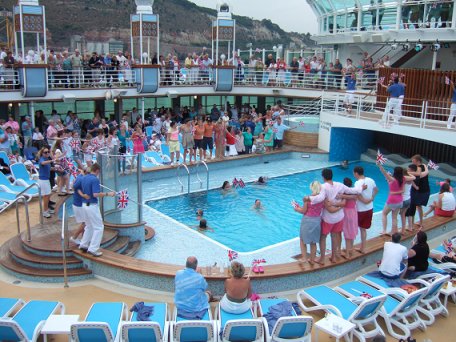 We returned, J and I, on Sunday from another cruise, this time aboard the biggest and newest ship in the UK cruise fleet, P&O's Ventura. Our private ship's log, or diary, of the two weeks afloat, is here. You can see a selection of the photographs I took, as we wended our way round the Mediterranean, here (guidance on how to view them is given at the end of the diary). They may give at least as much of the flavour as the diary. It will be obvious that this was no adventure cruise to brave the pirates of the Indian Ocean, to see giant penguins or the stone statues of the Galapagos Islands, or to experiment with our breathing in minus 30 temperatures at the South Pole. It was devoted almost entirely to kitsch.
It was a very good holiday, but somehow we don't think we'll want to cruise on quite such an enormous ship again, even if we can afford it once the slump now about to engulf us has done its work on our modest savings. And if Senator John McCain and Governor Sarah — but that's for the next post. Watch this space.

Brian